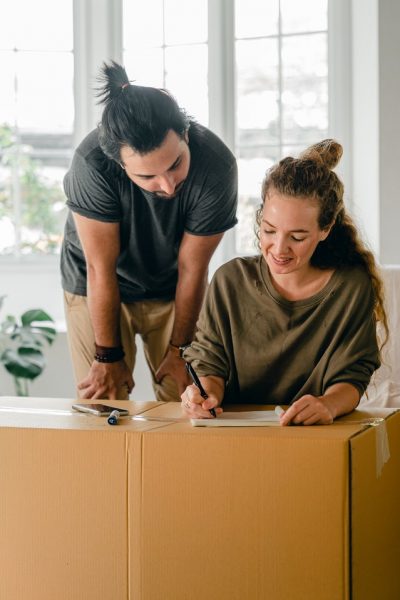 Moving homes and to a new location is a big deal and undertaking. It's not only emotionally draining but can be a financial burden as well. You might be feeling a bit uneasy thinking about it and wondering what you can do to lessen some of the burdens and ensure a smooth and successful move for you and your family.
The good news is that there are ways to make moving houses less stressful and overwhelming for you. Apply the following tips to your move and you'll be on your way to tackling all the important tasks and staying level-headed and feeling in control as you do so. Remind yourself that soon you'll be decorating and enjoying your new home.
Start Planning Early & Get Organized
Make sure you leave plenty of time to plan and get ready for moving houses. It'll be less stressful when you're not trying to accomplish several tasks at the last minute. Make a timeline of events and start mapping out deadlines and who's in charge of what. Figure out your moving date and work backward from there. Gather all the supplies you'll need to move as well such as boxes and labels so that you know where your items are and will go once you arrive at your new property. The earlier you can get started packing and working on all the projects that come with moving houses the better.
Get Rid of What You Don't Need
Another way to make moving houses less stressful is to get rid of what you don't need. It'll make more room for what you love and you won't need to move as many boxes or items this way. Make a pile for what you want to keep, donate, and throw away so that you're well-organized as you sort through your belongings. While it may be hard to part ways with some of your stuff in the present moment, remind yourself how much easier it'll be to pack and move when you don't have as many belongings to gather up and transport.
Enlist Help from Others
Make moving houses less stressful by enlisting help from others. Take some of the pressure and burden of moving off of your shoulders and reach out and get some assistance with certain tasks. For example, if you have a lot of heavy furniture and boxes to move and you're going to another state or cross country then you'll definitely want to think about hiring long distance movers who can step in and help you out. They're the experts and professionals and will be able to safely and efficiently get you and your stuff from one location to the next. You might also want to assign certain jobs to your friends, spouse, and children. When you hire the right people and are all working together to achieve one goal you'll find moving houses to be less stressful.
Take Good Care of Yourself
Get plenty of sleep and rest if you want moving houses to be less stressful. Take good care of yourself throughout the entire process. Lack of sleep will make you moody and unmotivated to tackle your to-do list. It may require you to take some time off of work so that you have some free days to focus on packing and getting organized. Also, be sure you eat healthy meals, exercise regularly, and make time in your schedule for other activities and hobbies. While moving should be a priority and main focus, you also need breaks away from thinking about it and working on the task. You'll feel better and be full of natural energy when you're practicing self-care and not letting your health and wellness slip through the cracks.
Focus on the Positives
Moving can be less stressful when you have the right attitude and mindset. Therefore, you should focus on all the positives and upsides that come with moving. For example, maybe you're heading to a different state to work a new and exciting job and have that to look forward to. On the other hand, maybe you like the fact that your new home is near parks, shopping, and other fun activities. Focus on the idea that you'll soon be making fresh memories in your new space and getting to enjoy it with the people you love the most. Remind yourself that moving is temporary and in no time at all, you'll be able to concentrate on making your new home your own.  
Prepare Your New Home & Space
You can also make moving houses less stressful by putting time and energy into preparing your new home and space. Get over to your property and review the inspection list and start to think about what projects need to get done and will require your attention. For example, maybe before you move in you want to have the carpets professionally cleaned and apply fresh paint to the walls. Complete anything you can before you officially move in to make your life easier once it's time to unpack and get settled in. Make a list of all that you'll need to do as soon as you arrive too such as changing the locks, cleaning, and switching over your utilities and address with the post office.
Conclusion
These are some practical and helpful ways to make moving houses less stressful of a process. You'll be glad you took this advice once you realize how much work it is to move and all the tasks that need to get done. Most importantly, plan early and plan ahead so that you don't leave a lot of to-dos to take care of right before you need to move. Let these ideas guide you in knowing how to go about this project the right and best way so that you can feel your best and not be so weighed down by the thought of packing up and relocating. Have some fun with it and remember that it'll soon be complete and you'll be able to sit back and relax and begin unpacking in your new home.