When you've had an amazing weekend night out, and you wake up next to that special someone the next morning feeling a little giddy, you basically have two options. You can try to pull it together and go to brunch somewhere, or you can keep the momentum going and have breakfast in bed.
Here's what breakfast in bed is not. It's not a bowl of stale cereal, a smoothie, or a protein bar.
Instead, breakfast in bed is about quantity and presentation. There aren't many rules, but the ones that exist are steadfast:
There must be

more than one beverage

, and one of them should be hot and caffeinated. The other should be cold and refreshing; if at all possible, it should be freshly squeezed.

There must be

more than one food item

on the tray. If all you have to eat in your house is bread, butter, bananas, and granola bars, serve the banana sliced, the bread toasted and buttered, and the granola bar unwrapped and cut in half at an angle (or, "

on the bias").

There needs to be

a tray of some kind

.

Nothing sloppy

.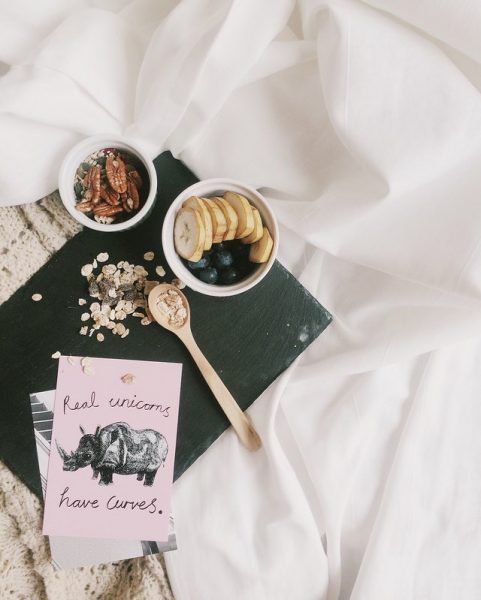 So maybe that's the first thing you should do as you're reading this. Hop over onto your favorite online retail website and buy a couple of breakfast-in-bed trays. Then, add a few non-perishable food items to your next grocery list, like the ingredients to make pancakes and a bag of high-quality oats. Finally, try to keep eggs, bread, butter, a decent coffee blend, and a few fresh oranges in your house. And never underestimate the frozen section of your store. Frozen scrambled eggs are gross, but frozen hash browns or home fries can come in handy; you should also always have frozen fruit on hand in case you want to make that smoothie–just remember to make more stuff, too.
The Best Breakfast in Bed Meals
Pancakes or waffles would be amazing, but you might not feel like making them after dancing until 2 a.m. It's kind of a production to measure out the ingredients into a mixing bowl, stir everything together, let the batter sit for the appropriate amount of time, and then cook the pancakes. If you're a pancake whiz, by all means, go for it. If not, focus on easy-to-make breakfasts that are still better than what you'd make for yourself on a given morning.
If you can make an omelet, that would be super impressive to your crush, who is probably still dozing off in bed. If not, scramble a few eggs, serve them with toast and a side of frozen hashbrowns. Add a few slices of fruit, your beverages, and voila.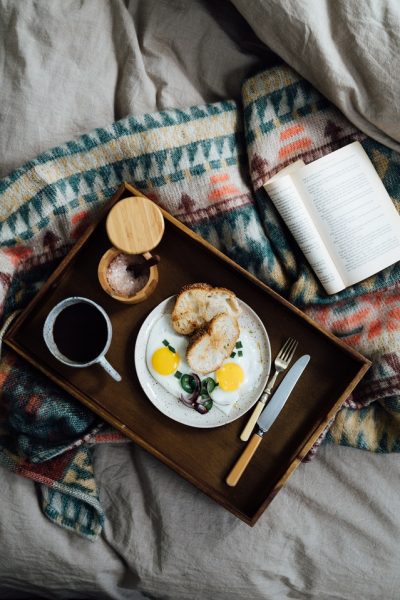 A Few Classic Breakfast Ideas
If you want to go the extra mile to impress that special someone, dust off a true classic. The Welsh rabbit (or Welsh rarebit) is, at its roots, an open-faced grilled cheese sandwich. But it's so much more. You top a thick slice of bread with a cheese sauce made from cheese, mustard, butter, and beer, and broil the toast until it bubbles.
While you've got the broiler on, slice a grapefruit in half, add a few teaspoons of sugar to the top of each side, and broil on a parchment paper-lined pan for about 3 – 5 minutes.
Another classic breakfast idea is called Egg in a Hole. Using a biscuit cutter–or even the rim of a glass-you make a hole in the center of a slice of bread. Set the bread into a hot skillet with melted butter and crack an egg into the center of the hole. This side only needs to cook for about 30 to 45 seconds, and then you sprinkle the egg with salt and pepper. Flip the toast over with a spatula and add salt and pepper to the other side of the egg. Cook a little while longer, soaking up all the melted butter with the toast until the bread is golden brown and the egg yolk is soft and unbroken.