With warmer weather on the horizon, thoughts turn to spend more time in the great outdoors. A perfect way to do this is by constructing a functional and stunning outdoor living area. Whether you want to entertain guests, unwind with a good book, or provide a play area for the kids, your backyard patio could be the solution. This blog post offers some recommendations for creating the perfect patio in your backyard.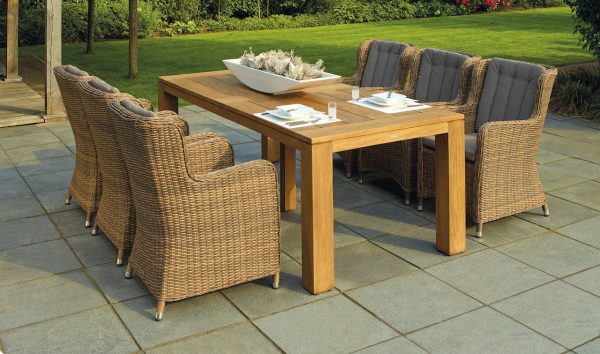 1) Determine The Location Of Your Patio
The first step in creating your dream patio is deciding where to place it. Consider the size and shape of your backyard, the direction of the sun, and the proximity to other outdoor features such as a pool, garden, or trees. If you have a sloped backyard, you may need to level the ground to create a flat surface for your patio. Also, keep in mind that you may need to obtain permits or follow zoning regulations before starting your project.
2) Consider Getting Professional Help
Once you've decided where to place your patio, you may want to get professional help if you are not comfortable with the project. Hiring a contractor can be expensive, but it will save you time and hassle in the long run. If you're working with a tight budget or just want to do the work yourself, you can find tutorials online to help guide the process.
3) Choose The Right Materials
The materials you choose for your patio will affect the overall look and feel of your outdoor space. Traditional options include concrete, brick, and stone. If you're looking for a more natural look, consider using pavers or decking. Additionally, you can also visit the Clear Amber Shop to see what materials they have available for your use. Keep in mind that certain materials may require more maintenance than others, so choose accordingly.
4) Define The Function Of Your Patio
Think about how you want to use your patio and design it accordingly. Do you want to have a dining area, lounge chairs, a fire pit, or a grill? Do you need space for children to play? Having a clear vision of how you want to use your patio will help you make the right decisions when it comes to layout, seating, and lighting.
5) Add Greenery And Landscaping
To improve your patio's appearance, try adding natural elements like plants, flowers, and trees. This can make your outdoor space more inviting and peaceful. You could also put shrubs or flowers in pots or use hanging baskets to add color and texture. If you have a bigger yard, you could add a small garden or a fountain as the main attraction.
6) Accessorize With Lighting And Decor
The accessories you choose can make a big difference in the overall ambiance of your patio. Outdoor lighting can create a warm and inviting atmosphere, especially in the evenings. Consider installing string lights, pathway lights, or lanterns to add depth and character. As for decor, outdoor rugs, throw pillows, and table settings can add a touch of personality and comfort.
7) Think About Furniture
Your outdoor furniture should be comfortable, durable, and stylish. Choose pieces that are made for outdoor use, as they will hold up better in all types of weather. Consider seating arrangements such as couches, chairs, and benches to provide enough space for everyone. Make sure to choose pieces that fit the style of your patio and coordinate with the color scheme.
8) Add Some Extra Features
If you have enough space, you can incorporate some extra features such as a fire pit or outdoor kitchen. This will add more value to your outdoor space and provide additional entertainment options. Other extras include water features or an outdoor shower. These features can make your backyard patio even more inviting and cozy.
9)  Maintenance And Cleaning
To maintain your patio in the long run, it's crucial to clean it regularly. Remove any debris from the surface and use a pressure washer for tougher stains. Be mindful of any damage or dirt on your furniture or accessories, and store them properly when not in use. It's also important to inspect your patio frequently to ensure that all the elements are in good shape.
Constructing a backyard patio can increase the value and character of your outdoor area. To create an ideal spot for relaxation or entertainment, pick the right design, materials, and features. Keep these tips in mind while building your outdoor escape, and enjoy your time outside!