The items in this post were sent to us by Dylan's Candy Bar. We do not charge them for consideration or placement we prefer to retain the right to not place an item that we don't truly love. We may however include affiliate links so that we get credit when you shop.
Valentine's Day = Boxes of candy
Or in my case, a half-eaten box of candy. Yes, it has happened to me. My husband shows up on February 14th with a beautiful gold box of chocolates. I smile and think "how nice that he remembered" only to open the box and found all of the favorites are GONE. I could have asked him if he checked the box before purchasing it, I should have noticed that the ribbon on the box was out of shape and askew, and I could have seen that the plastic wrap covering the chocolates was gone. But, he did go out and buy them…for himself.
Still, he gave me SOMETHING
Even if half of them were for himself. But, it also got me thinking that traditional chocolates might be a bit boring. I'm not saying that the box of chocolates wasn't delicious (obviously it was), but there was something missing.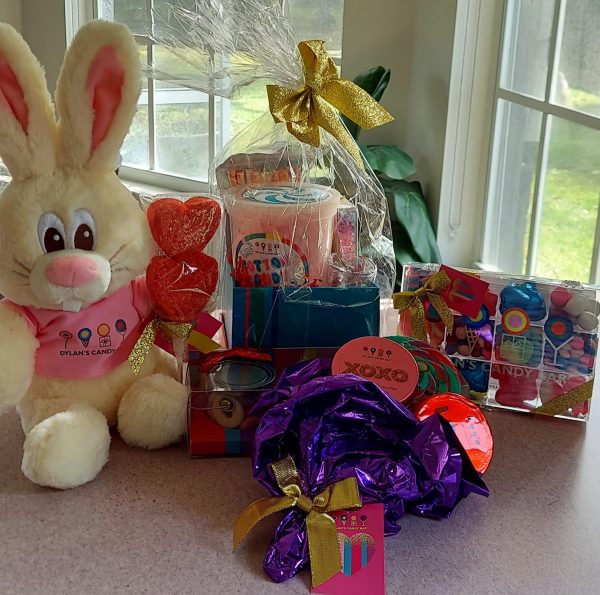 The LOOK of Celebration
Every time I see a Dylan's Candy Bar store or kiosk it makes me smile. I used to love visiting my local Target and seeing a miniature version of one of my favorite stops when I'm in New York (alas, my Target no longer has the kiosk). I was recently in the city, and walking into their Hudson Yard store makes you immediately feel like a child again as you're surrounded by the array of colors and candies. Thankfully, you can get that same feeling when you visit Dylan's Candy Bar Online, and there's no better time to visit than RIGHT NOW!
Valentine's Day at Dylan's Candy Bar
Step into a world full of swoon-worthy sweets from Dylan's Candy Bar's new Valentine's Day collection for anyone from children to the person that you fell in love with years ago. Whether you're throwing a Galentine's Day celebration or are on the hunt for a high-quality, delicious gift that will impress, these are sure to steal everyone's hearts!
I did a little shopping for you
Because…well, it's Valentine's Day and I love all of my readers. Here are my favorites that I'd give to you if we were together on Valentine's Day.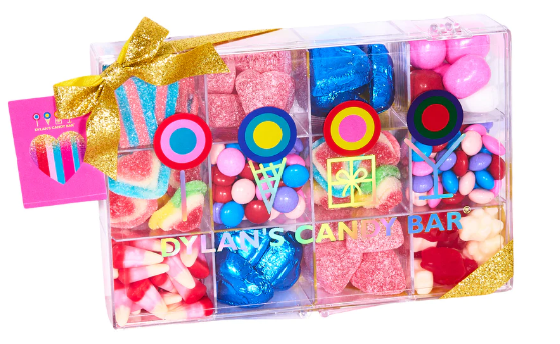 Valentine's Day Variety Tackle Box 
Why choose just ONE thing for him when you can give him an array of treats? This variety tackle box features Valentine's delights from around the world in every candy food group.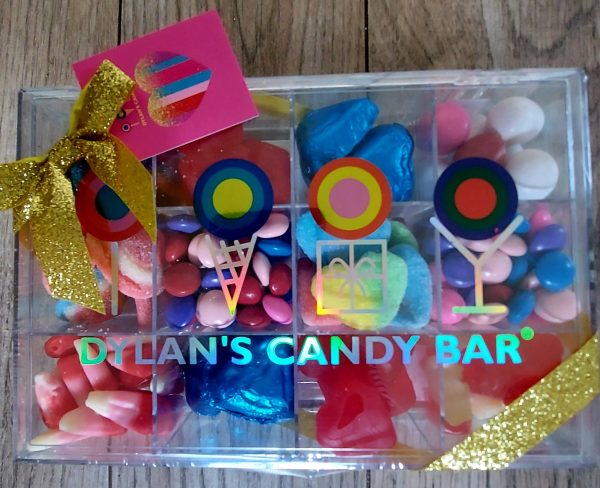 The Valentine's Variety Tackle Box is great for decorating Valentine's desserts, as a sweet host gift, & more. Colorful, shareable, & carefully curated, this tackle box is ready to be gifted with love!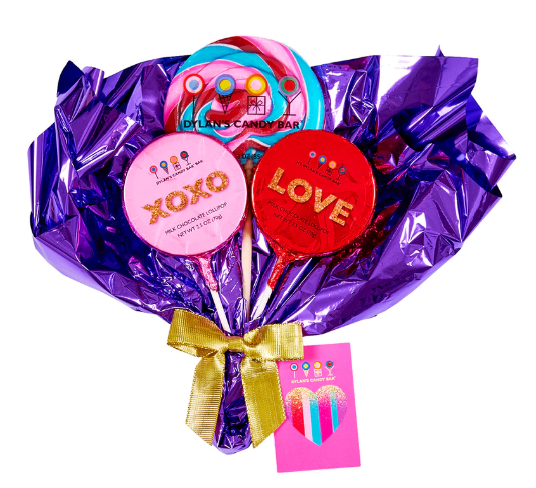 I'm a Sucker for You Candy Bouquet 
Are you looking for a beautiful bouquet that won't wilt? Do flowers just make you sad as they lose their blooms? Dylan's Candy Bar I'm a Sucker for You Candy Bouquet is a sweet, long-lasting gift that's perfect for BFFs, significant others, & more.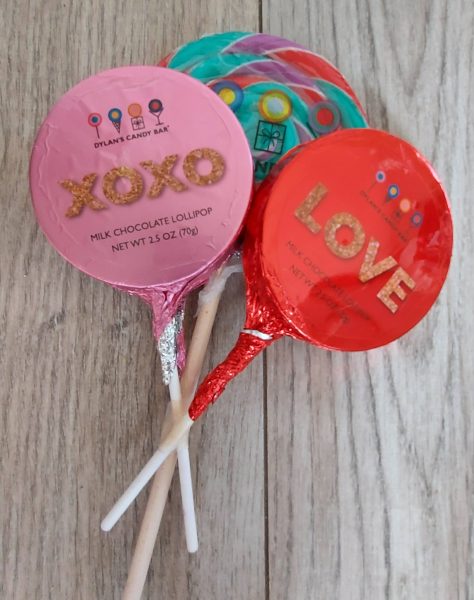 Out of the beautiful wrapping, you get 2 large pops, one for them, one for you, and one to share!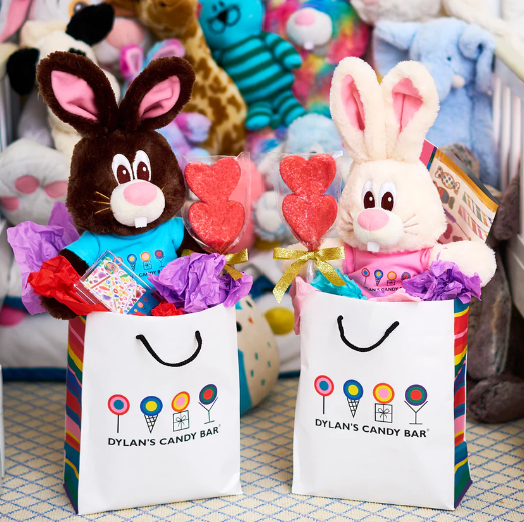 This bunny is their signature mascot (and we know why now that we've squeezed it). Yes, this is the sweetest hare in town! Soft, cuddly, and ready to squeeze, this brown plush bunny comes holding a Double the Love Marshmallow pop to help show someone special that there's no bunny like them.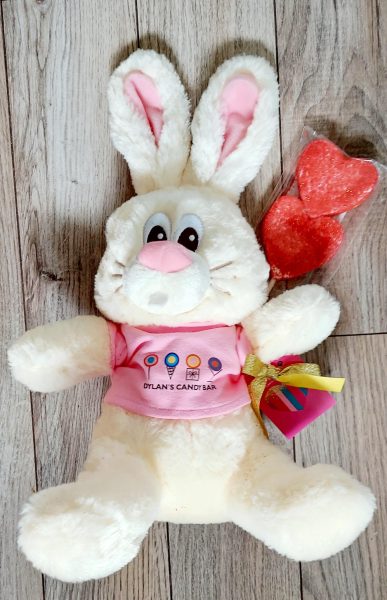 Every bunny needs a friend…bring Some-Bunny Loves You: Vanilla the Bunny home, too!
Priced at: $35 you'll hop right into their heart with this combo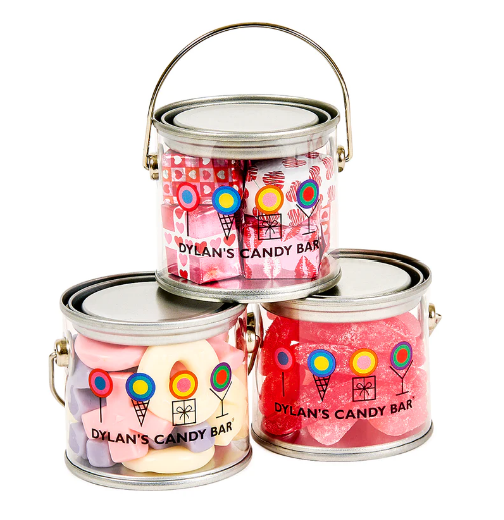 Sealed with a Kiss Paint Can Trio 
This kiss-worthy candy set is one of the sweetest gifts! Mini paint cans containing sour gummy lips, milk chocolate presents & gummy X's & O's are perfect for a special someone or BFF!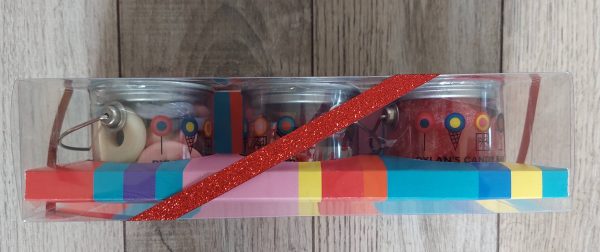 Gift it as a trio, or divide it up among the loves of your life…you could even keep one paint can for yourself…I won't tell 😉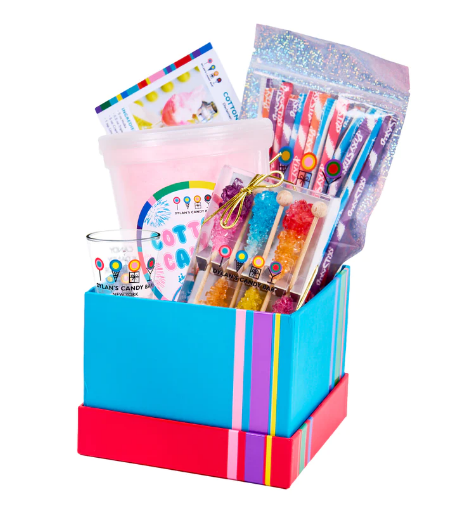 Whether you're spending this Val with the gals or someone special, the Dylan's Candy Bar Cotton Candy Mocktail Kit is the perfect treat for a LOVEly night in. This mouthwatering mocktail (or cocktail!) kit comes ready to sweetly sip yourself – or gift to your favorite sweeties!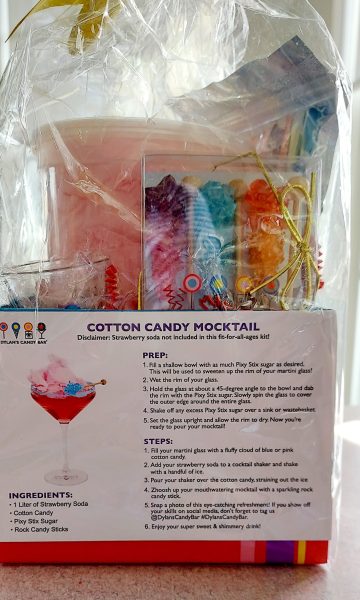 Of course, if you're looking to gift YOURSELF a little something…this would be the gift to give. Because you know you want to make a cotton candy mocktail (or turn it into a cocktail). Just invite a friend or two over to enjoy it with you for Galentine's or Valentine's Day.
These and MORE are available online and in-store at Dylan's Candy Bar. Don't forget to buy a little something for yourself as well while you're shopping, because you deserve the treat that YOU want as well.
All items are available in their in-store locations as well:
New York City – The Shops at Hudson Yards
Los Angeles – Farmer's Market
Honolulu – The Hyatt