HAPPY NATIONAL RELAXATION DAY!
What? You're too busy getting the kids ready for back to school, planning that labor day cookout, getting the dust bunnies out from under the sofa, and picking up that bread and milk that you FORGOT to get yesterday?
Slow down, take a minute to breathe and celebrate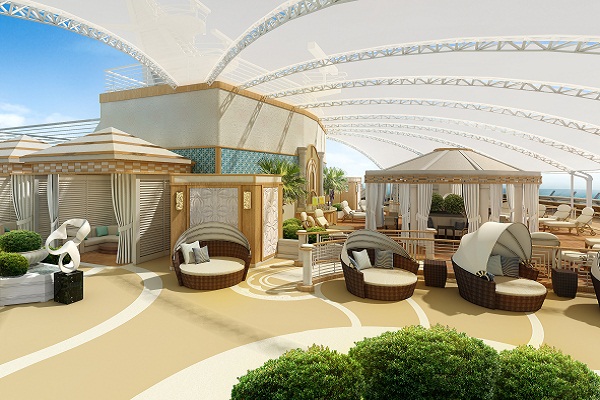 Here at Champagne Living we're pro's at relaxing. Just ask Mr. S who wants to know "What are you doing laying there with headphones on?" Ben and I both know the value of taking time for ourselves (he's in New Jersey, Providence, and Boston this week with NO agenda and NO reservations – going wherever the breeze, or the "T" takes him). That doesn't mean that at 5:45 I won't be panicking that there's nothing in the house to cook (stress level – UP) or that tomorrow I have to wash 1900 feet of white tile floors at the mansion (at least they USED to be white).
Today is for YOU
So much so, that they've created a national holiday. You wouldn't miss Thanksgiving or the Fourth of July would you?
In honor of National Relaxation Day I'm planning our next vacation.
The very essence of a vacation is to relax, leaving all of your daily stresses behind. At Princess Cruises, they know that a cruise is the ultimate way to unwind. Imagine exploring the world from a beautiful ship – cruising the world's oceans, visiting amazing destinations and enjoying the many relaxing things to do onboard, whether it's visiting the spa or finding a quiet place on board to read a book.
I know, because Mr. S and I have cruised on the Caribbean Princess three times. It's his FAVORITE ship (something about the golf simulator and pros they have on board). He's a creature of habit, and once he learns the layout of a ship he'd rather just go on it when they change the routes, as we don't waste a day of our vacation trying to figure out how to get to dinner.
In honor of National Relaxation Day, Aug. 15, Princess Cruises asked 1,000 adults across the U.S. about their own personal vacation relaxation styles.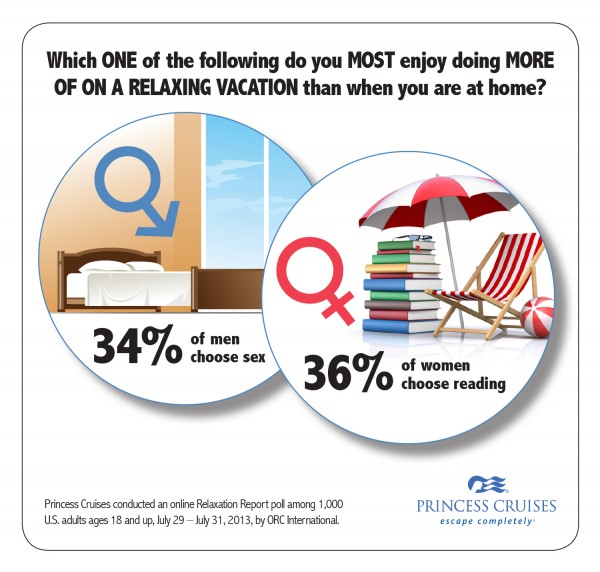 Here's what they found: 
Silence or Sensory Delight? – More than a third of respondents consider themselves as "sensory relaxers," who like to recharge by soaking up the sights and sounds of events and activities around them, such as sporting events, movies or beautiful sunrises and sunsets. Whereas, another third of respondents consider themselves as "silent relaxers," who prefer quiet spaces, ceased conversations, and losing themselves in books or the soothing sounds of nature.
Tried and True or New? – More than half (64%) of respondents prefer somewhere new when choosing a relaxing vacation, compared to only a third (36%) who prefer a tried and true destination.
Relaxation Setting? – The most popular type of scenery found to be most relaxing when on vacation is ocean and waves (59%). Mountain scenery came in second (20%), followed by sunrises and sunsets (17%).
Play it by Ear? – Respondents were evenly split when asked if pre-planning every vacation activity (52%) or being completely spontaneous (48%) produced a more relaxing experience when planning a vacation.
To Cook or Clean? – More than two-thirds (67%) of respondents agreed that having someone else cook for them was the most relaxing way to enjoy a meal on vacation.
STOP – TAKE A MINUTE
And just look off the back of the ship. See…you don't need to do ANYTHING to relax when you're on a cruise. You can simply…

Both Princess Cruises and I want to know what it is that YOU do to relax.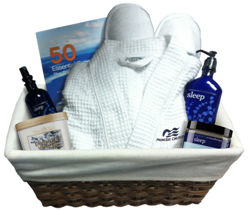 I'll be choosing ONE person at random to win a Princess Cruises Relaxation Pack, chock full of relaxation-inducing goodies, including: embroidered bath robe, bath slippers, body wash, body lotion, sugar scrub, candle and more!
WINNER: Eileen B – Shelton, CT