#ad: This post has been sponsored by BeautyStat, along with my participation in the recent #RocWrinkleRanking twitter party. I also received the products listed below to try, so that I could give my honest opinion about them.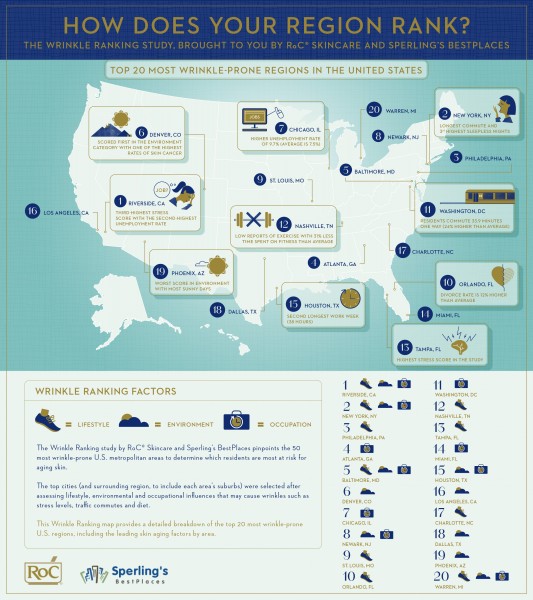 If you made it to the #RocWrinkleRanking party that I recently participated in, you're probably slathering on plenty of protection. Especially if one of your cities made the TOP 50 that were the most prone to wrinkles in the US. I know that I am, but it's no surprise, since I live in the South, where the sun  may be beautiful in the sky, but it does a LOT of damage to your skin.
If you happened to  miss it, here they are. But don't panic, because HELP is available.
Top 50 Most Wrinkle-Prone Regions in the United States:
Riverside, California
New York, New York
Philadelphia, Pennsylvania
Atlanta, Georgia
Baltimore, Maryland
Denver, Colorado
Chicago, Illinois
Newark, New Jersey
St. Louis, Missouri
Orlando, Florida
Washington, District of Columbia
Nashville, Tennessee
Tampa, Florida
Miami, Florida
Houston, Texas
Los Angeles, California
Charlotte, North Carolina
Dallas, Texas
Phoenix, Arizona
Warren, Michigan
Edison, New Jersey
Indianapolis, Indiana
Fort Worth, Texas
Boston, Massachusetts
Oakland, California
Las Vegas, Nevada
Nassau County, New York
Detroit, Michigan
Pittsburgh, Pennsylvania
Cincinnati, Ohio
Fort Lauderdale, Florida
Providence, Rhode Island
Cambridge, Massachusetts
Jacksonville, Florida
Austin, Texas
Sacramento, California
Seattle, Washington
Kansas City, Missouri
Columbus, Ohio
Milwaukee, Wisconsin
San Antonio, Texas
Virginia Beach, Virginia
San Francisco, California
Cleveland, Ohio
Portland, Oregon
West Palm Beach, Florida
San Jose, California
Santa Ana, California
Minneapolis, Minnesota
San Diego, California
To determine the metropolitan areas in the U.S. most likely to wrinkle skin, RoC®Skincare and Sperling's BestPlaces performed a meta-analysis, combining the findings of original and existing research. Lifestyle, occupational and environmental criteria that directly and indirectly relate to skin damage were used for the selection. The factors were equally weighted and grouped by impact and relevancy. All data was adjusted by the current population to arrive at "per capita" figures, and category scores were aggregated and weighted to determine an overall "RoC® Skincare Wrinkle Ranking" score.
Remember above when I mentioned that I had the "answer?" RoC recently sent me 5 products to combat those awful statistics and I've been using them for about 3 weeks now. I'll keep you updated, but as of right now, I'm loving them (espcially the day cream which is so much more emollient than what I was using previously).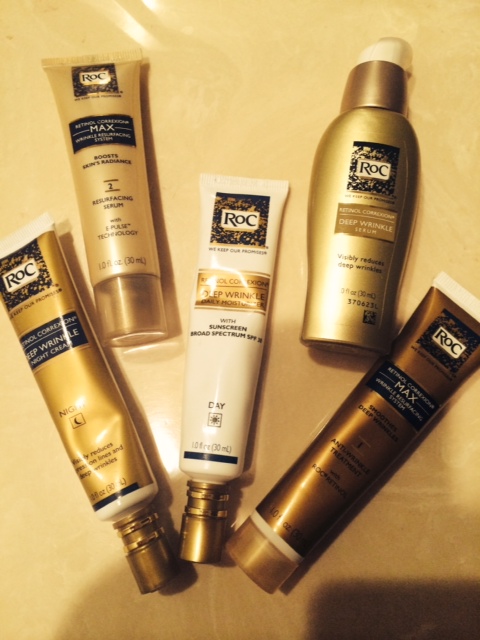 My new 5-step isn't NEARLY as complicated as I thought it would be. Some of these products like the serum and the MAX resurfacing system can be used twice daily, but because I'm lazy I chose to do one in the morning and the other in the evening. After washing my face I used:
AM
PM
My humble opinion

I see a vast improvement in the softness of my skin after using the RoC products
RoC has a good amount of retinol, compared to other similar products (stronger products require a prescription strength formula)
I can pick them up at Ulta, the drugstore, etc. without breaking the bank