This post has been sponsored by Smile Brilliant. All opinions and photos are my own.
I struggle with smiling
Yes, I am generally a very happy person. I laugh heartedly, and I smile from ear to ear, but I recently looked in the mirror at my "pearly whites" and saw that they were dull and yellowed from years of drinking wine and coffee. I proceeded to spend the next 10 minutes practicing smiling with my lips closed. I was officially embarrassed by my teeth.
It was time to go for it and whiten my teeth
I had tried whitening toothpaste, I sat in front of the TV with strips on my teeth, sat in a chair in full view of shoppers in a store drooling under a fancy teeth-whitening light, and swished with a whitening mouthwash. None of them made much of a difference.
I decided to give Smile Brilliant a try
When it comes to my teeth, I trust them. I use a Smile Brilliant cariPRO electric toothbrush every day (and my dental hygienist has given me brownie points ever since). I knew that they were known for their teeth whitening system, and their trays are made just for you in a dental lab.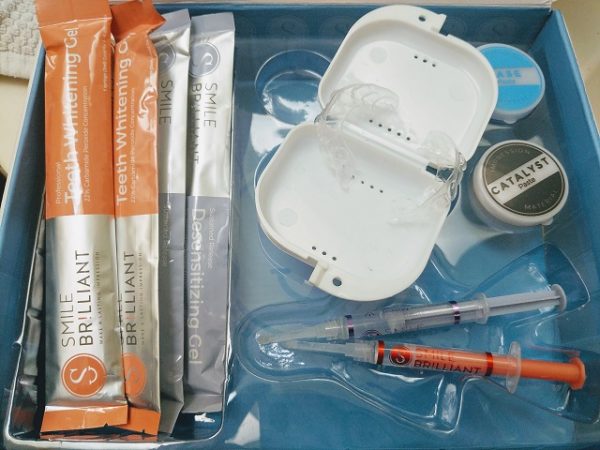 My biggest fear was that my teeth are sensitive
Thankfully, Smile Brilliant offers a program just for people like me. When you order from Smile Brilliant you have a choice between a non-sensitive and sensitive system. Other options include the amount of stain on your teeth from light stains to medium ones and even a set for heavily stained teeth. In just a few days my kit arrived with:
I ran straight to the bathroom to take my teeth impressions
It was not a pretty sight, and I was glad I was alone. Just the trays the base paste, catalyst paste and my mirror. It was easier than I imagined to mold the pastes together and place in the trays. I put them into my mouth and began drooling. OMG, I was like a bulldog on a hot day (hence the needing to be alone for this). The most difficult part of the process was wiping my chin and getting the hardened trays out with grace (again, happy that I was alone).
I sent the molds off to the dental lab
And, in less than a week I had my professionally made teeth whitening trays in my mailbox.
I am on an every other day protocol, mostly because of my sensitive teeth (they've been sensitive all of my life and think they run in our family).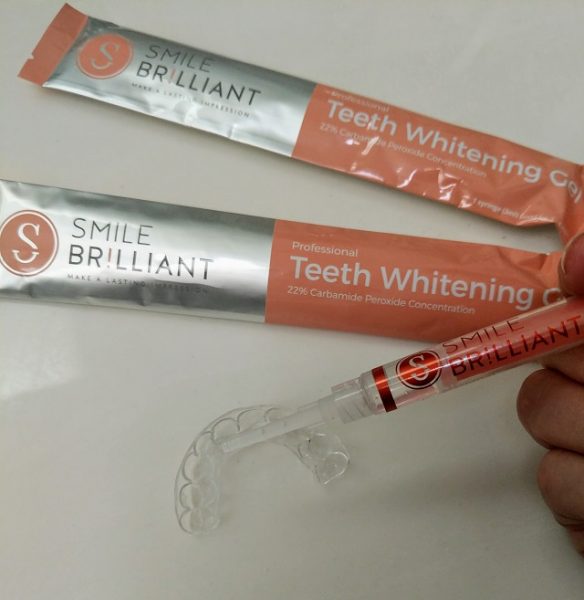 Easy and professional looking teeth whitening
Every other night I brush my teeth with plain water, floss and put just the right amount of desensitizing gel into my whitening trays and slide them over my teeth. I set my timer for about 20 minutes as I watch TV. When a commercial comes on, I RUN back to the bathroom and take them out and fill my trays with the whitening gel. I've got this down so fast that I'm back on the couch watching TV before the end of the commercials.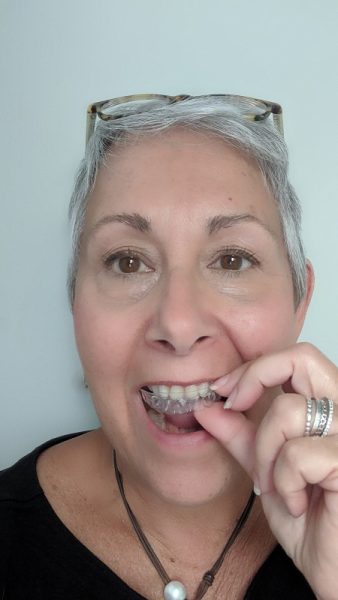 On Monday I watch 90 Day Fiance and pretty much ignore the fact that I have the trays in. I've worked up to watching 2 shows in a row!! The big PLUS is that I can't eat or drink while I'm whitening, and the evening is the time that I munch (and it's how I gained weight). So, I am getting whiter teeth AND watching my calories all at the same time (off-label use…hahaha).
When I take the dental whitening trays out
I am blinded by how white my teeth look. It's time to brush my teeth and go to bed. Yes, tomorrow when I eat I'll stain them a bit more, but for the moment they are BRILLIANT. Over time I've seen my teeth get whiter and whiter (and yes, I check them during the day).
Once again I am a Smile Brilliant convert
For a fraction of the cost of getting my teeth whitened by a dentist, I am able to whiten with the same process that he uses right at home. Take THAT Dr. Lens.
ENTER TO WIN
Giveaway link: www.smilebrilliant.com/g/champagneliving
Prize: $149 Smile Brilliant credit (to get your own whitening system)
Giveaway is open to USA, UK, Australia, and Canadian residents.
I'm still in the whitening process.
So stay tuned as I show you my progress.
To order YOUR Smile Brilliant teeth whitening system visit SmileBrilliant.com
15% off coupon code:

champagneliving15