I had the use of a Toyota RAV4 for a week to test out. All opinions are strictly my own.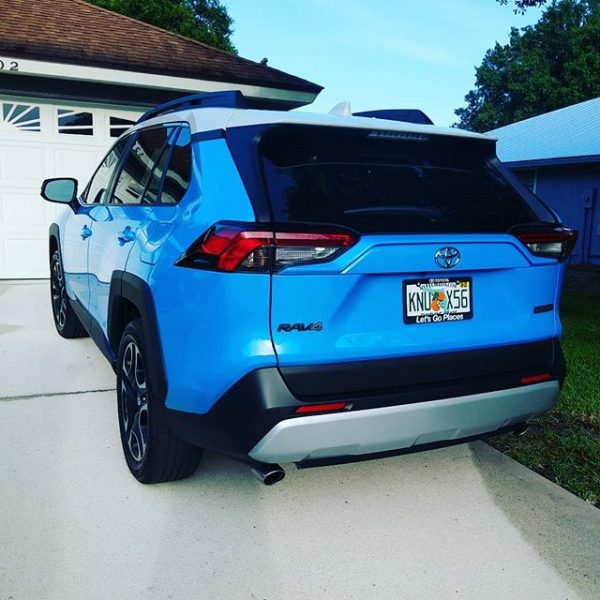 I love an SUV, but I'm kind of like Goldilocks when I look at them. Some of them are just too big, and some too small. I love an SUV that's JUST RIGHT. Would I get that in this 5th generation RAV4 Adventure model from Toyota?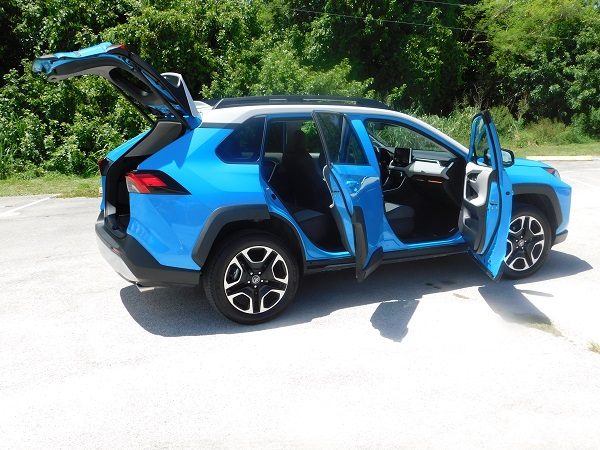 Rugged in all the right places
I like my cars and my men to be a cross between rugged and demur, and the Adventure trim on this compact SUV gives me all of that. This smaller SUV offers me something a little more accessible for my  5′ tall frame (cars that are TOO big feel overwhelming), and the grill on the front has a take no prisoners, watch out, I'm coming look to it. It's the perfect balance of form and function. The one that we were sent offered a two-toned exterior that just POPS. The interior has incredible detailing with orange piping against the light and dark interior. Call me color-coordinated, because I LOVED THIS COMBO.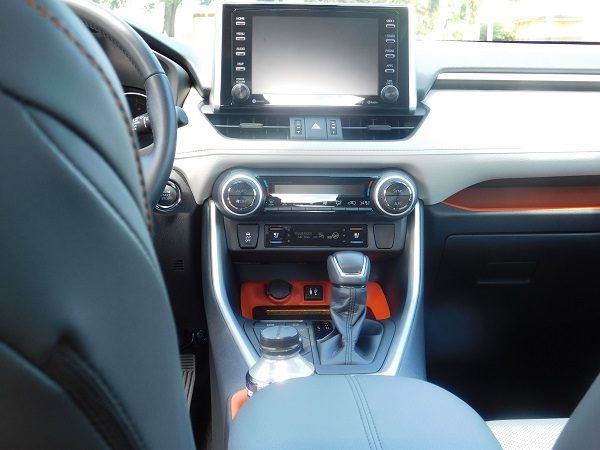 Put it in Sport Mode and feel the drive
I love to feel every twist and turn of the road and with three modes – Eco, Normal and Sport I can drive in sync with the road that I'm on and the mood that I'm in. Sport mode became my favorite immediately, as a tighter wheel means more of a real driving feel in this 4-cylinder, 8-speed (YES) automatic. I didn't even mind the CVT transmission, which usually annoys me when I want to REALLY drive (and not just do errands). It shifted seamlessly, with a slight lag off of the start, but there was a bit of road noise (but who cares when you have the Sirius XM blasting).
Comfortable with all of my needs met
I'm short, hubby is tall and the 8-way adjustable driver seat provided both of us with enough comfort for long-distance driving. It had all of the bells ad whistles that I look for in a car. The panoramic roof gets me over that "I wish I had a convertible" thing as it lets in plenty of light for both the front and back seats, and I've always loved the ease of using Toyotas Entune system that paired easily with our phones via either Apple or Android Car Play via Bluetooth. Of course, it includes the usual Sirius XM and a ROCKIN JBL sound system to go with it.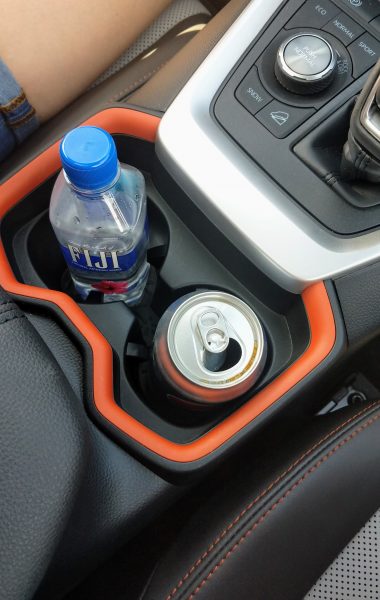 Extras Galore
With a Qi charging pad, 5 USB ports, and lots of cubbies to store your "stuff" it is an "I brought every device but the kitchen sink" lovers dream. Keyless entry and push-button start mean that I'm not rummaging around in my HUGE tote handbag mumbling under my breath that I can't find my key, and the hands-free liftgate allows me to get ALL of those find from the Mall into the back (with an easy pull to put the second row flat if I go a little overboard).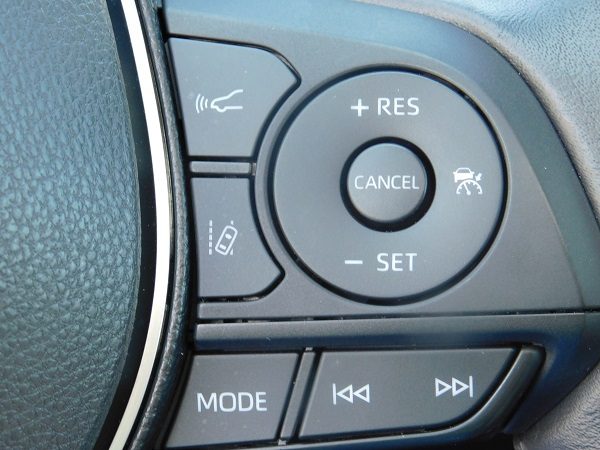 I feel safe
As I age I begin to worry more about safety, and so has Toyota. The RAV4 Adventure offers the Toyota Safety Sense 2.0 that alerts me to nearby cars and pedestrians, a rear cross braking system, blind-spot monitor (I can't imagine having an SUV without this), 8 airbags, and more.
Would I trade up from my current compact SUV
You bet I would. My 2017 Buick doesn't come CLOSE to offering what the new RA4 does. Now, all I need is $39,000…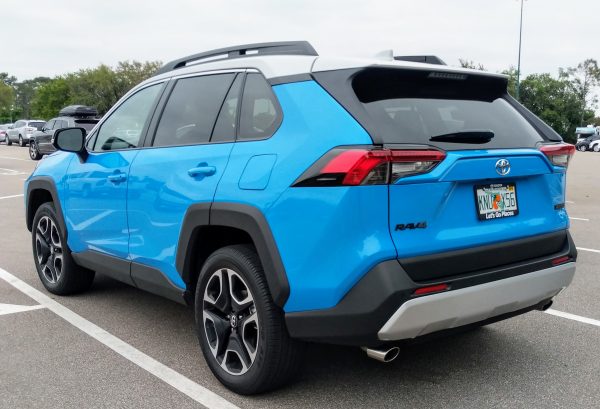 To test drive a RAV4 Adventure SUV