I participated in an Ambassador Program on behalf of Influence Central for Vanity Fair Lingerie. I received product samples to facilitate my review and compensation to thank me for my participation.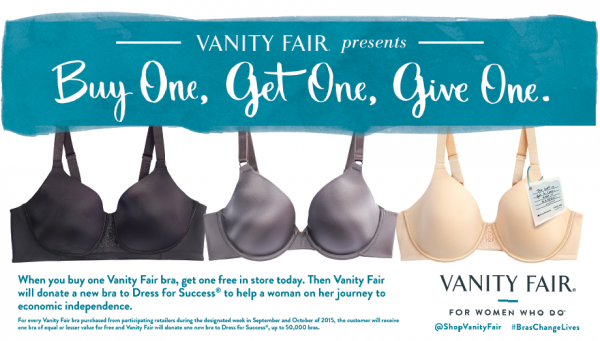 Let's just dive into this
First of all there's the obvious. When you look good, well…you feel good (I have a keen sense of the obvious). But did you know that you can actually help change the life of someone ELSE, just by buying a bra?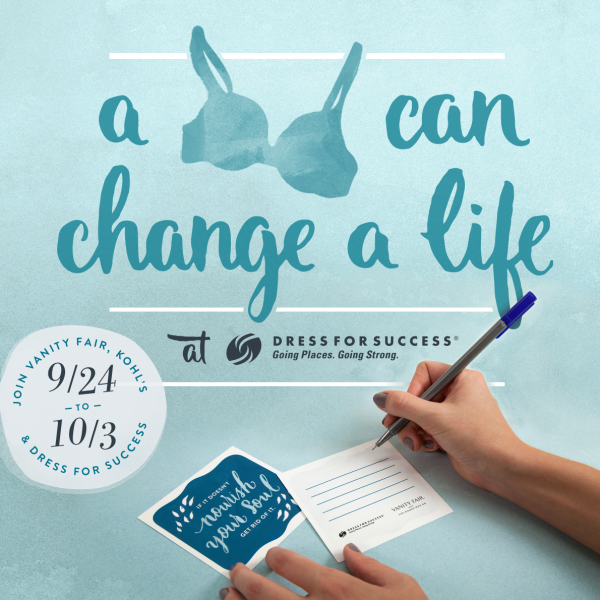 Since partnering with Vanity Fair Lingerie, I've not only learned a lot about how important the fit of a bra is, but I've been learning a lot about the company of a whole. And boy am I impressed. Not only do they really CARE about selling lingerie that looks great and flatters all sizes and shapes of women, but they also help women who might otherwise not have access to their wonderful undergarments.
You see, Vanity Fair believes a bra can change a life, and right now they're offering BOGOGO events, when you buy one Vanity Fair bra in-store, you get one for free and Vanity Fair will donate a new bra to Dress for Success on your behalf to help a woman on her journey to economic independence. That's right, not only do YOU get a free bra when you buy one, but you'll also be helping Dress for Success by donating a bra.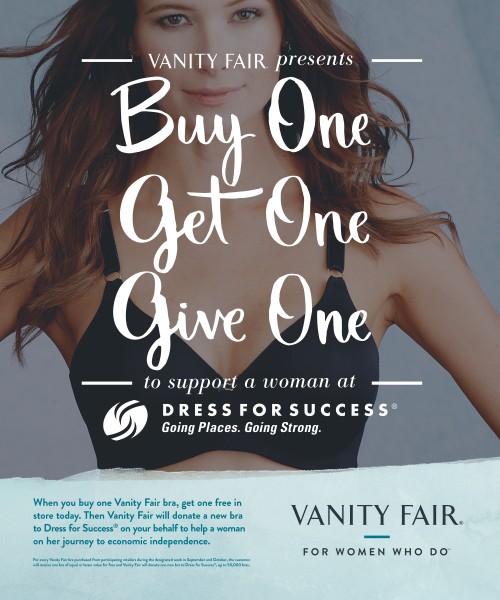 Vanity Fair will host Buy One, Get One, Give One events at the following national and regional retailers this fall:
Kohl's: Sept. 24 – Oct. 3, 2015
JCPenney: Oct. 7 – Oct. 12, 2015
Sears: Oct. 11 – Oct. 17, 2015
Macy's: Oct. 14 – Oct. 18, 2015
Bealls: Oct. 18 – Oct. 24, 2015
Boscov's: Oct. 25 – Oct. 31, 2015
Belk: Nov. 1 – Nov. 8, 2015

What a great way to celebrate fall.  The events take place from September through October at major U.S. retailers across the country, including Kohl's, JCPenney and Macy's. Vanity Fair is committed to donating 50,000 bras to Dress for Success through this BOGOGO event. With your help, they're hoping to get a bra to EACH woman who walks into a Dress for Success in the U.S. this year.
If you haven't heard of Dress for Success before, it is an international not-for-profit organization dedicated to the promotion of economic independence of disadvantaged women by providing them with professional attire, a network of support and career development tools to help them thrive in work and in life.
For more information about Vanity Fair