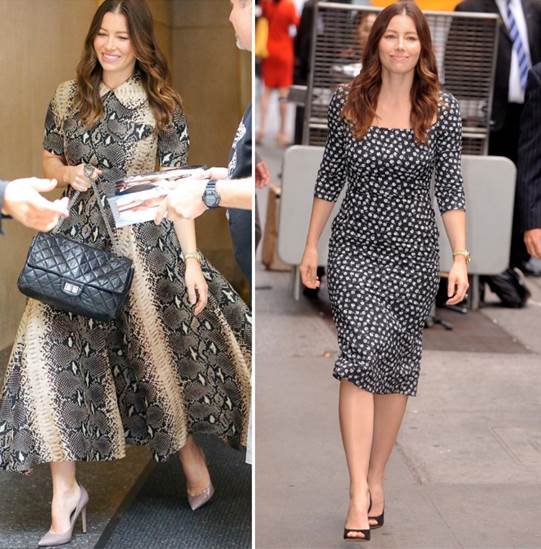 I love the casual yet chic look of Jessica Biel's locks, and although my hair is WAY too short, I got the inside info on how she gets the look from celebrity hairstylist and inventor of the BEACHWAVER, Sarah Potempa
Here you go….
Create a clean center part by using a tail comb.
Apply a smoothing product, like Aussie's Mousse + Leave in Conditioner from the roots to end and blowdry smooth with the Beachwaver's On Set Styling Brush. Note: this is a nylon + boar bristle mix that works to lay down the cuticle and reduce frizz.
Section hair up with the Darby Clip and start curling from the bottom working your way up.
Curl 2″ sections with The Beachwaver S1 by clamping near the ends and pressing the arrow away from the mirror. Note: The Beachwaver rotates in both directions and you control it, which makes it easy to recreate Jessica Biel's look!
Once you get to the top layer, slide the button on the side of the Beachwaver  to "slow." This will slow down the rotation of the curling iron to get a nice, smooth wave around the front!
Spray the Beachwaver's On Set Styling with a flexible hairspray and brush all the waves together to create a beautiful, fresh look.
Products in this post available at