I love anything that makes life easier, especially when it's not only effective but also means that I'll have more time for things that are fun. Somehow cleaning just isn't on the Champagne Living Fun-O-Meter.
Earlier this week I happened to see a funky, colorful display on the laundry detergent aisle. Talk about positioning a brand. Half of the aisle was a mass of orange white and blue…vivid and fun. I had a bag at home that I hadn't yet opened, figuring that I'd try it after I had finished the 3/4 empty bottle sitting in my laundry room. The HECK with the liquid that was sitting partially used, I went home – tossed in my hubby's dirty golf wear and…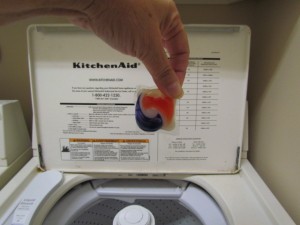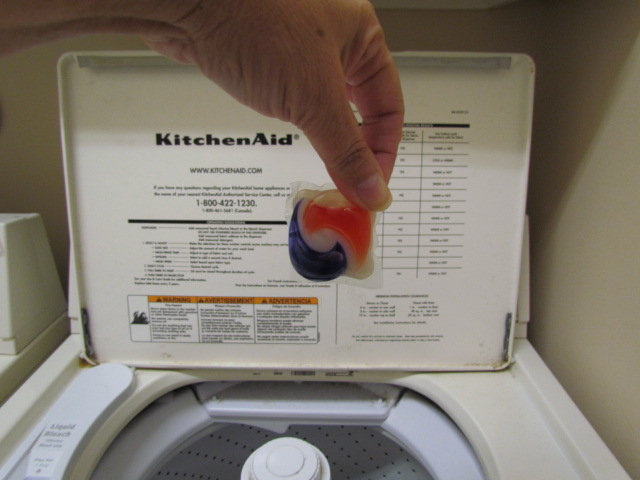 That's IT…no measuring, no pouring, no adding fabric softener, no liquid bleach. Just pop in a pod and turn on the washer.
Dosing is PERFECT. No more putting in too much or too little detergent
Can be used in top loaders, front loaders, HE washers…ANY type of washer
Innovation that Improves Daily Life

Get Small: Tide Pods offer the power of Tide in the palm of your hand, giving you the proper dose each time you do laundry. They are compacted to use less water than traditional detergents. Tide Pods packages also weigh approximately 50% less than comparable packages of liquid detergent – making them much easier to carry and use!

Get Multi: Tide Pods' new, patented three chamber design helps to separate such ingredients as hard water modifiers, stain fighters, perfume and whitener so that they remain stable and potent and mix only in wash water. This allows the Tide Pods to deliver a deep-down clean in a range of conditions.

Get Cold: 40% of Americans do their laundry in cold water more often than not in an effort to save time and money. In response to this, Tide Pods are made with a new, best-in-class film that dissolves and works effectively in all water temperatures – even in very cold water!
While you may not consider doing laundry Champagne Living, the fact that I can just pop and go makes it PERFECT for my lifestyle.  Laundry can be complicated – separating the lights from the darks, add bleach/don't add bleach. Did you know there were 900 possible laundry conditions in each load? It makes my head spin (and my agitator too). You know, I wish that Tide Pods were around when B was in college…these are the ANSWER to the age old problem that college kids who haven't had any experience doing laundry have.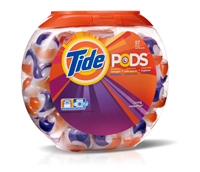 All of this made me realize that I'd much rather spend time with people that I enjoy than sweeping and vacuuming. Thank goodness for those who spend their time creating automatic vacuums and Tide Pods. They have made Champagne Living a possibility. Innovations like the Tide Pod have really changed my life over the years. While I still crave the simple things in life, products that makes LIFE simpler are even better. Being one who hates to clean, my automated/robotic Neato Vacuum is my favorite. There's nothing worse than having to pass up lunch with the girls because the house needs cleaning. I just set my vac down in the center of the room – press the House Cleaning switch on – and go….literally (to  our favorite restaurant to indulge in favorite food and girl talk).
Now through June 2012, P&G products will be featured in a monthly Good Housekeeping sweepstakes.  Through the Good Housekeeping Seal Deal Giveaway you will have the opportunity to win one of 50 P&G product baskets filled with the trusted brands you know and love.  Visit www.goodhousekeeping.com each month for the opportunity to win great P&G prizes from Good Housekeeping.  And, keep in mind that just by entering the sweeps each month you may receive a free P&G product sample or a high-value coupon…enter today!
GIVEAWAY
I received product to facilitate this review. All opinions are strictly my own. Now, what should I order for lunch?