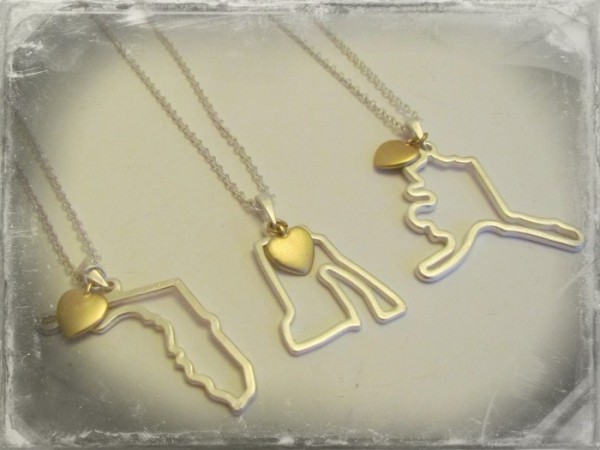 Like an old faded photograph
I hang on to my memories and cherish them.
While home may be in the heart, in my case – it also happens to be hanging around my neck. As a native Rhode Islander who's adopted Florida for it's warm weather and year round beach access, I still consider RI home. It's where I grew up, raised my family, and made the memories that will stay with me for a lifetime.
It's funny, how we become attached to places that we've been in our lives. For my friend Sandy, it's Alaska. She's from RI (as I am), but made her deepest friendships when she lived in Alaska for many years. She speaks about the state as if it still were a part of her.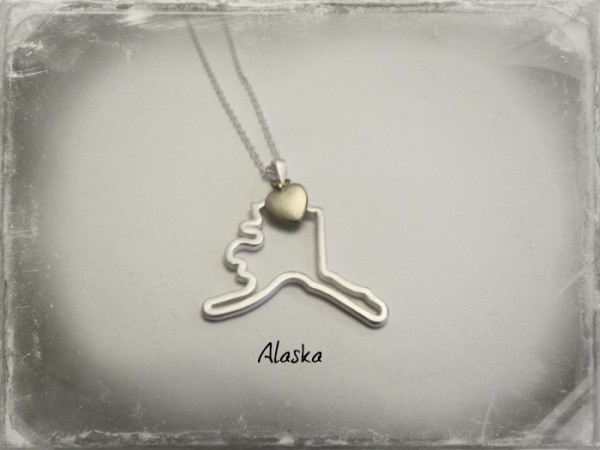 So I Knew
Last week I was out reading some of my favorite blogs when I stopped at my friend Keri Lyn's SheSaved. It was THERE that I saw them.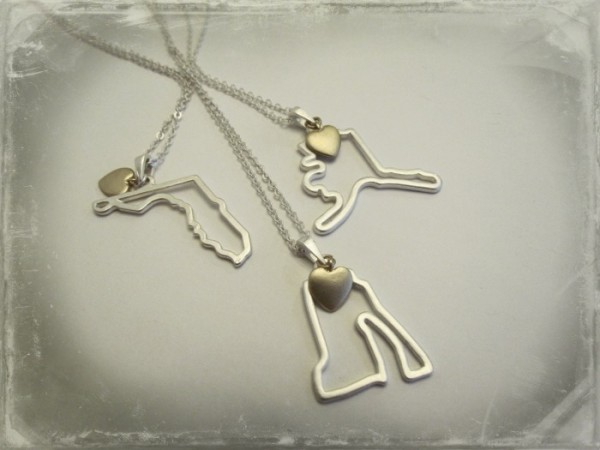 STATE NECKLACES
I had seen others before, but these really caught my eye, as dangling from the front of each silver toned state, was a small gold looking heart. YES, that was IT.
That was the gift that I needed to get for Sandy for the holiday. Her heart is in Alaska, as mine is in Rhode Island. I asked Keri Lyn about them, and she immediately contacted the store for me. I never expected them to just SEND me these three beautiful necklaces. I was overwhelmed with joy when I opened the package to find not just the one that I wanted for my friend, but she took it upon herself to include RI and FL – my TWO home states.
A gift that's TRULY from the heart
When you find a gift that you know will make an  impact on the receiver, you know that they'll cherish it. I can't WAIT for Sandy to open her holiday gift and FINALLY be able to not only keep her home in her heart, but around her neck as well.
State Necklaces are available at Cents of Style  for under $25. They're at the top of my "MUST HAVE" gift list this holiday season.
Thank you to MyCentsofStyle.com and SheSaved.com, for the beautiful necklaces. I'll cherish  mine and wear them proudly, as I'm certain that my friend Sandy will. All opinions are strictly my own.