As a firm believer in getting the biggest bang for your buck, so that there's PLENTY left over for a bit of self-indulgent FUN, it's no surprise that I'm a fan of BJ's Wholesale Club. While I stop in every other week for essentials like cleaning supplies, great cuts of meat, food and yes WINE & LIQUOR (not all clubs have this feature – it depends on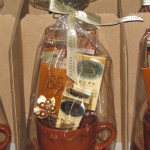 location and state laws), you'll also find me perusing the electronics, clothes, books and gifts on a regular basis.
During the holiday season, BJ's ramps up their gifts and makes giving not only easier, but less expensive. Where else can you score iTunes gift cards at a discount? Godiva gift baskets – into my cart (along with Lindt and Ghiradelli – ahhh, chocolate heaven), to be brought for the hostess gift to parties, given to teachers, family members – or OPENED and enjoyed yourself are all available during the holiday season.
From handmade gift tags (60 for $9.99) to that television that he's been coveting at a deep discount, you're able to score exactly what you need to make the holidays festive and EASY at BJ's.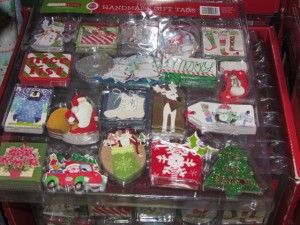 Yesterday, I had the good fortune to be invited into their store for a tour and tasting (shhh…don't tell). Have you seen those adorable BabyCakes donut  makers? I have one sitting on my counter waiting to make some mini-donuts on Christmas morning to bring to Rob's house thanks to the people at BJ's who sent me home from a fabulous event with a SWAG bag that was so heavy I needed two hands to carry it.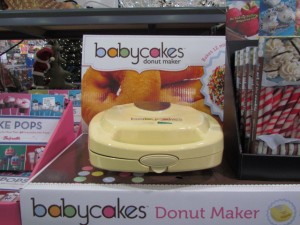 While touring the store, it looked like Santa had set up shop at my BJ's with plenty of toys for kids of all ages. Including…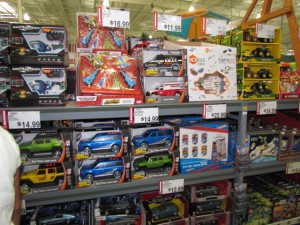 Ages 2 & Up:
1. Disney Princess or Disney Pixar Cars 2 Bowling Set $16.99 each
Exclusive set includes 10 extra-large soft pins and soft balls for safe indoor/outdoor play!
Ages 3 & Up:

1. Hex Bug Nano Special Edition Set $29.99
5 micro robots that act like real bugs — 2 nanos, 2 rare mutations and 1 glow-in-the-dark — plus 10 easy-connect pieces. (Also on BJs.com)

2. Fisher Price Doodle Bear Gift Set $22.99 each
Includes washable scented markers, 3 stampers, 3-shape stencil and DVD. Chose rose, violet or both! (See page 5 of BJ's Toys and More 2011 Digital Catalog)
3. Dinosaur ZipBin with 3 Dinosaurs $18.99
Includes hand-painted T-Rex, Velociraptor and Brachiosaurus figures. Storage bin converts to large play mat. (Also on BJs.com)
Ages 4 & Up:

1. Lalaoopsy and mini Lalaloopsy set $24.99 each
Magical rags dolls have unique personalities. Collect them all! Includes pet and Mini Lalaloopsy.
2. Disney Princess Squinkies Ring Collector Jewelry Pack $18.99
Make Disney Princess jewelry! 24 Squinkies pop into Squinkies ring or bracelet.  – also on BJs.com
3. Lazer Stunt Chaser Vehicle and Stunt Ramp Set $39.99
Infrared light moves vehicles super fast for super ramp stunts. Includes 1 rechargeable vehicle, 2 stunt ramps, remote and charger. Choose from 4.  – also available on BJs.com
Ages 5 & Up:  
1. Orbeez Jewelry Maker Kit $19.99
Add color or sparkles and water to grow Orbeez. Includes 2 light-up pendants and 1,500 Orbeez in 8 colors, plus 3 bonus pendants and 900 extra Orbeez.
2. Neon Glow Wire Picture Maker Super 6-Pack Set $19.99
Star Wars, Disney Princesses, Disney Fairies Tinker Bell or Disney Pixar Cars 2. With 6 Templates, frame and 11' Meon wire. (See page 5 of BJ's Toys and More 2011 Digital Catalog)  

Ages 8 & Up:

1. Creepy Crawlers Bug Maker and Bug Grinder Deluxe Value Pack  $29.99
Includes bug maker, bug grinder, molds, goo and 30 bug eggs.
Needless to say, the shopping is just about finished after that trip! Of course, I also got to taste some of their FAB appetizers and desserts, perfect for that holiday get together at the mansion.
As a former New Englander (which is where BJ's began), I've been shopping with them for many, many years. Still, there were things that I never knew. For example:
BJ's takes manufacturers coupons
Check the front of the store for BJ's exclusive coupons
If an item comes packaged in MULTIPLES, you can use multiple manufacturers coupons (for example: if Clorox wipes are packaged with 3 tubs together – you can use 3 manufacturers coupons on the package)
You can piggy-back BJ's coupons PLUS manufacturers coupons on the same item.
Essentially, you can save a WHOLE LOT MORE on their already discounted prices.
Check and see if there's a BJ's Wholesale Club near you and save, save, save this holiday season (as well as year round).