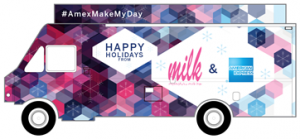 Today I received a call from Ben telling me that there' a good chance he'll be moving to New York next year.  While I certainly don't want him to move away (he's only been hear for a year and I've been enjoying having him around), Ben being in New York means that I'll be there a LOT more often. It also means that I'll get to see a LOT more of my friend (like YOU), and enjoy the fun activities that the city has to offer.
I know that I have a VERY high percentage of readers who live in and around New York, and when I heard about the HOLIDAY COOKIE TRUCK that will be roaming the streets of the city this Saturday I had to share. That's right, American Express has partnered with Momofuku Milk Bar Pastry Chef Christina Tosi for a ONE DAY cruise of Manhattan and Brooklyn handing out COOKIES!
YES!!! You can score some of Momofuku's much-loved cookies and celebrate the spirit of the season with American Express.  Make sure to bring the family, tell your friends and neighbors to celebrate the coming holiday with some of New York's BEST COOKIES.
This event is part of a new program brought to you by American Express and its commitment to celebrating Cardmembers and their sources of inspiration. Inspired by her Mom's do-it-yourself ethos, Christina started her own cookie empire just two years ago with the help of her Amex Card. Today, Momofuku Milk Bar has grown to five bakeries and a commissary. From the first bucket of paint and stack of drywall to the latest apron and oven, Christina has realized her most inspiring (and delicious) dreams with the help of her Amex.
WHEN:  
Saturday, December 15th, 2012 11:00AM – 5:00PM
WHERE:
Cookie Truck Schedule
11:00am to 11:45am – Stop 1: Central Park South – Columbus Circle Area
12:10pm to 12:55pm – Stop 2: Madison Square Park Area
1:20pm to 2:05pm – Stop 3: Union Square- 16th St & Union Sq West
2:30pm to 3:15pm – Stop 4: SoHo- Houston St & Greene St
3:40pm to 4:25pm – Stop 5: Williamsburg- Bedford Ave & North 7th St
4:50pm to 5:35pm – Stop 6: Fort Greene Park- Cumberland St & Dekalb Ave
FOLLOW:
They'll be tweeting out their location during the day. Simply follow the hashtag: #AmexMakeMyDay
Since cookies and the holidays go together, Pastry Chef Christina Tosi has shared one of her MUCH LOVED cookie recipes with the readers of Champagne Living…
COOKIE CUTTER COOKIES
Yield:  2 dozen cookies
Ingredients
1 cup butter, unsalted
1⁄2 cup light brown sugar
1⁄2 tsp kosher salt
21⁄4 cups flour or oats ground down into a flour
Directions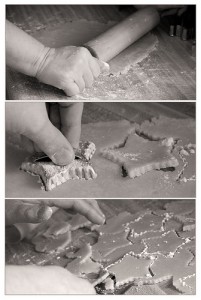 1. In a stand mixer with the paddle attachment, cream the butter, sugar and salt for 2-3 minutes on high until light and fluffy. On a low speed, paddle in flour until just combined (approx 30 seconds).
2. Remove the dough from the bowl and divide into two equal "patties". Wrap in plastic and chill in the fridge for at least an hour.
3. Heat oven to 350°F.
4. Place each ball between two sheets of wax paper and roll out to 1⁄4-inch in thickness. (you can also take additional flour and dust your work surface to roll out dough)
5. Cut out shapes, transfer shapes to a lined baking sheet and and bake for 10 to 12 minutes, or until slightly golden on the edges.
6. Cool cookies completely on the baking tray or a cooling rack completely. Frost with icing*, sprinkles, whatever you got!
7. Leave cookies out for frostings to set before transferring to a plate or to an airtight container for storage. At room temperature, the cookies will keep fresh for 5 days; in the freezer, they will keep for 1 month.
** alternative technique: roll into a log, refrigerate, slice circles, decorate/use decorative cutter that size for easy roll out/ rotating log with each slice
Post sponsored by American Express via SheSpeaks Inc. All opinions expressed are my own.
Photo credits: cookie cutters: craftapalooza / Foter / CC BY-NC  – making cookies: katherine lynn / Foter / CC BY-NC-ND
http://www.blogdash.com/full_profile/?claim_code=e32f43c11dd210c2ed8902c3d8b5e35a