We used to have a holiday tradition. 
No – it wasn't decorating the mansion
No – it wasn't lighting the candles or trimming the tree
No – it wasn't exchanging gifts
It was GETTING AWAY and enjoying some of our favorite PLACES during the holiday season. When we lived in New England, it usually meant heading up to New Hampshire for some great skiing on New Year's Day. When everyone else was nursing their hangovers, we'd have the slopes all to ourselves. No lines for the gondola, no newbies falling in front of us, no wait at the lodge for a drink.
Now that we live in Florida it's changed. Getting away to ski is a LOT more work, so I started to think.
Where should we go for the holidays?  
I don't want it to be too expensive as I'd like to make it easy for family to come along, it shouldn't take days to get there, and if possible – it should be a great place to celebrate.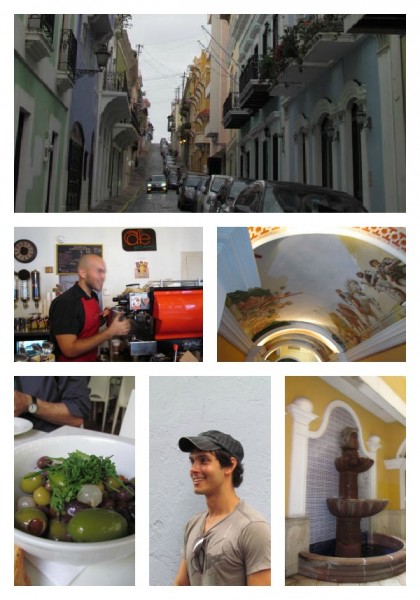 Earlier this year I spent a little time in San Juan, Puerto Rico and thought B-I-N-G-O – THAT is where I'd go.  There's so much to do on this little island – sun, sand, glorious hotels, and amazing food. If you're looking for something a little different, I'd certainly steal away from the beaches and explore Old San Juan. I was lucky to have the best tour guide EVER – my friend and international chef Harry Pagancoss seen on MTV's Tr3s, and host and producer of World Food Explorer. Harry made certain that I experienced everything that Old San Juan has to offer. While it was wonderful seeing the hidden corners, snooping in apartment  buildings, and enjoying coffee from one of the best barista's I've experienced – you can certainly do it all on your own. The city is small and VERY friendly. Take a slow stroll, pop in to the little restaurants, shop a bit, soak in the European flavor and enjoy.
STAY
For a quirky, old world experience stay at the historic El San Juan Hotel. At first glance, little has changed in the lobby of this iconic hotel. You'll feel the history immediately upon walking in the door (mahogany-paneled lobby, with  red marble floors, crystal chandeliers and age-old tapestries) as you are taken immediately back to the Golden Days. You can almost FEEL the ghosts of Frank Sinatra and Sammy Davis Jr. While little has changed in the dark wooded, eclectic looking lobby – the rooms are MODERN and SLEEK (white with orange accents). Oh, and then there's the POOL. Surrounded with lounges big enough for the two of you, and a South Beach appeal, you'll want to spend your downtime here (or go for it and reserve a cabana).
PARTY
No need to venture off property for great food and HOT nightlife. The HOTTEST club in town Brava is here. Get there EARLY or you'll be SOL. This place fils up FAST and you'll find plenty of locals along with the tourists. Table service is available (yes, we opted for a VIP table), and bottles start at $100.  Of course, you're there to DANCE, so get up out of your seat and get on the floor, you're on vacation – sleeping late tomorrow is not only an OPTION but required. If you're going to be there for New Year's Eve this place will be CRAZY – make sure to reserve admission tickets NOW!
AND THEN THERE'S THE FOOD
I happened to be at the El San Juan on a culinary tour. With 15 bars & restaurant that range from Oriental to Caribbean, there's even a Brother Jimmy's BBQ (the first one out of NYC). I suggest you still go into town to grab some great local food, but don't feel that you have to venture out of the hotel for food like this…

MUSTS
Coffee – Puerto Rican coffee is one of my FAVES
Rum – need I say more?
Explore the old city
Take a spa day
Relax and have fun
I visited Puerto Rico as a guest of the Waldorf-Astoria. All opinions are strictly my own.