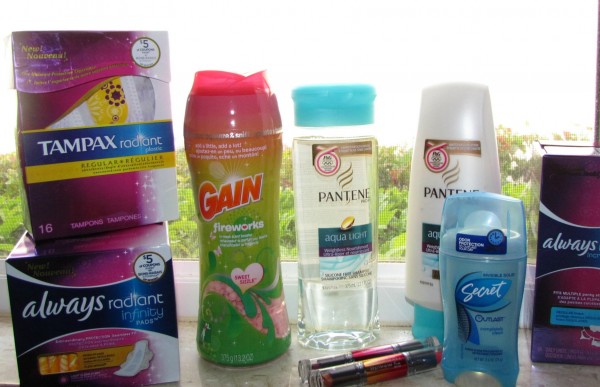 If you read my facebook status today you'll know that I'm VERY overwhelmed. It doesn't happen to me all that often – but sometime everything collides and I just need to shut down. I need to cut back, simplify, and take time away from my digital life – turn off the computer, forget the smartphone at home, go to dinner without – checking in, sharing, and creating a hashtag. I need a simple day. Maybe it's the holidays, or maybe it's just the fact that it' been a hectic year.
Thankfully, P&G has come to  my rescue. They just know how to make life easy, with products to simplify life, help me deal with the holidays, and keep the family looking great, and make it all look easy.
Wish List:
Tips to Help Simplify Your Holiday Routine
In a cosmetic bag keep a compact, a small comb and COVERGIRL Blast Flipstick™ in your favorite shade. It's expertly designed with creams and shimmers for your one of a kind look and helps you effortlessly transition from day to night, making it the ideal lip color to keep you looking fabulous as you dash from the office to any holiday party.
When doing your makeup, don't forget to dab some silver or metallic eye shadow in the corner of your eyes by the tear ducts. It adds a festive pop of color that will make you stand out at your next holiday celebration.
Always be prepared with Tampax® Radiant™ tampons and Always Radiant Infinity Pads™ in your drawer at work or in your purse. These innovative products will give you invisible protection and reveal a radiant you to dazzle at any holiday affair.
To achieve a stylish and professional look at your next bash, place your hair in a slicked back ponytail. It will bring the focus to your face and keep strands out of your eyes, so you can dance the night away.
Throw a stick of Secret® Outlast™ Protecting Powder Invisible Solid into your bag. With 48 hour odor protection, nothing will stop you from tackling your holiday to-do list as you dash from one store to the next in search of the "perfect gift" for that special someone.
After the holiday rush is complete, reserve a day just for you. Give yourself a relaxing and well-deserved day off at a local spa.  Or, spend some quiet time in a library catching up on that book you've been dying to read but got lost in the holiday shuffle.
Whether your holiday house guests are young or old, check out some of our tips and tricks to make sure their comfortable in their home away from home.
Mom Knows Best:
Tips To Make Your Family Members Looking and Feeling Their Best
Help your visitors freshen up by including Pantene® Aqua Light Shampoo and Conditioner in the guest bathroom. This innovative product duo nourishes hair, leaving it feeling light, clean and ready for any impromptu family photo shoots.
Keep an umbrella and a plastic poncho in the closet of the guest bedroom in case your guests forget their rain gear at home.
Stuff your guest's stocking with items you know they'll use, like Olay® Winter Retreat Body Wash, to help battle and protect them from dry, winter skin. It contains more moisturizers than a jar of Olay® and hydrates and restores dry skin.
To make your guests extra comfy, place a humidifier in their room. It will replace the moisture missing in the dry winter air and help them feel right at home.
This year, start a new holiday tradition with your children. Have them each pick out their favorite holiday story and take turns reading.  Or, ask them to write a script about what the holidays mean to them and perform it at your next family gathering.
Deck The Halls:
Preparing Your Home  for Holiday Guests and Loved Ones
Help trigger fond memories by adding cinnamon sticks to a pot of boiling water filling your home with holiday aromas.
Sprinkle in some Gain® Fireworks Sweet Sizzle Scent Booster when washing your linens to experience freshness that lasts 12 weeks once out of storage.
Drape fresh garlands and holiday lights around your doorways and windows.  Less is never more when it comes to holiday décor!
Make homemade snow globes to scatter holiday cheer throughout your home.  Take a jar with a sealable lid and glue your favorite holiday figurine to the bottom – make sure to use waterproof/permanent adhesive.  Next, fill the jar with glitter and water and watch as your guests delight in shaking your holiday masterpieces.
Don't forget to visit PGTryIt.com to see what innovative Have You Tried This Yet? I love that there are ALWAYS great high value coupons to download on P&G products, I simply PRINT before heading out the door to shop.
P&G products new mom, Vanessa Lachey, can't live without including, Tampax® Radiant™ and COVERGIRL® Blast Flipstick™.