Nina Garcia will host 3 fabulous days of fashion at Underground Lauderdale Fashion Week this month. 
Debuts will include the headliner runway presentation of Nicole Miller's Spring 2017 collection. The program will include world-class partners including national millennial organizations IVY and Create & Cultivate, along with some of fashion's biggest luminaries including Nina Garcia, Nicole Miller, and Susanne Bartsch.
Come enjoy the amazing "see-now buy-now collections" in either live model vignette presentations or runway shows including:
SAUNDER (

11am-noon

) (NYC, women's & men's)
Descendent of Thieves (

1-2 pm

) (NYC, menswear)
An "Art-a-Porter" presentation curated by Susanne Bartsch (

3-4 pm

) featuring vignettes by NYC designers Devin Kelly, Hana Quist and Casey Caldwell, and with looks from Graham Tyler, Claire Fleury, Bcalla, Saga & Muffinhead (women's & men's)
Zoey Reva (

5 pm

) (South Florida, women's)
Alice & Trixie (

6 pm

) (NYC, women's)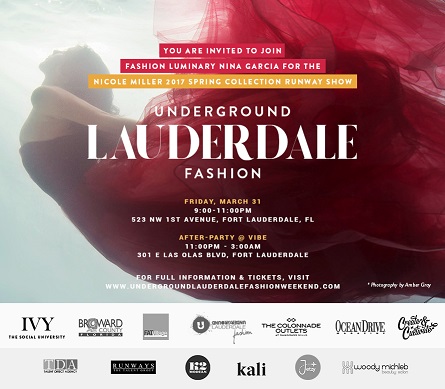 In addition to Nicole Miller's  fashion presentation, Underground Lauderdale Fashion Weekend will host a Kick-Off Reception on Thursday, March 30 (8-11 pm) at the Ritz Carlton's Burlock Coast hosted by local style mover & shakers presented by The Colonnade Outlets at Sawgrass Mills and followed on Saturday, April 1 (10am-6pm) by IVY hosted fashion shows focused on emerging designers representing both New York and South Florida. IVY has been showcasing designers during fashion weeks in NY, LA and Miami for the past two years.
The MARCH 30 – APRIL 2 WEEKEND INCLUDES:
Thursday Night: Kick-Off Reception @ Ritz Carlon's Bulock Coast
Friday Night: Nina Garcia hosts Nicole Miller's 2017 Spring Collection Runway Presentation & Reception, with After-Party @ VIBE
Saturday: Womenswear & Menswear Designer Fashion Presentations hosted by IVY
Saturday: Fashion Marketplace including pop-ups where you can buy looks right off the runway
Saturday Night: Finale Celebration Party hosted by "Queen of the Night" Susanne Bartsch
Sunday: Farewell Brunch
This is a MUST ATTEND event for any of my readers who love fashion as much as I do.


For tickets and more information visit Underground Lauderdale Fashion Weekend

Stay at the Renaissance Fort Lauderdale Cruise Port Hotel with rates starting at $289 a night (two-night minimum) when booked

here

before March 10th.