Is this what 64 looks like?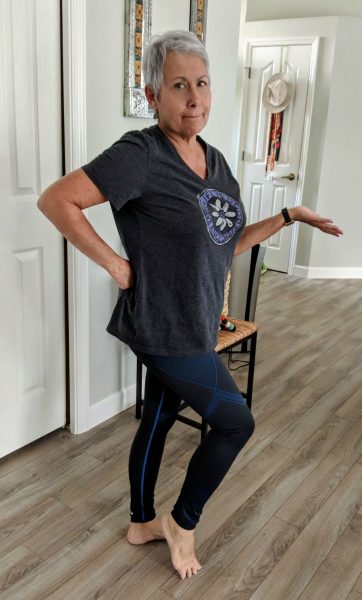 If you've been following me on social media you know that I've recently lost over 15 lbs on the FASTer Way to Fat Loss with my coach Valerie. I'm currently holding my own as I wait to sign up for a second round with her when I return from Rome in 3 weeks, but that doesn't mean that I slide into my old patterns.
Quite the opposite
At 64 years old I started feeling my age. Between the aching back, hip and knee, the lack of energy and just looking in the mirror, I knew that I had to take the bull by the horns and stop feeling sorry for myself and DO SOMETHING. I've changed the way I eat, and now it's time to change my fitness routine.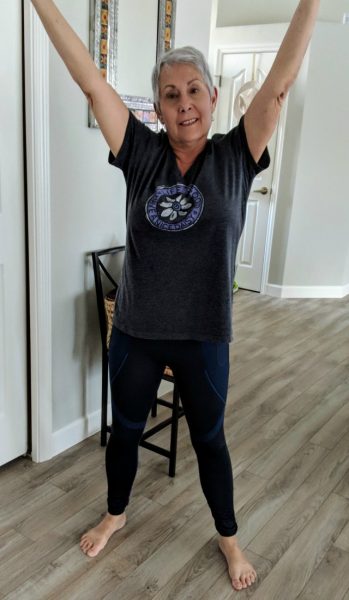 Going from nothing to working out HURTS
All of those beautiful instagrams of happy people working out, running, and pushing themselves to the limit while smiling are not real. At 64 exercise hurts. Bouncing back no longer takes a few hours but a few weeks (okay, maybe not that long). But, I know that I have to do it.
So I turned to Caliloko
It turns out that what you wear to workout can help activate your blood circulation, eliminate toxins, and prevent swelling. That translates into LESS SORENESS and with less muscle soreness, I get the best odds to improve my fitness performance and feel stronger.
Making me happy that I'm only 5 feet tall
I've been wearing Caliloko workout wear to help me with that soreness, but putting my tights on….well, they are TIGHT and I keep thinking that if I were 5'11" that I'd probably be wriggling my way into these spanx-like tights and mumbling under my breath, but thankfully I have short legs and once they are on – DAMN I look good (not the point of them, but definitely an added plus). All of this means that with a shorter recovery time, that I can get up the next day and do it again….even if it's just a nice gentle yoga stretching.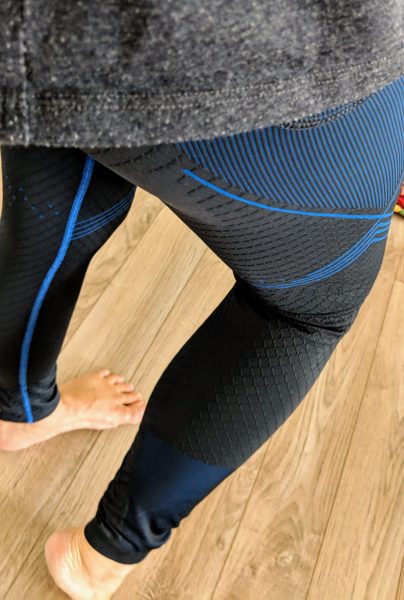 About Caliloko
Created by competitive squash player and high-performance fitness amateur, Nathalie de Champlain, Caliloko redefines the standards of activewear by incorporating compression technology and shapewear designs into luxurious styles and fabrics. Here's what she has to say about the line:
Adopting an active and healthy lifestyle is a priority in my life. It guides the choices I make for my family; it is my North Star. Over the years, as I practiced my sports seriously as an amateur, and actively supported my husband during his Ironman and triathlon races, I realized that there was a need for a unique compression sports brand that can be both technical and stylish," said Nathalie de Champlain, Caliloko Designer, Creator and Founder. "We engineered a design that is figure flattering shaping. It is meant to be beautiful and technical at the same time. Our premium odor control and fast drying yarn allows your body to stay cool and feel fresh even during the most intense activities, and keeps you protected from the UV rays with 50 UPF.
Caliloko Compressionwear is made with premium yarns and its unique four-way stretch helps to activate the blood circulation, eliminate toxins, and prevent swelling. With less muscle soreness, wearers achieve the best odds to improve their fitness performance and feel stronger.
The line includes:
Yosemite Active Compression Long Tights

– Unisex
Mt. Diablo Active Compression Calf Sleeves – Unisex
Oceanside Recovery Compression Long Tights – Unisex
Santa Barbara Recovery Compression Calf Sleeves – Unisex
Auburn Racer Back Bra for Women
Malibu Sweat Headband for Women
Caliloko's ultra–soft and delicate seamless fabrics offer quick drying, breathable, moisture wicking and anti-bacterial properties as well as sun protection up to 50 UPF.
Inspired by science
Inspired by the science of medical compression therapy and post-surgery usage of compression garments, Caliloko's seamless technology applies compression on the surface of the skin to actively increase circulation through the muscles with the added benefits of:
Enhanced blood circulation
Stability to the muscles
Increased muscle oxygenation
Improved athletic performance
High fashion style
Prices range from $55 – $145

To find out where to buy your Caliloko workout wear (or to order online) visit: Caliloko.com