Note: This post has been sponsored by Dannon. I received product and compensation to facilitate this post. All opinions are strictly my own.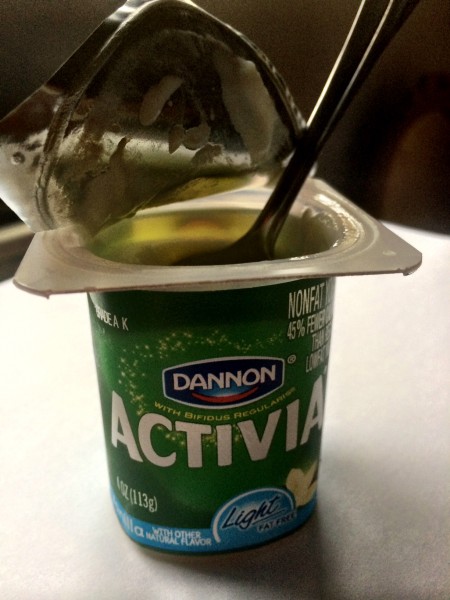 Me!!!! ME…ME…over here…I'm "regular" and I'm not bloated or gassy or any of those nasty things that make you feel like you shouldn't leave the house. I'm a gal on the go, and I can't AFFORD to feel less than 100%. I told you last week just how I was taking the Activia Challenge and upping my intake of Activia from once a day to twice a day. After two weeks I FEEL GREAT
My findings
1. I find it's like a treat at the end of the day – feeding my sweet tooth
2. I am not a "dairy" gal, so having another serving makes me feel like I'm doing something for my body
3. I seem to be able to digest some of those foods that gave me issues without that awful distended belly
4. I need to watch my calories – so switching to Activia Light fat free means I can have my treat without the guilt
5. I've been sticking WITH IT…of course when it's delicious it's EASY (why can't exercise be like this)
6. My family has FINALLY embraced the idea and is doing it along with me
EXPANDING MY HORIZONS
I've always been a FRUIT yogurt lover, but I tried Activia Vanilla for the first time this past week, and I can't get enough of it. I love it right out of the container or spooned over fresh fruit. I've tried it with cinnamon added (good) and with chocolate chips added (good but no lo-cal).
The only issue I've had
..is that there seems to be someone ELSE in the house who thinks that the Activia Challenge  was meant for him….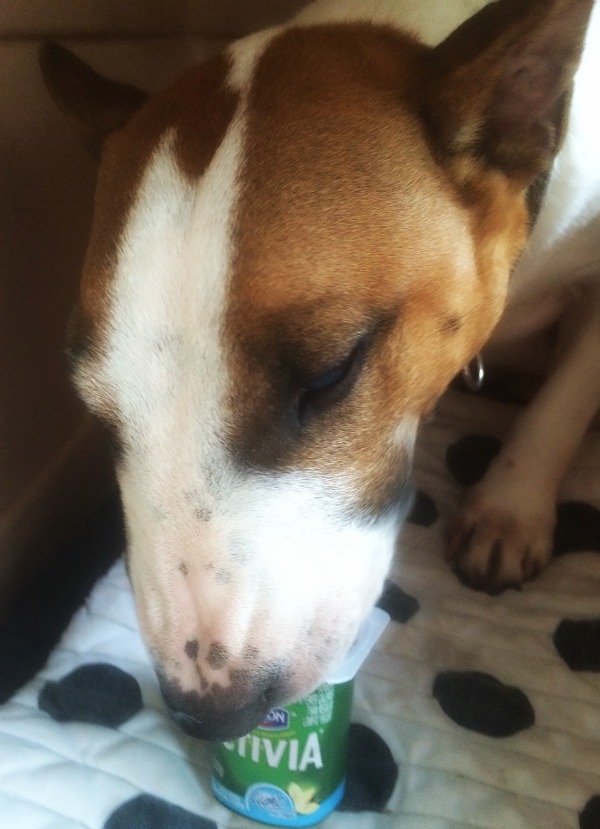 Well…at least he has good taste.
LAST WEEK'S ACTIVIA WINNER IS: Kathie B – congratulations Kathie
WIN 
Enter to win TEN (10) coupons for Activia Yogurt
You may enter this giveaway TWICE. Once by sharing the pre-scripted Facebook post and once by sharing the tweet.
You may only enter via ONE of the blog sites offering this giveaway.
Giveaway Terms
August 25, 2014 – September 28, 2014.
Administrator: Mom It Forward
Sponsor: Legend PR. The Dannon Company, Inc. is included in rights granted hereunder.
No purchase necessary to enter.
No more than one entry per person via each of the methods listed in the Giveaway details. 
The odds of winning a Giveaway depend on the number of eligible entries. 
Winners will be selected randomly by Mom It Forward using http://random.org as a selection tool. All decisions of Mom It Forward are final. 
Employees of Mom It Forward and the Giveaway sponsor are not eligible to participate.
All entries received after the Giveaway closing date and time will not be considered.
Entries that do not follow all of the entry requirements will not be considered. Winners will be notified via email and will have 24 hours to confirm receipt of the e-mail.
If the winner does not reply within 24 hours, another winner will be selected.
Open to participants in the US (excluding the following states: NJ, CA, TN, NV, ND and LA)  and Canada who are 18 years and older.
Void where prohibited. Taxes on Giveaways are solely the responsibility of the winner. 
Winner agrees to permit Mom It Forward and the Giveaway Sponsor to use her or his name, voice, photo, or likeness for reasonable promotional and marketing purposes for up to 90 days after the end of the Giveaway. 
Mom It Forward and Sponsor are not liable for late or misdirected entries, entry errors, or transmission problems.
Mom It Forward reserves the right to terminate the Giveaway in the event of technical problems, or to correct typographical or technical errors, or to amend these rules. 
All participants should review the Mom It Forward disclosure and privacy policies.
By entering, participants agree to release and hold harmless Mom It Forward, Sponsor, The Dannon Company, Inc., and their respective parents, subsidiaries, affiliates, directors, officers, employees, and agents from any and all liability or any injuries, loss, or damage of any kind arising from or in connection with a Giveaway. 
Mom It Forward will provide the name of the winner for any Giveaway, upon request via email to Mom It Forward, for 90 days after that Giveaway's entry period ends. 
Unless otherwise provided by the Sponsor, no substitution, transfer, or assignment of prizes is permitted. 
Non-winning entries from one Giveaway are not carried forward to future Giveaways