One of my favorite writers – Kathy Chin Leong was recently in Yountville, CA on a press trip and shared the inside scoop with us. Now I want to go!
Over. The. Top. A $10,000 per night, five-bedroom house in Yountville, Calif. comes with your choice of a helicopter ride, hot air balloon flight, or any other bucket-list dream experience (within reason) for a party of up to ten guests. Knighted as The Villa, the abode with pool and hot tub also supplies you with personal attendants: a chauffeur to escort you around Napa, a yoga instructor to demonstrate a proper Downward Facing Dog, and breakfast chef who will cater to gluten-free, dairy-free,  and sugar-free diets, and whatever food sensitivities need addressing.
Welcome to Napa Valley's Yountville, a town occupying a little more than 1.5 square miles, named after the first settler in Napa Valley, George Yount.  The community of under 3,000 residents boasts the world's highest concentration of Michelin-starred restaurants per capita. When plans call for quaint and quiet, Yountville is the quintessential answer. Walking from one end to the other end of downtown Yountville takes 10 minutes.  Along Washington Street, the main artery, you pass key places tourists love:  unique restaurants, wine rooms, hotels, art galleries, spas, boutiques, coffee haunts, and bakeries.
Hotels
Sister properties to The Villa are the Hotel Villagio ($550 nightly) or adjacent Vintage House ($450 nightly). So as not to get confused, all three are under The Estate brand.  Rooms at the splurge-worthy hotels feature gleaming white bathrooms, sumptuous beds and linens, elegant artwork, and wood-burning fireplaces.  Moke electric mini-Jeeps deliver you to nearby destinations.  Free loaner bikes are available upon request.
A daily breakfast where everything is cooked and baked in-house runs until 11 a.m. Fill up on steel cut oatmeal, house granola, pastries, cheeses, salmon, breads, hot egg entrees. Coffees and freshly-squeezed juices will satisfy you fully. Afterward, take a dip in the hot tub and the pool. Under the umbrellas, listen to bubbling fountains while reading the pool service menu. At night, fireside tables will keep you cozy.
The Hotel Villagio has become quite the local's social hub with a bar, pool table, and board games in the lobby. The vibe is masculine, dark, and brooding with a warm industrial decor of exposed wood beams, dark flooring, black and white pictures and framed antique corkscrews at the check-in desk.
And on the other end of the estate is the more feminine Vintage House where white walls, big windows, and high ceilings call forth light. The white farmhouse exterior charms all with signature white bicycles, very distinguishable by lavender-colored tires. Rooms accents include lavender-colored pens and lavender throws. Thrown down your romance card when you book a king suite boasting marble bathrooms with double shower heads. Not too be missed on each patio is a wicker egg chair suspended on a chair hook.
Then there's the spa, a seven-room pamper palace with steam rooms, outdoor tubs and separate women's and men's lounge. Spa-goers are encouraged to arrive an hour early to enjoy the outdoor soaking tubs where you can also order snacks, sip on cucumber water, or bask under the sun.   Upstairs you'll find the couple's rooms with generous real estate so treatments can be had at a leisurely pace. Want the five-hour Suite Retreat? Rates start at $625 per person.
Meanwhile, North Block Hotel on the south end of Yountville transports guests to Italy, no passport required. It's a different vibe compared to the 22-acre Estate on the other end of town. Here, all twenty guest rooms form an enclave surrounding a courtyard fountain. The colorful tiled stairs, arched wooden doors with decorative ironwork, and ivy-clad stucco walls will have you snapping Instagram photos relentlessly.  Tucked in the back, you'll discover the gated pool and hot tub with private curtained cabanas. A small spa is downstairs below the check-in area. Compared to The Estate, North Block is a smaller property, also with excellent and personal service.
Rooms begin with a sticker price of $400 per night. They feature deep-sleep beds with 300-count white linens, flat screen TV, wi-fi, espresso coffee makers, and soaking tubs you must take advantage of before checking out. Some have fireplaces, so do your homework ahead of time to find your ideal spot. A hearty breakfast comes with your stay next door at Redd Wood restaurant.  Delicacies from Bouchon Bakery at breakfast is a real treat, for lines go out the door at the globally famous bake shop.
Wineries
You may think a wine room is a wine room is a wine room. But not here. Book a seating at Yountville's JCB Tasting Salon, a vanity project of multi-millionaire Frenchman Jean-Charles Boisset. Upon stepping in, your eyeballs are immediately assaulted with crystal chandeliers, framed mirrors on the ceiling, changing lights, and cases of jewelry and gem-stone studded wine bottles. When you want to give something for the person who has everything, here's a tip, purchase JCB's Swavorski crystal-encrusted bottles costing a mere $2,600.
Look for a seat on a leopard print chair or snag a gold bar stool. Even better, reserve the corner where you can see all the action from a leopard print velvet couch backed by leopard print drapes. In the private JCB Prive tasting salon, in a separate building, the room looks like something out of a playboy mansion. Those white ceramic hands that pop out of the walls look as if they may snap their fingers at any moment. The stuffed birds-will they fly away? Then there's the red grand piano that once belonged to musician John Legend.  John Legend, by the way, partnered with Raymond Winery, also owned by Jean-Charles Boisset, to help craft and brand Mr. Legend's wines, the LVE Collection.
When your senses wave the white flag in surrender, flee to Hill Family Estates.  Casual and millennial, it touts a music and sports vibe in its tasting room as evidenced by sports jerseys, mounted guitars, and a replica of the judges chair from the reality show The Voice.  Hill Estates runs a $65 Secret Garden tour that takes you the winery's private garden with over 100 fruit trees, plus a bumper crop of veggies and herbs. It's an edible learning adventure in flavors and textures. And when you want more, a $225 Tomatoe-ville Dinner Under the Stars will bring you Hill Family Estate wines along with a freshly harvested meal.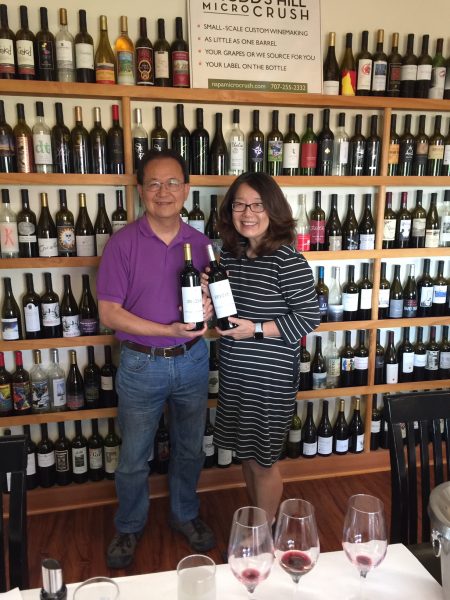 Nearby Wineries
For more behind-the-scenes bonding, go to Judd's Hill, a bespoke gem producing under 3,000 cases annually. The tasting room patio provides a casual space within arm's reach of the vineyards.  The winery is the only one that offers a 90-minute Bottle Blending Boot Camp.  For $320, up to four in a group get to blend four single-variety red wines. You tinker with beakers and measuring cups, and sip, sip, sip while experimenting. It's like going back high school chemistry, but you get to play with consumable alcohol.
You call the shots as Junior Winemaker and mix different reds with your desired amounts. The group votes on the best blend, and everyone participates in the production process. Note: you make four bottles with the same contents, not different wines. Next, you go to the barrel room to siphon the wines following your recipe blend. From there, bottle your wine, cork it, foil it, name it, and slap on a label. Everyone goes home with a bottle and bragging rights at the next party!
For epic views, drive to Joseph Phelps Winery where the late Joseph Phelps was legendary for his fine wine-making palate. You get to know the oenophile's philosophy when you try the $125 the Single Vineyard, 90-minute tasting with at least six wines. Each originates from a different plot, and the instructor describes terroir and climate from each vineyard. You taste, compare and contrast, and learn to discern vineyard nuances. Wine nerds will rejoice. Phelps wines sell in the hundreds of dollars so you will be indulging in exquisite sips. At the end of your indoor tasting, your wine educator leads you outdoors for sensational panoramas.
Also in Napa is the relatively new Paraduxx Winery, sister to the established DuckHorn Winery. Paraduxx specializes in red blends, and you can sample inside under a modern-vaulted ceiling or outside in the garden. When you are hungry, highly recommended is the $40 Parduxx Enhanced wine tasting with an optional and charcuterie pairing. This gives you taste of at least four special vintages and library wines that go with local cheeses and cured meats. Ask for young Miguel to be your host, and he will regale you with stories of his childhood experiences in the Napa winery industry.
Things to Do
This land of more than 400 wineries and vineyards lends itself to stunning aerial views, and getting a hot air balloon perspective is a must. Napa Valley Aloft, at $200 per passenger, runs a well-oiled machine with a meeting spot in the heart of Yountville. Guests arrive before dawn, and the staff drive participants to a grassy takeoff spot. Everyone gets to witness the inflating of the balloons with jetted flames. Riders climb in the basket using the open footholds in the wicker. No earlier experience needed.
At the quietest and more serene times of the morning, balloons silently and gently lift off as if God Himself is cupping each basket in giant, protective hands.  The diverse Mayacamas, Vaca, Yountville Hills, and Howell mountain ranges are draped by thick rows of clouds, eventually ebbing away as the morning sun intensifies. Other fairytale balloons hover in the near distance, colorful, almost cartoonlike.  Some clever balloon pilots hover their baskets over a pond almost touching the wicker to the surface.
In Yountville, bicycling along the new Vine Trail is an ideal way to shave off some calories. This bikeway and running path goes from Yountville down to Napa for now until it gets further extended.  The 10-mile ride each way is flat and follows the railroad tracks. You glide past vineyards, hotels, and as you get closer to Napa, the backs of factories and fenced residential areas.  Nonetheless, the ride is easy, well-marked, and family-friendly.  Air pumps, signage and benches along the way make sure you will be safe and not get lost.
EATS
Hungry after that awesome ride? Yountville has so many food destinations you will find a new one to explore each time you come.  New on the food docket is RH, a fairytale, fine dining utopia with interiors featuring live, ancient olive trees, gigantic chandeliers that will remind you of Phantom of the Opera, and celestial glass windows stationed high above your head. This greenhouse is so beautiful that you drool after so much gorgeousness, and you don't care if the food is terrible because you simply want to hide under the branches and wait for gnomes to tiptoe out.
But fear not. The food will lure you back.  The lobster roll is succulent and buttery. Those lobster experts in Maine would give RH a thumbs up. On point is the unique fried artichoke and potato slices, an appetizer that is criminally addictive. Dessert must-have is an open-faced banana split topped with ice cream, plus with small cups for toppings such as bitty chocolate balls, coconut shavings, and other decadent yummies.
La Calenda, new from Thomas Keller of French Laundry fame, offers up Mexican street food in a colorful space. It is affordable (biggest menu item costs $22), plus, it's delicious Oaxacan fare with tacos, tamales, homemade mole, and churros. The restaurant serves up wine from both California and Mexico. The Mexican theme runs its course in the décor and dishware and glassware. Wooden plates, mescal cups, and clay pitchers are commissioned from Mexican artisans. Ingredients such as heirloom corn, dried chiles, and others are sourced from this neighboring country so the tastes are as authentic as you can get.    Flavors are fresh and zingy when needed, and you'll go home feeling pleasantly full, not stuffed.  Portions are appropriately small and hand-sized so you aren't overdoing it.  Sharing these dishes is how you should plan your food attack.
A remodeled look, finely tuned garden and outdoor patio, and new menu makes nearby Brix a roadside treasure.  Located off of Highway 29, it is only seven minutes north of Yountville.  So what's the big deal? Brix has been a local farmhouse favorite, so it did not have to put out the investment in remodeling, but this new redo means more open concept interiors and open-air dining which takes advantage of mountain, vineyard, and garden views. The cuisine is farm-to-table with menus rotating daily, so the chefs rely heavily on seasonal ingredients.
Packed with flavor is the bibb lettuce salad with snow peas and shaved slices of prosciutto and light carrot dressing. You know farm freshness when even the lettuce tastes sweet.  During our dinner here, we savored main entrees of a scallop dish seared to perfection over mashed potatoes and a short rib over polenta, creamy and flavorful. We were looking for a killer dessert, and our waiter confessed his favorite: a butterscotch pudding with chocolate pudding at the base, topped with chocolate cookie crumbles.  It was obvious why he orders one for himself at least once a week.
Don't let Yountville's small footprint fool you. While newcomers to Napa Valley can easily drive past the town, it's a vacation destination unto itself, and if he were still alive, George Yount would tell you it's a place worth staying.
For more information visit: