I participated in a campaign on behalf of Mom Central Consulting for NESCAFÉ Dolce Gusto. I received product samples to facilitate my review as well as a thank me for my participation.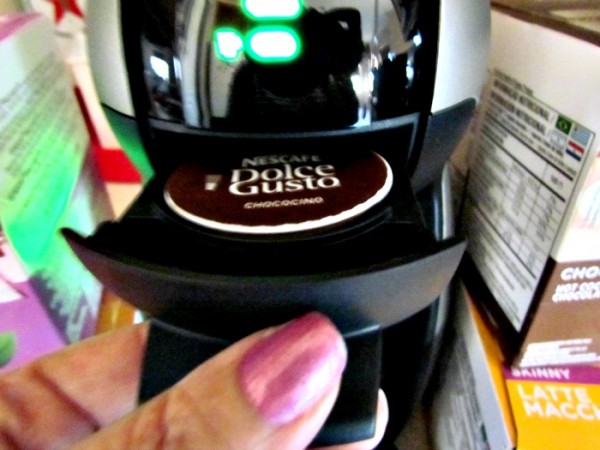 The dog is barking, Mr. S just asked what's for dinner, I have five posts due TODAY, and I'm melting down. I need a treat. Why is it that something that tastes good calms me right down?
Chococino
Caramel Latte
Mocha
Cappuccino
Caffe Lungo (AKA: Café Allongé in France)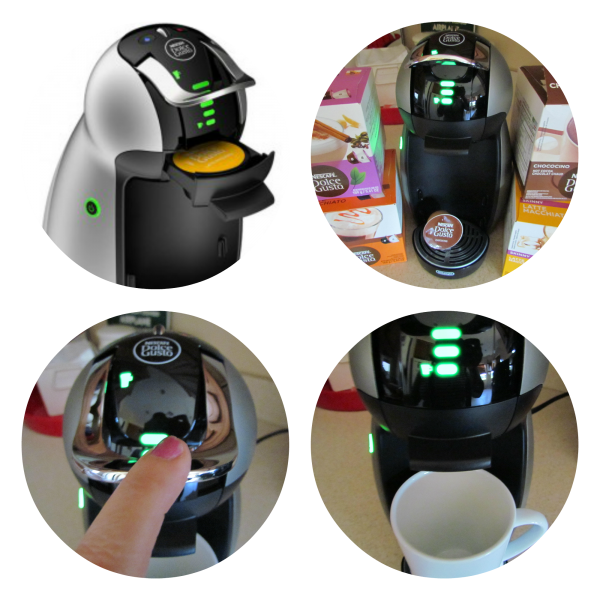 A little cup of luxury during my day just takes the edge off, but you'll be shocked to learn that until recently, I had  no way to make my favorite espresso drinks…that is until I was asked to review the Dolce Gusto Genio that sits on my counter, armed and ready for my meltdowns.
Something special for my guests
It's the holidays and winter, and we all know what THAT means. It means everyone that I ever met wants to escape the cold New England weather and show up at the door of the mansion for a little Florida sunshine. Double meltdown!
Luckily, I have a spare room and I'm ready to greet them, cup in hand after their journey.
 NESCAFÉ Dolce Gusto is the only coffee machine that truly delivers delicious, coffee house quality creations every time with patented smart capsule technology delivering up to 15 bars of professional pressure and espresso technology.
Having retired from the coffee business, I know that 15 bars of pressure is an amazing feat at this price. The average espresso machine offers 8-10 bars, and the higher the bar of pressure, the more intense the flavor. I've sold a LOT of espresso machines in my day, and for this type of pressure, you'd normally have to shell out at least $500, but the NESCAFÉ Dolce Gusto retails at a FRACTION of that at under $130!
If you find yourself calling out drinks in the right order, love to stump the barista with your knowledge, or they've dedicated a table to you (plaque and all) at your neighborhood espresso shop, it's time to BRING IT HOME with this great little De'Longhi that brews over 17 different beverages, with a REAL crema, layering of dairy, and a froth that looks like it came from the LaMarzocca at "the bucks." You simply pop in the coffee capsule and adjust the bars on the machine that coordinate with those listed on each capsule.
It's as simple as that
Want to know MORE? Simply head to the Dolce-Gusto website for all of the details.
I'm letting you in on my secret recipe!
I'm going to tell you my SECRET recipe for a homemade frozen Espresso-Fra-pa-you-know-what (since the name is trademarked), like the ones I used to serve my customers.
The REAL version uses double strength Italian Roast coffee as a base. I substitute with espresso, since it is from the same bean, and just as sweet (the roast is slightly different, but you'll never know the difference).
Zippy's Frap-a-you-know-what
Brew 2 capsules of Nescafé Dolce Gusto Espresso
¾ C. low fat milk (yes, that's JUST what they use).
3 TBL sugar (or more – to taste)
2 C ice cubes
Toss into your blender & let is whrrrrr
Pour into a tall glass
Garnish with whipped cream & chocolate shavings
SALE ALERT!
Save 20% off a Dolce Gusto Coffee Maker with the code: GustoGift!  at Dolce-Gusto
Win a Dolce Gusto Genio
We're giving one away for our New Year's Celebration here at the mansion and it's EASY to enter.
WINNER – Cayce K