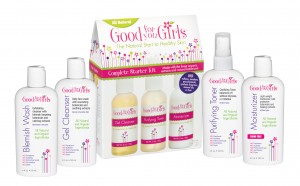 Emerging research suggests girls may be particularly sensitive to even trace levels of hormone-disrupting chemicals due to the complex changes happening in their bodies during puberty. Armed with this knowledge, Good For You Girls founders developed a skin care line that not only helps moms teach their daughters healthy skin care habits it keeps them away from harmful chemicals. Products are made with the finest all natural and organic ingredients and specifically developed for the special needs of younger skin. Deep cleansing and bacteria fighting botanicals are balanced with organic extracts, vitamins and anti-oxidants that pamper and protect. All products are free from parabens, sulfates, propylene glycol, phthalates, petro-chemicals, synthetic fragrance and dyes. Keeping girls away from chemicals is just the beginning, Good For You Girls is a great way to show your daughter how special she is and teach her the skills to make better decisions for a lifetime.
Champagne Living Says: This is one of those "I wish I had products" when I was young. Teaching your teen or tween young about the importance of good skin care habits will keep the botox away later in life. Plus, every young girl wants grown-up beauty products of her own. It's a win-win when you give this.
NO Parabens
NO Sulfates
NO Phthalates
NO Propylene glycol
NO Mineral Oils
NO Silicone
NO Synthetic Fragrance
NO Dyes
Great gift for: Teenage and Tween daughters, nieces, cousins and a great stocking stuffer from Santa as well.
Good For You Girls products are available at locations throughout the US as well as in their online store. Products and gift sets from $2.99 – $19.99.