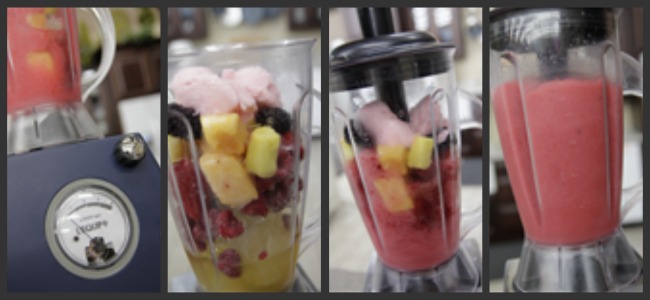 Ice to snow? Peel to zest? Soups, batters, creamed nut butters, smoothies and more. The L'EQUIP RPM Blender does it all. With its unique tachometer, this is a combination of a blender and a race car! Operating up to 9000 RPM, it can handle the toughest jobs. The RPM Blender is BPA free and boasts a 7 cup capacity. It has a funnel in the lid that allows you to add oils and flavor tinctures while the blades are running. It is perfect for making mayonnaise. Commercially designed stainless steel blades and an encased ball-bearing operation make this blender one of the toughest on the market. Ranking in the top 5 "Quietest of the bunch" for 2010 Consumers Digest and voted "The best of the best!" for design, value, and function – 2010 CTV Canada AM. L'EQUIP family of products promotes "Life in Healthy Balance".
INCLUDES
Stir Stick
Blade Wrench
Funnel
FEATURES
7 Cup Capacity
BPA-Free Eastman Tritan Co-polyester container
Double Ball-bearing Blade Assembly
Variable speed control between 500 and 20,000 RPMs
Opening in lid and funnel allows for easy adding of ingredients
Removable blades
Easy to clean and operate
Champagne Living says: The perfect gift for anyone who LOVES making smoothies. My old blender can handle the basics, but when you put in chunks of fruit & ice you need something STRONGER and L'Equip is the WORKHORSE that you need. I was spending $7.00 a visit (sometimes twice a day) getting smoothies from a local smoothie café because my previous blender left chunks in my drinks. Now I can have JUST the ingredients that I want without having to get dressed & go out. For more about this FABULOUS blender, check out Broad "A's" review on The Review Broads.
Great gift for: Cooks, healthy eaters, families
L'Equip RPM Blender is available at locations near you for $179.99