I drive a hybrid  for a variety of reasons. It has served me well for the past five years, but it hasn't been perfect. Yes, I've reduced my carbon footprint and I've saved on gasoline – but I haven't saved NEARLY as much as I thought I would. Add to that the fact that my little car is SO NOISY on the highway that I can barely hear the radio, and the fact that even simple things like replacing the tires are SO expensive (I found this out when I switched to a different tire than the ones that my manufacturer suggests to save money and found that my mileage dropped by 10MPG).
Last week my friends at GM in the Southeast thought I should see what THEY have in mind for reducing my carbon footprint and saving on gasoline consumption. They dropped this HOT LOOKING Chevy Volt off in my driveway to tool around town in for five days.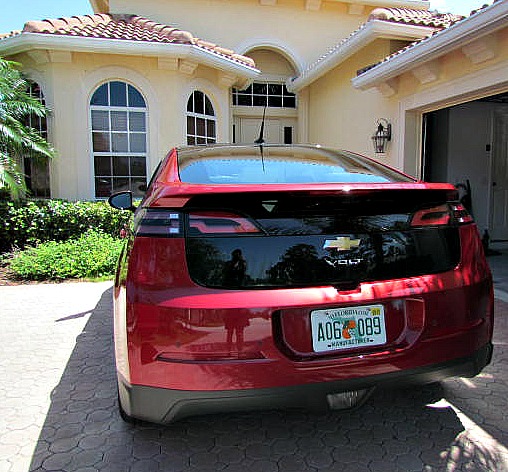 No sooner did my friends from Prestige Auto leave, then Mr. S grabs the keys and RUNS outside. It was like a 12 year old with a new video game. Yes, this is the SAME Mr. S who said to me: "Why do you need to review a car? You've got a car." He has said that to me over and over again, and yet this is the FIRST TIME he took off with the car and didn't come back for a GOOD LONG TIME. I figured that when he returned, this ex-car-guy (he was a wholesale automobile buyer for years) would start pulling the car apart, telling me everything that was wrong with it.
NOPE! He LOVED it. He only had ONE complaint (and shockingly it wasn't even the price), it was that at 6'2″ his head grazed the roof. He went on and on about how quiet it is, how smooth a ride it gives, how sporty it looked, how upscale the interior is….well, you get the idea. Was this my husband, the guy who only likes luxury and specialty cars?
CHEVROLET – DID YOU steal my husband while he was out driving and send back one of your minions DISGUISED as Mr. S?
I followed suit, taking the car for a good long spin. He was right (except at 5'1″ I didn't have the headroom issue). I loved the sporty exterior, the way it hugs the road, the fact that I could hear the radio (and my thoughts) without outside noises, and the SMOOTH ride. The interior is luxury all the way.
The features? Well, don't expect barebones from this charged up vehicle. The car that they dropped off had ALL of the goodies
XM/Sirius Radio
DVD Player
Bluetooth – for those phone calls you always get when you're driving
Keyless access AND ignition
OnStar – directions and connections
Rear Camera (you can also get park assist for this car if you HATE parallel parking)
Bose Sound System (OMG – that ROCKED)
Navigation
USB port – Mr. S loves bringing his own tunes along
8 air bags!
Programmable charge control (so it doesn't start charging until your electric rates go DOWN in the evening)
and MUCH more
I took a LONG drive to see what it felt like when it switched from electric to gas and if it weren't for the graphic that came up to TELL me that it was switching I would not have felt the difference. But my FAVORITE thing was watching my neighbors as I did this…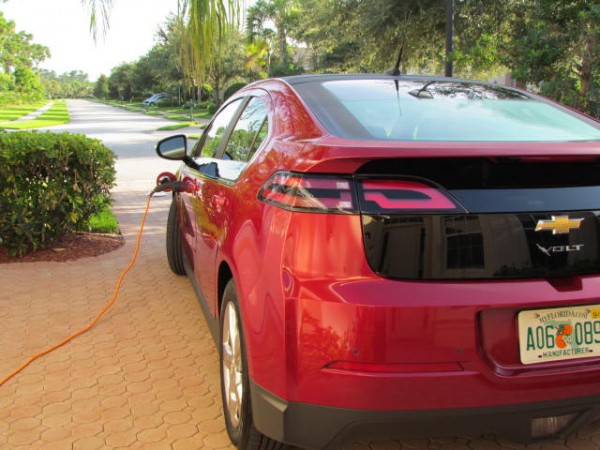 All of this and I haven't even MENTIONED the mileage! It uses electricity for the first 35 miles or so before switching to gas. At about $1.50 per day to charge, if you do all of your commuting near home you could find yourself just like the guy on their TV commercial – filling the tank once every 6 months. I love that they are installing charging stations around town (Walgreens has plans to put them at their stores), so I could even charge my car while I'm having lunch or shopping. When the car switches to gas it gets a very respectable 37 miles to the gallon.
The pricing on the Volt starts at about $39,000 – but because it is an electric car you'd be eligible for a $7500 federal tax credit (making the car closer to $31,000).
This VOLT gets me ALL CHARGED UP and I LOVE it. If you'd like to see the Chevrolet VOLT for yourself, head over to your nearby Chevy Dealer and take one for a spin. 
I had the Chevy Volt to test drive for a few days. All opinions are strictly my own.