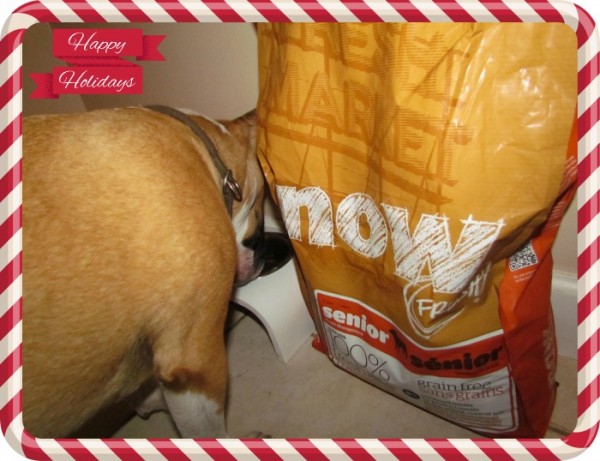 Santa Paws is going to be coming down the chimney and I'm hoping that Clem doesn't think he's an intruder at the mansion, because coal is NOT what my mini bull terrier is looking for. He's hoping his stocking is full of balls, toys, and lots of Petcurean dog food. Can you imagine the ruckus when he sees a man in a red suit messing with HIS STUFF?
Luckily Clem's been a NICE dog this year (I'm as shocked as you are), so his stocking will be filled to the brim with his favorite kibble.
NOW Fresh by Petcurean!
As a Petcurean Ambassador I was lucky to learn from their nutritionist which formula would best for my four-legged family member. Since switching him to Petcurean NOW Fresh, Clem's coat is looking so much healthier and he's his old self again. So, you can be sure that HIS holiday dinner bowl will be filled with more Petcurean goodness.
Once again, my friends at Petcureanare giving away 2 – 12 lb. bags of your choice of NOW! or GO! This time I want to see pictures of your pet.
RULES
Follow me on twitter at: @zipporahs
Follow Petcurean on twitter at: @Petcurean
Tweet me a picture of your four-legged friend, tagging both me and Petcurean, along with which Petcurean food you think would be best for YOUR pet – NOW Fresh! or Go!
Include the hashtag: #ChampagneLivingPets
Leave the URL to your tweet in the comments below.
Enter DAILY – with a different photo!
The winner will be DM'd on twitter and expected to email me their info within 24 hours of being notified.
Giveaway ends: December 26, 2013 at midnight EST.
US & CA – 18+
Want more chances to win?
Head over to the Petcurean Facebook page because they're giving away these great prizes as well
Grand prize: 1-year of Petcurean pet food (max 25lbs/month)
Second place prize: 6 months of Petcurean pet food (max 25lbs/month)
Third place prize: 3 months of Petcurean pet food (max 25lbs/month)
You simple "like" Petcurean and write a letter to SantaPaws and tell him why your pet is on the naughty or nice list. Be silly. Be serious! They want to hear all about it.
I'm looking forward to seeing your pets.
This post was sponsored by Petcurean Pet Nutrition. All opinions are strictly my own.