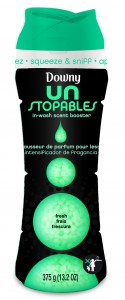 Sunday is going to be CRAZY at the mansion this year. We're torn. Torn between the Pats and the Giants. You see, before the Patriots were a team, the closest football team to root for were the NY Giants. Then the Patriots came to Boston. Our family had grown and we had added a fan…Ben, a mother-in-law who was living with us and as a result Patriot's fans. Yet hubby never left his love for the Giants behind. So we are a family divided.
I, on the other hand am watching the Superbowl for three things.
The commercials
The half-time show
Tom Brady
One of the perks of being a blogger is getting to screen things ahead of time, and this year I got to see the new Downy Unstopables SuperBowl commercial ahead of time, and so can YOU. It's a spin on an old favorite that I'm sure you'll recognize. Check it out at Touch Downy  This will be Downy's first foray into the world of SuperBowl advertising (and you thought it was all beer and brats).
Look for the ad on Sunday, February 5th  between 5:30 and 6:00 pm – pre-game!
WAIT…you haven't heard about the new Unstopables?
To help consumers transform their laundry routine, Downy developed a distinctive bead form that concentrates the freshness ingredients.
Downy Unstopables was designed to shake up your routine, and give a fresh, fun way to look at laundry.
The scent-boosting formula contains four times more perfume ingredients than liquid Downy.
The Unstopables scent stays strong throughout daily activities and keeps clothes fresh in your closet until you wear them – up to an astounding twelve weeks in your closet.
Here's a sneak peek into what Downy has in store on Sunday. Grab your laptop, smartphone or tablet during the SuperBowl, because Downy Unstopable is hosting a fun, fabulous, giveaway during the game.
Downy will be giving away surprises to Twitter followers for every touchdown scored in the game, including free samples of Downy Unstopables and Unstopable Fan Packages
You can participate in the "Touch Downy" giveaway on the Downy Twitter page using the hashtag #TouchDowny
Each time a team scores a touchdown, people who tweet the hashtag at the Downy Twitter account (@Downy) will receive Downy products and gift cards to the NFL shop
I don't really care who wins this year. Either way, someone in the family with be happy and someone will be disappointed. I'm just going to sit back, watch the ads, hang out on twitter entering the Downy giveaway and eat all of those great appetizers that we'll have.
 This is a sponsored post.  Downy product and additional incentives were provided to me.  All opinions stated are my own.