You don't need to take me out for a $100 an entree dinner, as long as the restaurant is filled with ambiance and great food. P.F. Chang's is one of those places where the meal is always great and the bill manageable. To make your Valentine's Day even better…my favorite Chinese restaurant is showing you some love and offering a prix fixe menu for two for only $39.95.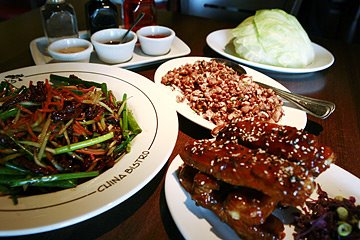 My closest one is at the Gardens Mall in Palm Beach Gardens (at least that's what I keep telling Mr. S), so he'll have plenty left over from dinner to take me to Saks, Bloomies and Nordies after dinner for a little gift.
Enjoy a four-course meal for two for $39.95*
Cup of Soup (Choose Two)
• Hot & Sour Soup • Egg Drop Soup
Starters (Choose One)
• Chang's Lettuce Wraps (Chicken or Vegetarian) • Crispy Green Beans • Salt & Pepper Calamari • Spring Rolls (4) • Crab Wontons • Dumplings (Shrimp, Pork or Vegetable) • Seared Ahi Tuna (add $2.45) • Dynamite Shrimp (add $1.45) • Chang's Spare Ribs (add $1.95)
Entrees (Choose Two)
• Chang's Spicy Chicken • Mongolian Beef • Crispy Honey Shrimp • Ginger Chicken with Broccoli • Beef with Broccoli • Kung Pao Shrimp or Chicken • Kung Pao Scallops (add $1.95) • Crispy Honey Chicken • Pepper Steak • Orange Peel Shrimp, Beef or Chicken • Sesame Chicken • Beef a la Sichuan • Almond & Cashew Chicken • Salt & Pepper Prawns (add $1.95) • Sweet & Sour Pork or Chicken • Asian Grilled Norwegian Salmon (add $2.95) • Norwegian Salmon Steamed with Ginger (add $2.95) • Mahi-Mahi (add $3.95) • Oolong Marinated Chilean Sea Bass (add $8.95)
Desserts (Choose Two)
Choose two of P.F. Chang's eight delicious mini desserts
Or
Enjoy one of our larger desserts
Banana Spring Rolls (add $1.95) * Flourless Chocolate Dome (add $1.95)
The Great Wall of Chocolate® (add $3.95) * New York-Style Cheesecake (add $1.95)
The best part of eating at P.F. Chang's on Valentine's Day is that you get to share your dinner, just like you did when you were dating!
Can't wait for the 14th? Head in to any P.F. Chang's before February 6th and enjoy dinner and a Dragon Punch featuring Tsingtao, Skyy Infusions Dragon Fruit Vodka – mixed with Sriracha for a balance of sweet and spice.
While you're there, celebrate the Year of the Dragon and pick up a RED ENVELOPE!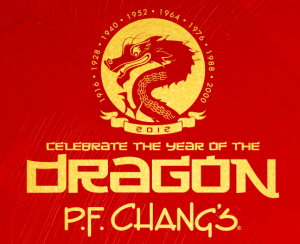 P.F. Chang's is ringing in the Year of the Dragon with a special gift for guests. In honor of the 15-day Chinese celebration, guests who visit any P.F. Chang's in the United States from January 23 through February 6, 2012 will receive a red envelope containing an unknown reward. On the guests' next visit, a P.F. Chang's manager or server will open the envelope and reveal its contents.* The secret offer could be a discount on the meal (10%-50%),  a free appetizer or dessert and must be redeemed by March 4, 2012.  Red envelopes are a traditional Chinese gift of the New Year and the red color symbolizes good luck while warding off evil spirits
Want to open a Red Envelope RIGHT NOW? Head to P.F. Chang's Facebook Page and open up your Red Envelope to enter to win one of 10 great prizes! For more information on Chinese New Year at P.F. Chang's, please visit: www.pfchangs.com/dragon.