I feel RUSHED this week.
I'm heading out for my "Love Boat" cruise next week, and there's a WHOLE lot of maintenance that needs to be done to get ready….and I'm not just talking about writing a few articles. Women understand just how much maintenance goes in to looking your best. The problem is that before I go away, I have to make sure that
My hair is cut & colored
My nails are polished
I've taken care of the unwanted hair on my face and body
etc.
The problem is, that I have very little time available between now and Tuesday, and while I've got an appointment with Shana for a cut & color tomorrow, and a nail appointment on Saturday. Making ANOTHER appointment for hair removal will mean there's no weekend time for ME.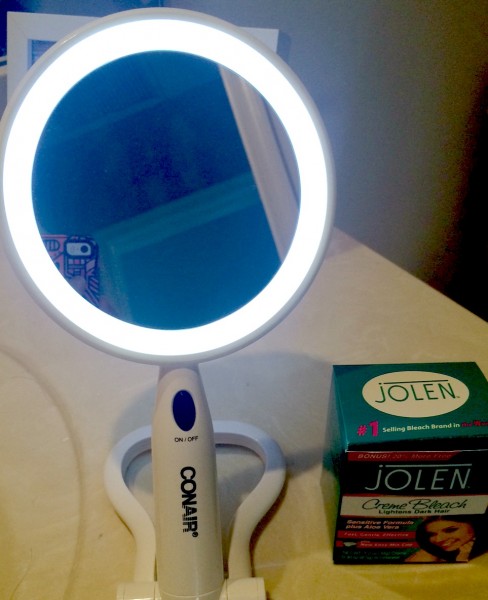 So, I decided to go back to where it all began, and use Jolen Creme Bleach
My mom used it, and when I was younger, so did I. Over the years, I forgot about my old friend…going to the salon seemed easier. But, boy was I wrong. In only 10 minutes I got RID of that ugly dark brown upper lip and for the first time in ages…I'm a BLONDE (Jolen lightens noticeable hair easily and gently, making it virtually invisible). I used the sensitive formula with Aloe Vera, which is ideal for use on sensitive, more delicate skin because it had been a while since I'd bleached. They also offer their original formula.
Before this I had to
Drive to the salon – 20 min
Wait for the tech to take me – 30 min
Get waxed – 20 min
Pay – 1 min (they're good about that part)
Drive home – 20 min
Total: Over 1½ hours – and $30
Compare that to:
Open Jolen Creme Bleach jar & mix cream – 30 seconds
Put on face in my Conair 3X/1X Illuminated LED Mirror –   1 min
Wait for bleach to process – 10 min
Wipe off – 1 min
Total: Under 15 minutes – and PENNIES per use (under $10 for an entire jar)
Take it off…take it ALL off

It's easy to find
Jolen Creme Bleach can be found at CVS, Harmon, Rite Aid, ULTA, Walgreens and Walmart, as well as online.
TIME TO CELEBRATE
Jolen is celebrating 50 years in the beauty aisle (they first debuted in 1964) and has helped women to Go Confidently! There's NO other bleach that I'd use, as they are #1 selling bleach brand in the World, so I know that they are the best. To celebrate 50 years they are having a FUN giveaway with LOTS of prizes
Now through November 14, 2014, enter the Jolen 50th Giveaway for a chance to win $50 gift cards to Jolen retailers, as well as Jolen Creme Bleach product. More than 50 winners! #GoConfidently
To enter, visit http://bit.ly/1uW7JwJ
Details
This is a product-provided, sponsored conversation that contains affiliate links. I received both Jolen Creme Bleach formulas and a Conair 3X/1X Illuminated LED Mirror for my own personal use. All opinions, text and experiences are my own.