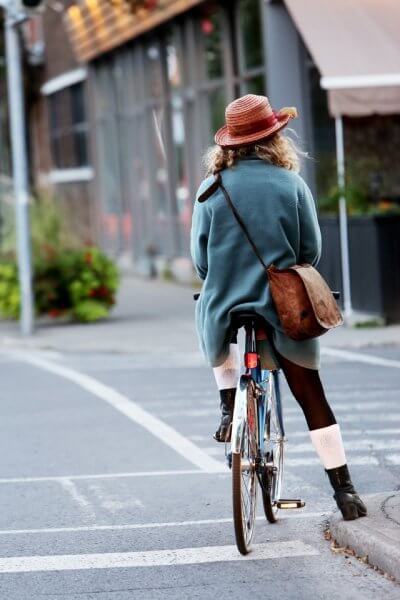 The holiday season is upon us, and finding the right gift for the cycler in your life has often been a chore in the past.  Yet this season you won't let what's been staring you in the face all along pass you by.  You'll get a gift aligned with their favorite hobby, something that's sure to please the two-wheeled wonder in your life.
LED Taillight
Cyclists desire the high of the ride, so it's important to make time to be on the bike regardless of the hour.  However, it's not entirely safe to cycle during the wee hours of the morning or after dusk unless you're wearing visible clothes and ensure the bike is easily seen.  The LED taillight features 5 bright lights that create 2 laser lines to enhance appearance.
Foldable Helmet
Safety is of great importance.  However, a person may bypass wearing a helmet because they must carry it between rides. The foldable helmet eliminates the hassle of toting a helmet around with you.  The helmet conveniently folds, making it thinner and easy to store underneath the seat.
Outdoor Bike Storage
Some don't have a lot of room in their home to store their cycle.  This handy outdoor storage 'tent' is a transferrable yet sufficient storage unit for one or more cycles.  Those who go on long rides will be more confident in knowing they can stop and set it up in under 15 minutes.  It's incredibly convenient in case of sudden, inclement weather.
Bike Tool
Cyclists are minimalists, traveling light so as to facilitate speed and stymie lethargy.  However, some things are indispensable, such as this multi-use bike tool.  It's a godsend after an unforeseen accident.  It's light yet diverse enough to address a number of mechanical issues.
Tubus Racks 
While riders like to keep loads light, they do have to carry a number of essentials.  Tubus racks are great for storing extra gear, food, tools, etc.  The racks come in a range of sizes and dimensions to match a bike's frame and rider's preference.
Smart Bike Lock
People have been swiping bikes for decades.  However, times are changing and theft prevention tools have advanced.  This lock is fitted with a sensor so you can lock and unlock your bike from your phone.  Grant access to other users, map rides, track burned calories and more.
Frame Handle 
Bikers like to keep their butts in the saddle and bike on the road, but there are times when a rider needs to carry their cycle.  Therefore, the frame handle carrier is entirely warranted, modestly priced, and makes a great gift for your avid cycler.  The carrying handle fits just above the bike's gears for a natural and convenient carrying position.
Wine Rack
This wine rack is for the cycler who has it all, along with a palette of reds and whites!  The stylish leather case snaps onto the bike's frame allowing for one's choice of libation to come along for the ride.  The rack is posh yet practical; it's adjustable to ensure the bottle gets to the destination in one piece.
Bar Mitts 
Riders may prefer cool yet sunny temperatures, but the reality is that the love of cycling knows no geographic boundaries.  Therefore, a northeastern cycler will need to prepare for the winter season.
Bar mitts keep hands warm as the legs continue pumping through the colder season.  One's extremities become susceptible to wind and falling temperatures.  Cold fingers won't be a ride ending thing this season.
Toe and Foot Warmers
As mentioned, the colder weather takes its toll on the tenacity of cyclists.  However, small adjustments make a huge difference in willingness to endure cold conditions.  Toe and foot warmers fit in shoes so numbness and stinging pain won't shorten rides.
Smart Handlebars
If the gift recipient will be okay with removing their current handlebar frame and replacing it with a smart version, then this is a pretty nifty gift.  The handlebar is fit with GPS, turn signals, headlights, and an onboard computer system.  It's great for bike messengers who would otherwise need to pull out a phone to get directions.
Mudguard Fenders
These collapsible fenders give the cycle a bit of flavor as well as provide a practical benefit.  The guards protect the gears and frame from grime and dirt, yet the protection is especially useful if one is riding to work, to a bar, a date, etc.  Furthermore, the fenders come in a range of colors, so you'll have to figure what hue your avid biker prefers.
Ed Pope is a long-time cyclist and owner of Circle City Bicycles. He has toured extensively throughout the United States.