Gift giving can be such a chore. The whole need to buy the person the PERFECT gift that they LOVE just gets overwhelming too me. Maybe I over think the process because I had this need to create some sort of memory, or maybe I just want to know that the person will REALLY appreciate what I bought and not just put it in a drawer only to re-gift it next year.
What I don't like to give
Money
Practical gifts
Something the receiver would buy for themselves
Gift cards (with the exception of giving them to kids who can buy what they want and get the feeling like they've got a "card" like mom & dad do)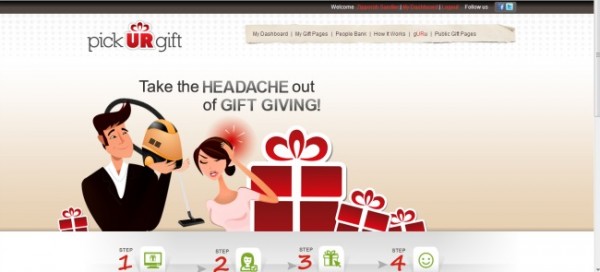 When I was approached to review PickUrGift.com I was intrigued with the possibility of actually GETTING THE WHOLE GIFT GIVING THING RIGHT. Armed with a little money from Brandfluential to purchase a gift for fellow blogger Karen Stroud of FabGrandma and a TINY bit of knowledge of what she likes (since I'm a fan of her blog), I set out to find the PERFECT gift. First I did a little detective work…or should I say STALKING her blog, twitter and facebook updates to see if she'd mentioned wanting anything special.
Next I headed over to PickUrGift.com to register. I knew that I'd be able to create a gift list with gifts that I found ALL over the web. It aggregates all of my picks in ONE spot. It was simple.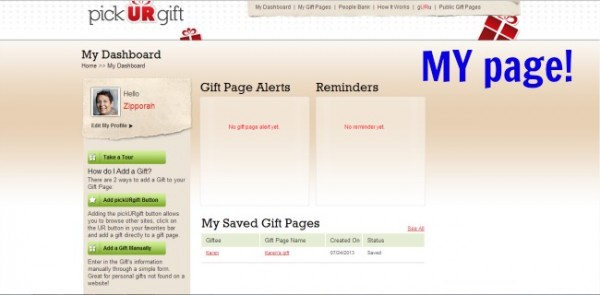 All I did was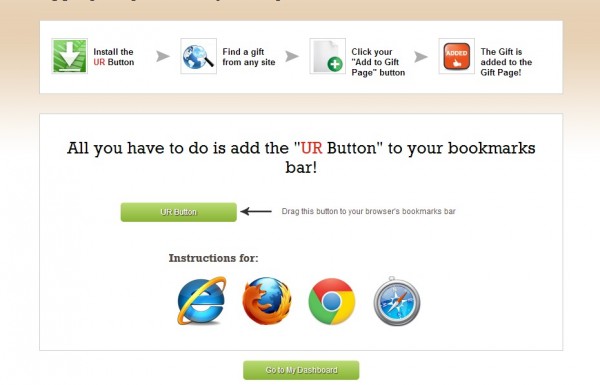 Register – name & email address
Add my giftees – again, just a name and email address
Drag the "UR" button to my browser
Start shopping – something that I EXCEL at
NEXT
It was off to the likes of Amazon.com and more to shop, shop, shop. My FAVORITE pastime.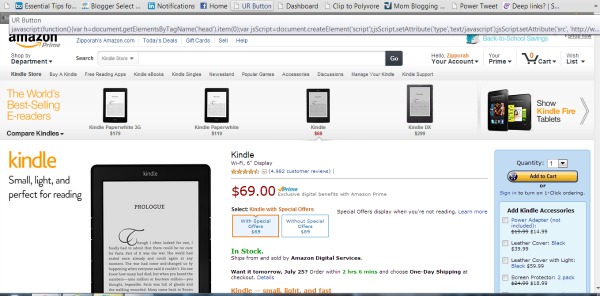 When you find an item you'd like to add to your PickUrGift list, simple click on the icon in your toolbar and you'll get a POP-UP  that allows you to assign the gift to a giftee (as well as a page – in case you're looking to shop for a number of occasions).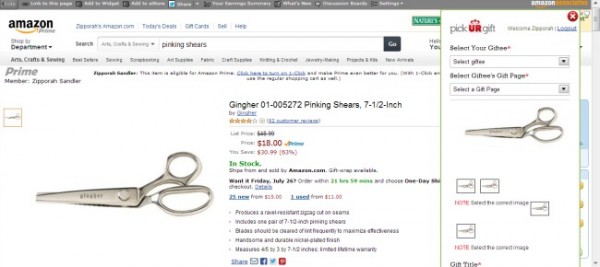 AFter shopping til I dropped, I was left with a GIFT PAGE that Karen could choose her gift from (this is a small portion of it).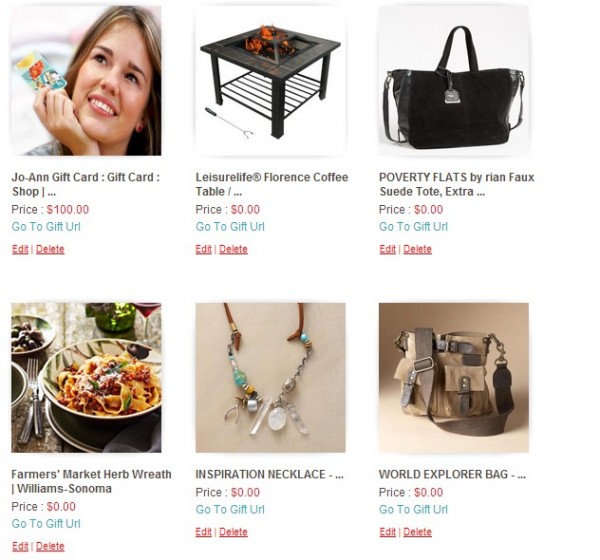 I was able to send this page to Karen, where she picked WHICH gift she wanted the most (as I said…this is only a sample of what I shopped for). In turn Karen shopped for MOI and I was able to pick out a BEAUTIFUL Linea Pelle Dylan wallet that matched my favorite handbag. Oh, and did I mention that I've been looking for this wallet for OVER A YEAR?
After they choose their PERFECT gift
You simply click through their choice (it arrives via e-mail) and purchase the gift from that retailer. It works with ALL of the retail sites that I found, although some of them were a bit glitchy when it came to saving a photo and link.
If you want to see what she choose…go to Karen's site:  

FabGrandma

and see!
Overall, this is a great way to shop for gifts and NEVER buy the wrong thing. The concept is not without glitches, as sometimes a product sells out after you've added it to a list (which happened with the FIRST wallet Karen chose for  me). By adding LOTS of choices it pretty much assures that there will be something your giftee likes.
I have a QUESTION FOR YOU!
Who on your gift list would benefit most from a service like this?
For me, I keep thinking TEENAGERS, nieces & nephews that I don't see often, or anyone that you're NOT QUITE sure what they'd LOVE.
FOR FULL DETAILS
Go to PickUrGift.com and try it out for yourself (it's completely FREE to use)
Both Karen and I received the gifts we chose to facilitate writing about this service. All opinions are strictly my own.