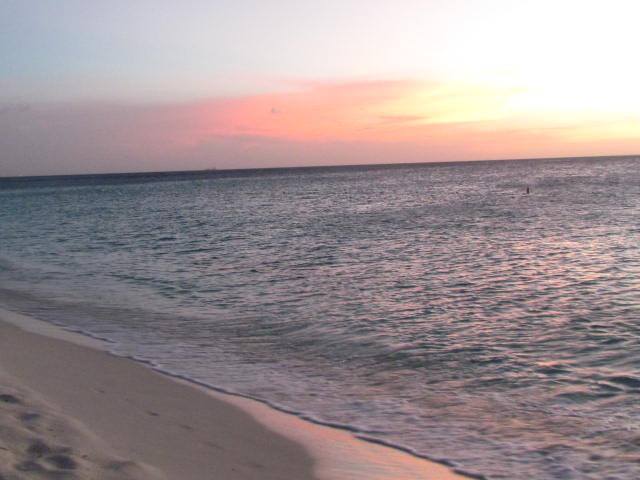 I've seen my share of islands. Heck, I went to my first high school formal in Hamilton, Bermuda, have family who have or had vacation homes in St. Maarten and Martha's Vineyard (where we visited year after year after year). I've danced in Jamaica a few times in my life and even gone to the Cayman's to buy Mr. S a gift. I need more than two hands to count the islands that I've visited. Of course living in Florida has made it an easy hop to a spot like Cancun (less time to fly there than it is to get to the airport), but for most of us in the US who want a quick getaway out of the country, the Caribbean tends to be the EASIEST for us, both logistically and culturally.
Even with all of these years of island vacations, I always seem to be amazed when I visit or revisit a locale, as there is never enough time to fully get to know where to go and what to do. The ONE thing that I know is that island time is VERY different from city time, and for those of us who go to the beautiful teal watered beaches, it's relaxation time.
Last month I spent a few days in Aruba as a guest of the Aruba tourism department. This was my first visit and I went with a few pre-conceived notions. I should have learned YEARS ago, not to do that.  Here are 10 not  to miss things to do on Aruba that will make you want to come back again and again.
1. Beachside Yoga (or Pilates) at Manchebo Beach Resort & Spa – If like me, you feel a sense of serene around water, Manchebo's yoga sessions with the blue waters of Eagle Beach in the background are a PERFECT way to start the day. Guests at the resort get one free session, but at $15 for each additional class, it's a wonderful way to reconnect with yourself and your surroundings.
2.  Lunch at ZeeRover – How do you know it's fresh? The fishing boats tied to the dock and the fisherman bringing their fish DIRECTLY to this restaurant means you'll be dining on whatever the catch of the day is. From the boat to your plate, takes about 10 – 15 minutes. Expect to see locals here, as the prices are quite reasonable. NOTE: I've NEVER seen prawns this large before, and DON'T forget to order the plantains. Food is sold by the pound and for the most part deep fried.
3. Sunrise horseback tour of Arikok National Park – Head over to Rancho Daimari and follow the pack as you ride off into the…SUNRISE through the desert of Arikok National Park, clear to the water where you'll have the opportunity to watch the sun peek over the Caribbean Sea in a colorful blaze of orange set against the teal green water. Make certain to stop along the way for a swim in the  Conchi natural pool.
4.  A romantic dinner with your toes in the sand at Passions on the Beach – Nothing can be more romantic than watching the sun set while your toes are in the sand and the torches light up your dinner table. Well, maybe that slight breeze and bottle of Prosecco to make you feel like you never want to leave. Make sure to order one of their signature dishes, the attention to detail and presentation is just amazing.
5. Snorkeling – Head over to Mangel Halto reef or Rocky beach with Jads Dive Center for some incredible viewing. Be prepared to swim out into the beautiful blue waters to see the BEST fish and underwater life. If the fish aren't gorgeous enough, your guide Rudolfo will provide lots of fun and a little eye-candy to boot.
6. A massage in the ocean breeze – The Manchebo Beach Resort & Spa has a beautiful Balinese inspired spa with treatment rooms that look out onto the turquoise sea and white sand beach. With only the sound of windchimes and rolling waves the Spa del Sol offers massages in beach-side cabanas as well as body scrubs, wraps and other spa services. While you're there enjoy lunch at one of Manchebo's great restaurants like Ike's Bistro.
7.  The options for hotels are incredible – But after visiting the Amsterdam Manor Beach Resort with it's uniquely authentic Dutch architecture, and spacious studio's and suites, I knew that THIS was the place for me. These apartment type rooms have plenty of room for entertaining, or spreading out whether you're there for romance, as a family or even a girlfriend's getaway.
8.  Pick up a supply of Aruba Aloe – I can't help myself. There's no traveling without shopping, and rather than buy something that you can get back in the States, I go for local. You'll want to stock up on Aruba's FINEST skin care line (they've been in business since 1890). Not only did I use this to keep from peeling, but I've been using the Island Remedy on my face since coming home and it's made a world of difference in my skin.
9.  Drive a UTV – I prefer the stability of these jeep-like vehicles over an ATV and DePalm Tours has a fleet of them that will take you on an off-roading safari through rocky terrain to Andicuri, the Alto Vista Chapel, the Gold Mill ruins and the  historic California Lighthouse.  I never thought that driving could be so much fun, and that I'd get to see a side of the island that many don't even KNOW is there.
10. The beach – Ditch the hotel pool and head to the nearest beach and relax. You're on vacation and THIS is what you came for.
Disclosure: I visited Aruba as a guest of Aruba Tourism. All opinions are strictly my own.