Believe it or not Mr. "S" actually enjoys going to a good art museum, maybe once every five years or so. Okay, well maybe it takes five years of pleading to get him through the door, but once inside he certainly enjoys looking at the Jasper John's and Man Ray's….he's an abstract art sort of guy. At the mansion, even he agrees that there should be a permanent collection on exhibition.
With father's day coming quickly, I thought I'd FINALLY give him a piece of art for over the bed (it's been 3 years of a blank wall).  Knowing the type of artwork that he likes, I had my work cut out for me. I wanted something BOLD enough and LARGE enough to command the room, and at the same time something abstract enough (without looking tacky) that we could both live with.
I headed over to Gallery Direct to look through their vast collection of framed canvas art, photo art, and more. As soon as I saw the Sean Jacobs School Days I and School Days II – I just knew that it would appeal to his love of Jasper John and my need for a little fun.  Because I was looking for something that would make a STATEMENT, I toyed between ordering School Days I in 40″ or 48″. I decided on the40″, since I figured that I might want to go back and order #2 and put them side by side (still haven't made the decision).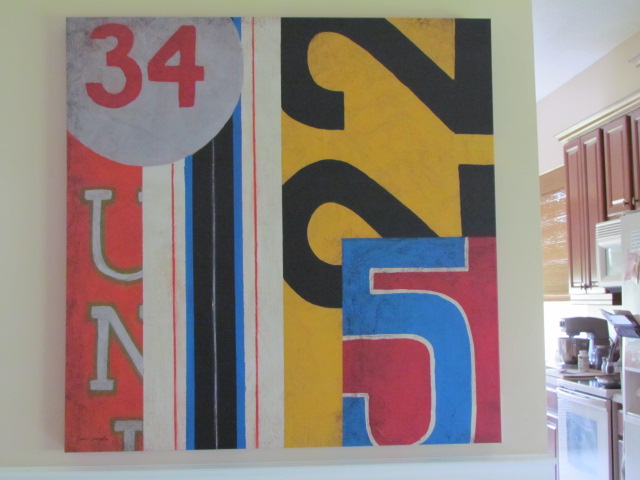 Ordering was SO SIMPLE! I simply choose the print that I wanted, added it to my cart and chose whether I wanted it in:
Stretch canvas – this is what I chose
Paper
Aluminum
Acrylic
Mirror
Wood
Not sure which one will look the best? As you click through your options, it actually SHOWS what your chosen piece of art will look like with a frame, on canvas, on a mirror, etc. I knew in advance that I wanted to keep it very simple, so I chose the stretched canvas in 40″.
Flat rate shipping was only $9.99 – which I found AMAZING considering the size (and how quickly my artwork arrived).
There was no hiding this massive stretched canvas (especially since I was away on a press trip when it arrived and curiosity got the best of him). What he doesn't know is that it's NOT staying in the dining room where it's now hanging…and that he'll FINALLY have the art exhibition that he deserves – in his FAVORITE spot – over the bed.
You can follow Gallery Direct on  Twitter and Facebook and keep updated on any specials they may be running. They KNOW their art!
For Champagne Living readers looking to buy dad (or anyone) a FABULOUS piece of art to adorn their OWN gallery – they're offering an EXTRA 50% off using this code: gdfriends through July 1st! Simply choose your art at Gallery Direct and use your code at checkout.

I am a blogger ambassador for Gallery Direct, as such I receive artwork to facilitate my reviews. All opinions are strictly  my own.