#FitnessFail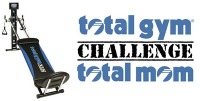 That's my hashtag. Oh, I can go and blame it on any number of things…
Menopause
Blogging – I sit behind a computer all day
Champagne Living – I always seem to be on "vacation" or a press trip, at a media dinner or cocktail party
Weather – The heat index is 100 this week in South Florida, I can't handle walking, running, etc. outside
and on, and on, and….
The reality of the situation is that I've gotten lazy. Yes menopause has added to the weight gain, yes I travel a lot (but almost ALL hotels have gyms) and yes it's hot outside (but, I can exercise in the house). So my weight gain is no one's fault but my own and the lack of fitness I'll own as well. Yup – it's a major #FitnessFail on my part.
I'm turning over a new leaf though. It's bathing suit weather and the fact that I pant just walking from one end of the mall to the other is a BIG wake-up call. To make things EASY for me, Total Gym is going to make CERTAIN that I don't have any excuse…
Menopause – What's THAT got to do with excersing? I'm OLD, but so are a LOT of athletes.
Blogging – Now I have something NEW to blog about…my fitness goals, my workout, how if I can do it…so can you.
Champagne Living – I'll just have to work off those cocktail parties and dinners the next morning on my Total Gym, and follow up at the hotel gym when I'm away.
Weather – Since my Total Gym is being set-up in the Living Room at the mansion, there are no excuses.
and so….I guess that I have NO excuses anymore.
I hope that you follow along with me, through my ups and downs, successes and set-backs as I ONCE AGAIN start fresh, this time with the Total Gym and YOU, my readers cheering me on.
If you'd like a Total Gym of your own, they are offering 15% off to the readers of Champagne Living so that YOU can join with me and be a Total Gym Total Mom too! For more information go to Total Gym.
I received a Total Gym as a member of the Total Gym Total Mom Challenge. All opinions, grunts, sighs, excuses are all mine.