This is a sponsored post written by me on behalf of Wellspring Camps. All opinions are 100% mine.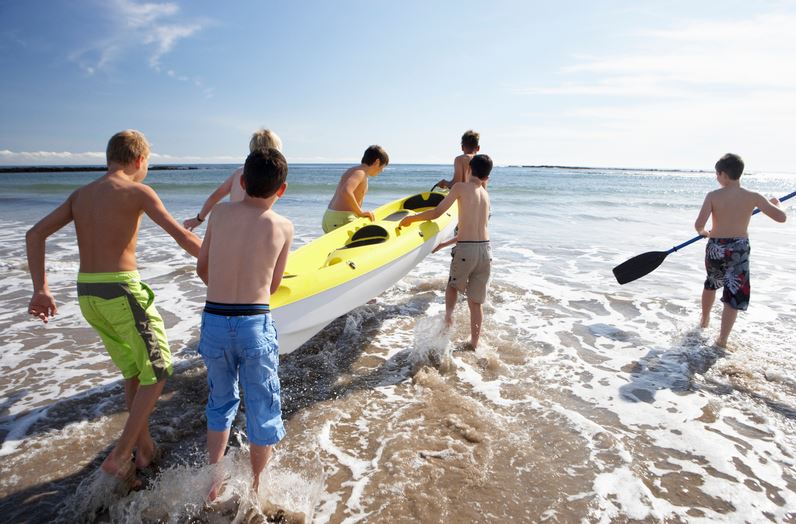 I married into a big family. My husband and his family were all athletes…the big, burly, football types. While I'm a five-footer, somehow I ended up with a son who was 6'2″ and looked like a linebacker at birth.
While this was all great when he was on the field, it was WAY too easy for him to gain weight without it being really noticeable. Over the years he had gained a LOT of weight…not just the 10 lbs kind, but almost 200 lbs. Two years ago, he decided that it was time to make some major lifestyle changes and lose weight.
He took a look at his life and decided
I'm too young to be unhealthy
My weight is affecting my relationships
I need to get a job and I'm afraid that the first thing they'll notice is my weight
Over the course of a little more than a year, my son lost 180 lbs. He made changes that would last him a lifetime, including spending time playing sports that he loves, learning to really TASTE good food, and being outdoors a LOT more.
It wasn't easy and I realize now that I could have helped him when he was much younger.
Wellspring Camps offers kids, teens and young adults a proven scientific approach for weight loss, and teaches them the tools they need for long-term health. Like my son, the approach is on FUN! When you're outdoors, engaging with friends, it feels just like ANY summer camp. Learning to fit in exercise and eat healthier versions of their favorite foods are the cornerstones of making weight loss changes. By teaching skills such as how to shop and cook for themselves, they can continue to maintain once their back home.
Wellspring Camps has locations in:
California
Florida
Texas
New York
Wisconsin
To support your child's efforts:
Wellspring employs highly qualified healthcare professionals, including researchers, psychologists, social workers, exercise physiologists, personal trainers, dietitians, nutritionists, and a wide range of instructors and coaches. It's a comprehensive, multi-disciplinary weight loss and wellness program designed by experts to deliver remarkable weight loss results.
Dropping an average of FOUR pounds per week (and over 30lbs. in 8 weeks), can change how your child not only looks, but feels (self-esteem plays such an important part). This is what makes weight loss camps like Wellspring so powerful.
By having fun doing activities like:
Aerobics kickboxing
White water rafting
Surfing/kayaking
Tubing
Scavenger hunts
Personal training
They'll learn that making lifestyle changes can actually be FUN!
Just in time for summer, Wellspring Camps is offering Champagne Living readers a $600 discount. Head to Wellspring Camps to learn more and…
Simply input the code: success
GIVEAWAY
To kickstart the summer & get on the right track we'll be giving away a Fitbit Flex courtesy of Wellspring Camps
To enter:
Winner: Heather Simone!!