In the last decade, houses have rapidly transformed from not only spaces where we live, rest, and work, but into smart, interconnected homes that use data and information in order to enhance our living experiences. This change has happened thanks to the ingenuity of a few companies and the products they've produced. Using only your voice or some other biometric, these devices are able to customize themselves to your preferences and modify your home in real-time. For many people this provides a huge degree of customization, allowing them to make their homes truly unique and theirs. If you'd like to smarten up your home, you can do with any of the devices we've listed below.
Smart TV
Gone are the days of bulky tube TVs or even cumbersome "flatscreen" LCD screens. Today you can really get the full cinematic experience with ultrathin, high-definition LED smart TVs. Unlike normal TVs, these devices are connected to the internet, and allow you to browse the web, access streaming sites like Netflix and Amazon Prime, and enjoy a host of other features all from your remote control. When shopping for a smart TV you're going to be spoiled for choice, so we recommend using this guide to narrow down the options. We also recommend investing in a quality TV bracket from a company like Vogel's in order to enjoy the best possible viewing experience.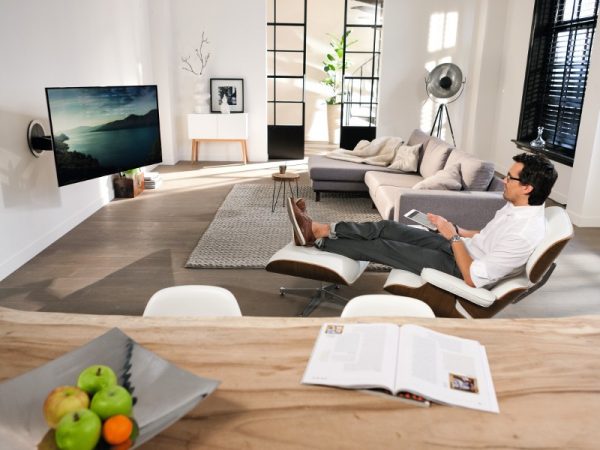 Echo Wall Clock
I know what you're thinking – how can a clock be smart and why do I need one? Well, the Echo Wall Clock does more than simply point its hands towards the relevant hour and minute. Connected to the internet as well as Amazon's Echo system, you can interact and communicate with the wall clock in the same way you would with other Amazon devices. Now you can set timers and countdowns in order to help you stay on time and never burn another meal again.
Amazon Echo Show 5
And speaking of smart Amazon devices, the Echo Show 5 is another of Amazon's Echo suite that blows the humble alarm clock out of the water. Not that waking you up is its only function, but the Echo Show 5 is small enough that leaving it on your bedside table seems like a reasonable place to put it. With a compact 5.5 inch smart display, and powered by Alexa, you can watch films, shows and news, and listen to music, radio or podcasts, directly from your bed. You can also use the Echo Show 5 as a smart home monitor to control and manage other compatible smart devices in your home.
Philips Hue E27 Starter Kit
Often when we think of futuristic homes, we imagine being able to turn off the lights by simply clapping our hands. Philips went more than a few steps further with the Hue E27 Starter Kit. Once these lights are installed you'll have full control over your lighting experience either by using your smartphone or through voice commands. It's an incredibly flexible system that lets you create lighting schedules as well as connect with a number of different smart assistants. You can control your lighting on the way home from work so that you never come home to a dark house. If you happen to wake up in the middle of the night, you can ensure that you'll never stumble on the way to the bathroom simply by using voice commands to control the lights around you.