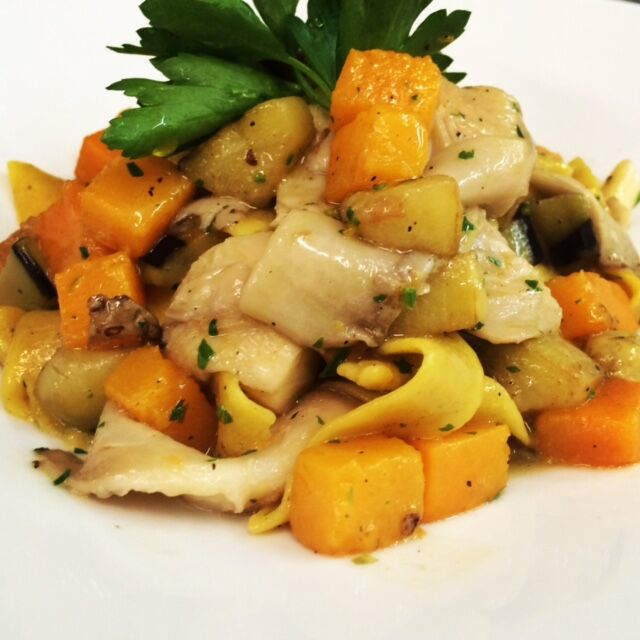 Kristin Sollenne, Celebrity Chef and author of the new book, Domestic Chic: A Fashionably Fabulous Guide for Cooking & Entertaining shared one of her favorite holiday dishes with Champagne Living for todays #FallFun31
This dish encompasses the essence of fall, utilizing vegetables that epitomize fall flavor and color while providing the palette with a warm, satisfying combination for those chilly fall evenings. Alongside this dish I love to pair it with an Apple Brandy Sangria for that nice sweet touch. You can find the recipes for both the dish and the cocktail below as well as in my cookbook, Domestic Chic.
Fettuccine with Roasted Butternut Squash Eggplant and Oyster Mushrooms
Ingredients
2 cups of butternut squash, diced in to 1/2 inch-thick cubes
2 cups eggplant, diced into 1/2 inch-thick cubes
1 cup sliced oyster mushrooms
1/4 cup extra virgin olive oil
1/2 cup white wine
2 chopped garlic cloves
1 pound fettuccine
Sea salt & freshly ground pepper to taste
1/2 cup Parmesan cheese
3 tablespoons Italian flay leaf Parsley, chopped.
Directions
Sauté butternut squash and eggplant cubes in olive oil and garlic until softened.
Add oyster mushroom slices, along with white wine, 1 tablespoon parsley, sea salt and pepper to taste.
Bring a large pot of salted water to a boil, and cook fettuccine until al dente.
Strain and add cooked pasta into the saucepan and cook an additional two to three minutes.
Transfer to serving plate and enjoy!
Top with parsley and Parmesan cheese.
Kristin's Apple Brandy Sangria
Ingredients
2 ounces Pinot Noir or other light red wine
1.5 ounces Apple Brandy
.5 ounces Gin
.25 ounces Pure Maple Syrup
2 dashes Angostura Bitters
Ice
Red Apple slices with cinnamon for garnish
Directions
Fill mixing glass with ice.
Add wine, apple brandy, gin, maple syrup, and bitters.
Stir well and strain into a chilled wine glass.
Garnish, serve, and enjoy!
For more delicious fall recipes, visit a few of my favorite bloggers:
Would your brand like to participate in #FallFun31? Fill out this form for more information.