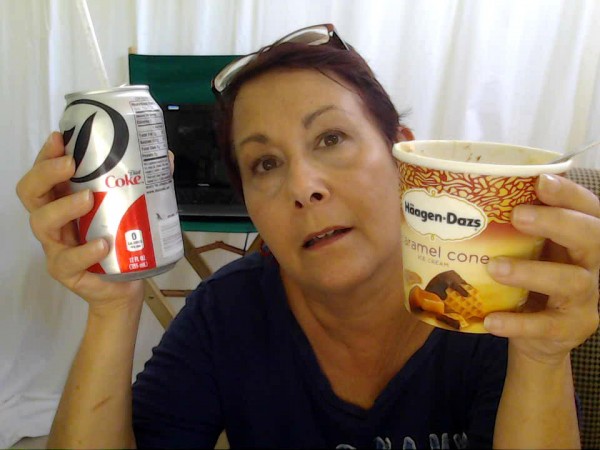 I'm sitting at my computer desk with a 2/3 of a pint of ice cream and a diet soda, yes…I'm going back and forth between the two. While I have NO PROBLEM picking up and going to Europe, writing a book, or spending time with my friends and family, in other areas of my life, not so much. While I may LIVE PARTS of my life to the fullest, I seem to self-sabotage when it comes to my weight, fitness and health…the IMPORTANT things.
When NIKE said "Just Do It" I didn't. These things are not only easier said than done, but they take effort, commitment, and stick-tuitiveness, things that I'm not particularly good at.
EASY
Travel – I have NO KIDS at home, a husband who LOVES staying behind and taking care of the dog, a creative side that LOVES exploring and a sense of wonder
Making friends – I'm so social that it drives my family CRAZY, add to that my sense of loyalty (which gets a bit misplaced at times) and I become that woman who's ALWAYS there for you.
Experiences, projects, & anything NEW  – I know that there are LOTS of people who fear the unknown, I LIVE FOR IT.
Creativity – Having grown up in a household where art, creativity, and TRYING ANYTHING were applauded (and the mundane, day to day discouraged), I have a natural affinity for "daring to be different" (as my parents taught me).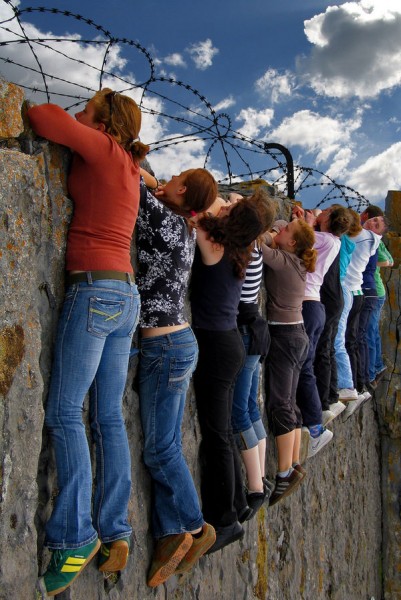 DIFFICULT
Taking care of myself – my weight, my fitness, my health all get put on the back burner.
The little things – Yes, I cook dinner, but honestly…I do it begrudgingly, I don't enjoy it. I also don't clean – at least not like "most" people do. I do keep things "straightened" so if you walked in the door you would notice that I haven't washed the floors in a month.
Organizing – I love doing things "off the cuff" and as a result I tend to be disorganized and forgetful. If I say I'm going to TO SOMETHING you need to remind me. My mind doesn't "work" that way. I HONESTLY will forget.
So, while I get to live this WONDERFUL, EXCITING LIFE – at the core I'm my own worst enemy, putting up road blocks and continuing self destructive behavior.
WHY?
Fear – I know what I'm good and and am afraid to fail at those things that I'm not.
Discomfort – Diet, fitness, cleaning the house are all UNCOMFORTABLE things to do. Having fun, partying and living it up are EASY. When faced with discomfort we tend to run.
Patterns – Doing things or more importantly NOT DOING them becomes a habit or pattern that can be difficult to break.
Justify – I have a BAD habit of trying to justify my behavior. I ate the ice cream because I was hungry. I didn't exercise because I was up late the night before and I'm tired.
I don't care – HONESTLY. If I don't KNOW enough about something I tend to NOT CARE (take GMO's, camping & being to eat off the kitchen floor – all things that I don't care about).
CHANGE
Watch your behavior – Pretend you're someone else looking in. Be judgmental for a moment (at least about yourself). It's always easier to see what's wrong in OTHERS, step outside of yourself and really observe what you're doing
There is no RIGHT OR WRONG when it comes to success – Not everything in life works the way we've planned. What you THINK success looks like, may not be what it ends up being. Take marriage for instance. Just because that couple on TV looks happy and in love doesn't make it so.
You are NOT PERFECT – You will NEVER be perfect, I will NEVER be perfect. That's too  much damn pressure.
Explore different avenues – By being open to a slightly different road, you can still get to your destination. Yes, it might take longer, but you NEVER KNOW what you'll see along the way. By being open to what life puts in front of you, you may find that you actually ENJOY the JOURNEY.
This is a PERSONAL POST – Feel free to copy & paste and put your – EASY, DIFFICULT, & WHY in place of mine. You can even share in the comments below, just to let each other know that we're  NOT ALONE and that we can HELP each.
EASY
Photo credit: Giuseppe Bognanni / Foter / CC BY