I'm at the home stretch with only one more challenge to go in the Jane by Design style challenge. The competition is fierce, and I've been checking out the other blogs daily to see what I'm up against. I guess in the world of fashion and TV it's dog eat dog, because there are some great fashion and lifestyle bloggers turning out their best work, so I've got to be on my A GAME if I want the job as blogger at Donovan Decker – the ABC Family's fictional agency in the new Jane by Design show that premiere's TOMORROW night! Today's challenge – fashion inspiration.
Finding fashion inspiration in everyday items…that is my challenge. More specifically, Gray Chandler Murray (my potential fictional boss) sent me three bags of pretzels to inspire me. While I didn't want to create an outfit with food hanging, or I'd have the dog chasing me all over the place, I decided to instead take my inspiration from the wrap-around shape of the twisted pretzel.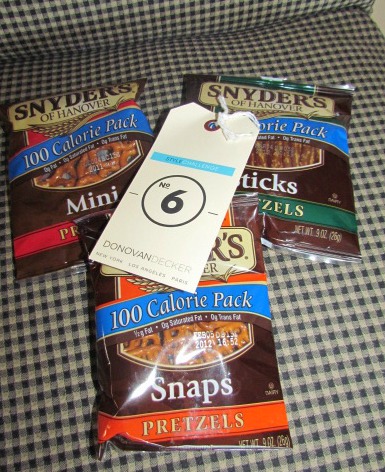 Those who know me in real life (and from pictures online), know that my fashion signature is wearing scarves. I've been wearing them since high school (over 40 years). I can't imagine going out without one around my neck, draped on a jacket or even just tied to my handbag. Just like my Costes perfume, it's my own personal tagline.
So, what better to do with the pretzel inspiration than take my favorite accessories and come up with a fabulous new way to twist them into a summertime top.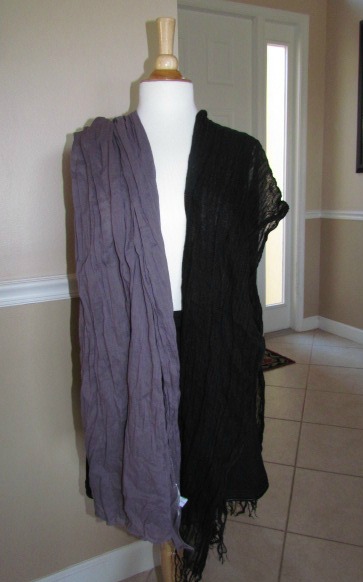 Beginning with an purple/gray scarf on one side and a black one on the other, I criss-crossed the scarves until they met on one side ad pretzel twisted them in a tassel down one side. While I show it on the mannequin "as-is" – a simple black tank or camisole underneath would take all of the worry out of any wardrobe malfunction (as these scarves are fairly see-through).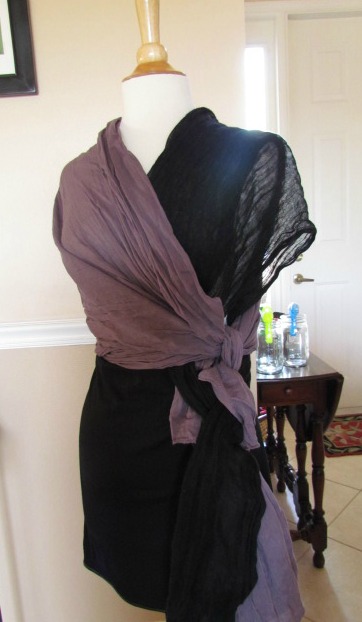 Voilà!  Of course, this is best left for summertime or for your vacation to the tropics – unless like me you live in the south.
Join in the Jane by Design Style Challenge add your fashion inspiration look on their facebook page and you could win a spot on the ABC Family website as a Trendsetter of the week. Don't forget to add that you're a Champagne Living reader, as they're choosing the trendsetter from the winning blog!
Mark your calendars because Jane by Design on ABC Family – is premiering TOMORROW –  January 3rd at 9pm EST!
I wrote this as part of my "interview" process with the fictional Donovan Decker agency and the new TV show Jane by Design. All opinions are my own.