…to drink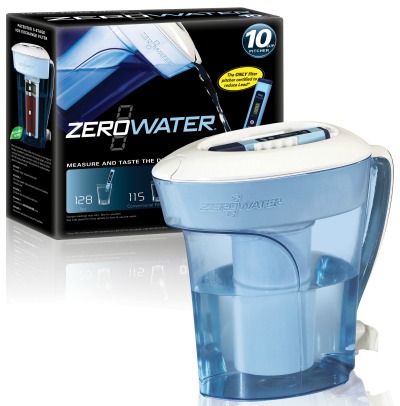 One of the things that I  miss terribly about living in Providence was the delicious water that came out of the tap. Even better was the water in Boston, which rates in the top 5 for the highest quality water in the country. The move to Florida meant that we had to switch to bottled water and soon after moving I installed a water cooler into the kitchen. This means that each time I go to the warehouse store, I have to lug home a 6 gallon bottle. It's heavy, difficult to maneuver, and the worst part is when the bottle has a pinhole in it and I turn on the cooler, only to find a virtual swimming pool in my kitchen.
I had never actually TESTED our water, but just from the smell and flavor I KNEW that it was AWFUL. Today I decided to TEST OUR WATER for TDS (the total of dissolved solids that come through the tap like minerals, salts, metals, etc.). These solids come from things like the metal in your pipes, salts used on the road in winter (for those in the North), runoff, industrial waste, and yes…sewage (UGH).
After I was done being horrified, I decided to filter the water through my new ZeroWater Filter System that I was sent to review. It's got a 5-stage ion filter (and yes, it's a heavy little thing), that REMOVES these disgusting solids from the water. ZeroWater's patented 5-stage water filter system is the only system certified to meet the Food & Drug Administration's standards for Purified Bottled Water, offering you and your family great taste and peace of mind at an affordable cost. I washed and dried all of the parts before using (to make sure there was no dust or dirt that could influence the reading). My tap water showed that I had 260 particles of solids per million – which is TOTALLY unacceptable.
It was time to compare!
The ZeroWater 10-Cup filter-pitcher is equipped with a laboratory grade tester, so you can measure your tap water before and after it's filtered and be assured you are drinking crisp, great tasting water, free of all dissolved solids. The pitcher's sleek design allows for easy fill, refrigeration and pour. ZeroWater products are available online at ZeroWater.com, Amazon.com and many other national retailers, including Target, Bed Bath & Beyond, Walmart, Home Depot, Meijer and Fry's.
I'll continue to check the water in the pitcher so that I know when to change the filter (when the meter reads 006). In the meantime, I have clean, clear drinking water.
By the way, the design of this pitcher is BRILLIANT. Not only can you pour like a "regular" pitcher, but it has a spout on the bottom as well. Simply push the little button and your water will flow into the glass – no need to even REMOVE the pitcher from the fridge.
For more information about this or one of their other filtering pitchers visit the ZeroWater website and Facebook page.  Right now you can also get 30%  off of a 10 cup pitcher using  ZeroWater coupon code MC30.
GIVEAWAY
Winners – Randi R. – Olmsted Falls, OH & Sherry S. – Concord, NH
Extra Entries
Follow me on twitter @zipporahs and say hello, or let me know how you are.
Comment below with your tweet
Subscribe to Champagne Living,  follow me on facebook or twitter – all found on the sidebar (each counts for 1 extra entry)
Tell your peeps on your blog, facebook page or twitter about this or any post (each counts for 1 extra entry) and link to us.
Share this giveaway on any contest/sweepstakes/giveaway site for 5 extra entries..
This giveaway is open to US residents, 18 and over and ends on April 13, 2012
No purchase is necessary.
Odds of winning are dependent upon the number of entries received.
Void where prohibited by law
I wrote this review while participating in a blog tour by Mom Central Consulting on behalf of ZeroWater and received a water pitcher to facilitate my review, two pitchers to giveaway, and extra filters to thank me for taking the time to participate.