Last night Jane by Design premiered on ABC Family. The panic leading up to it here at the mansion was monumental. PANIC over a TV show? Well, when you're in the running for a job as blogger on a great show like this and you receive an email from the overbearing Gray Chandler Murray that says
I'm astonished we're still communicating, but don't be fooled. Just because you've made it this far doesn't mean you've gotten the job. There is one final phase of the interview process. I have a very important premiere tonight and I need you there with me. You must take careful notes on what everyone is wearing because, at the end of the day, what people are wearing is our business. If you want to work for Donovan Decker, you must prove that you have keen powers of observation. And remember, you can't be everywhere, but I must know everything, so you must ask your readers to help you if you hope to succeed.

Then show me that you can become a trusted fashion source for masses of people who have less style than I do. Choose one person you have observed and write a "get the look" entry on your blog. Tell your readers to share their "get the look" tips here and mention the name of your blog.

And remember, don't be late. If you miss the premiere, you miss out on the opportunity of a lifetime. If all of your assignments are not completed by tomorrow, January 4 at 11:59pm PST, you will be out of the running.
but the POWER GOES OUT at around 8:00 pm, and 45 minutes have passed and I'm still in the dark KNOWING that the show begins promptly at 9:00 – panic ensued. So much so, that I attempted to fun into the other room to see if it was just where I was and tripped over the Total Gym landing on the hard tile floor (let's just say I'm living on ibuprofen today), but fashion doesn't stop for klutzes and when at 10 minutes before the show was to start the power returned I forgot about my aches and pains and sat glued to the television.
My first impression of the show
Fun, not just for high schoolers, but with actors like Andie McDowell in the mix, it's perfect for someone like me as well
The Fashion
Where do I start? There is a mix of fashion from young and cute to elegant and sophisticated – think Forever 21 meets Neiman Marcus.
The Challenge
Which is why we're all here today…to see WHICH style I've chosen to emulate and how I'm doing it. Being a bit older than most of the workers at the Donovan Decker Agency, I was immediately drawn to the sophisticated Gray Chandler Murray (played by Andie MacDowell). Unfortunately, the photos that I have of her gorgeous outfit were grabbed directly from the television. Thankfully you can still see the details.

I don't know a woman who doesn't own an LBD that would be perfect for this look, making it easy to recreate. I grabbed one out of the closet, added the bold necklace (Vintage – Leslie Block – who's jewelry I adore), and tossed a large scarf/shawl across the shoulders (you might recognize it from my last challenge). All I'd need is some red lipstick and I'm ready for a night at the ballet, dinner out, or that cocktail party that I had no idea WHAT I was going to wear to.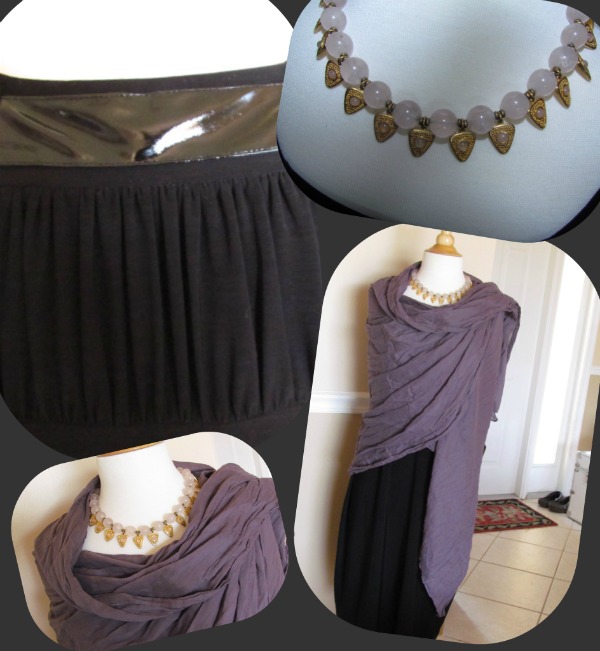 Did you watch the show last night? If you missed it, you can see it on the Jane by Design website (scroll down for "Watch it Now"). Then, go to your closet and see if you can "get the look" of someone on the show, or add your tips here (don't forget to mention Champagne Living) and you could be a featured trendsetter on the ABCFamily website (and help me get the job as well)!!
Jane by Design airs Tuesdays on ABC Family at 9pm EST!
I wrote this as part of my "interview" process with the fictional Donovan Decker agency and the new TV show Jane by Design. All opinions are my own.