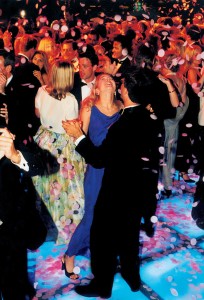 Let's say for a minute that you've been invited to the Bal de l'Eté at Salle des Etoile in Monoco….or maybe just your neices wedding…which is being held at night in a country club setting. How do you choose what to wear? I do get invited to some pretty fancy events, and while I do have a stocked closet, there are some events where I need something that I just don't have…like if I'm invited to a fancy dress party. Simple and elegant I have, themed…not so much.
These days there are quite a few options that won't make you think twice about going. With companies that will rent you anything from a pair of Louboutin's to a gorgeous designer dress for only 5% – 10% of what it would cost if  you went out to buy it, renting is certainly an option. If you think that you'll be able to wear the dress again and again (notice I said it twice), then I'd certainly consider buying.
What if it's something that you'd need to be a bit more creative than just walking into the Nordstom's half yearly sale to buy?  Why not? We've all seen women wear lingerie, like a camisole as a top, or even a vintage slip as a skirt…why can't you look at costumes and use the along with what you have?
With all of the Disney princesses wearing gorgeous gowns in movies like Beauty and the Beast, I'm certain that you could find a gorgeous golden yellow ball gown at a costumer, and add touches that make it look expensive. By adding a wrap, some large pieces of vintage jewelry and a pair of sparkly slippers (like my faves that I've been coveting by Donald J Pliner), you could be the Belle of the Ball (sorry, I couldn't resist).
Remember – there are always options like consignment shops, stores that specialize in knock-off styles, etc. So…don't say "I can't go, because I have nothing to wear" – get creative and go. Don't forget to think of me while you're enjoying a flute of champagne!
You deserve it.