Frankly, dazzle me with any accessories and  I'll follow you like a puppy. The way to his heart may be my homemade beef stew, but if he wants to impress me – there better be heels, something sparkly, or a bauble that makes me gasp. Mr. S used to be good about knowing what I wanted, but not anymore….so now I treat myself and do it OFTEN.
Which is where those subscription services that I wrote about last week come in. Each time a box shows up at my door (that's not for work) it puts a smile on my face. I don't know about you…but, I love nothing more than ripping them open (never be demure when it comes to opening gifts) and squealing with delight at what I find….and that's what happened last week when I ripped open the box from a shoe subscription service to find THESE…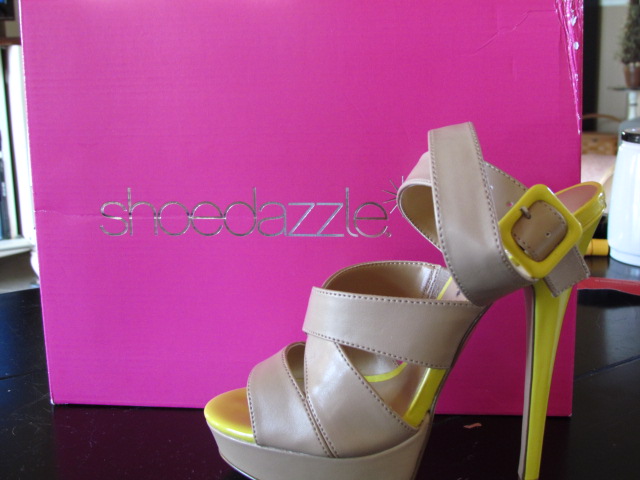 Stop rubbing your eyes in disbelief – these FABULOUS shoes showed up at my door via the Shoe Dazzle monthly subscription service. The funny thing is, I was planning my February calendar (you're going to be seeing cruises, cruisewear and more) and thought these were PERFECT for sitting by the pool on the Lido deck. But, I didn't want to wait until NEXT MONTH to tell you about them…so I am jumping the gun and giving you the 411 on these and other great shoes from my new bestie Kim Kardashian's service.
About ShoeDazzle®


ShoeDazzle is the leading online fashion brand delivering personalized monthly shoe, handbag and jewelry selections to members by its team of top celebrity stylists. Each recommendation speaks to au courant fashion trends and is selected based on each member's own distinctive sense of style. The company, which was founded by Brian Lee, Robert Shapiro, MJ Eng, and Kim Kardashian, who serves as the site's Chief Fashion Stylist, was launched in March 2009 and now boasts over one and a half million Facebook fans. ShoeDazzle, the first and most successful online styling service, allows members to experience the personalized service of shopping on Rodeo Drive at an affordable cost. ShoeDazzle's no-obligation monthly membership cost of $39.95 includes the stylists' service, your choice of a pair of shoes, a handbag or a jewelry set, and free shipping both ways with easy returns.

Visit http://shoedazzle.com for more information.
Is this a shoe addicts dream or what?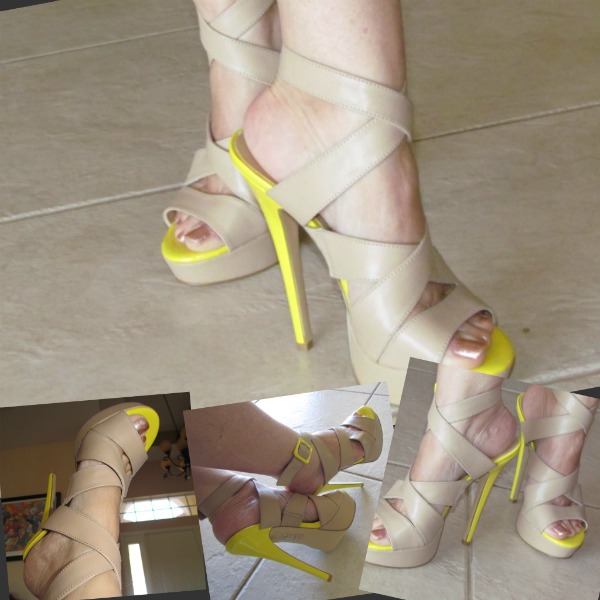 If you follow me on facebook, I'm sure you've seen the discussion about these stiletto's today and whether I would actually be able to walk in them. Let me go on record to say – THEY ARE ACTUALLY COMFORTABLE. There is plenty of padding under the foot, and the strap that wraps around the ankle has a little bit of elastic added for a good fit with no slippage. I can walk in them (strut actually), although I much prefer sitting and showing off my sexy shoes at an ankle.
You don't have to love 6″ heels like these to love Shoe Dazzle, because they've got everything from sexy stiletto's to ballet flats and even puddle jumper rubber boots.

So, what's the deal with Shoe Dazzle?
As I said before, it's a subscription service….with a twist. While you have the option of getting a pair of shoes each month, you can actually control whether you'd like to skip a month or two. They don't just go into the racks and pick whatever shoes they have available…no, not at all. I filled out a form with my likes, my style, what my day is like and they offered me personalized style recommendations based on my answers. YOU CHOOSE EXACTLY WHAT YOU WANT…no surprises.
But can I choose from other things in the collection?
Absolutely. Shoe Dazzle also sends you their LookBooks and Collections to linger over before making your decision.
Aren't they expensive to ship?
Nope…with the Pink Shipping option, shipping is only $2.99 per item (4-7 days to receive).
I don't see what I want this month, can I skip a month?
You certainly can. Just make sure to log in before the 5th day of the month and click "Skip a Month."
I'm tired of shoes, do they have anything else?
First let me take your temperature, because I think you might be feeling a little sick. Who gets tired of shoes?  The short answer is – YES. Not only do they have the hottest styles in shoes, but their handbags are to die for, and they have jewelry that dazzles as well.
When it comes down to it, I'm only spending $10 a week, or 2 stops at the coffee shop, and I'd much rather feed my shoe addiction than pack on the extra pounds. Plus, I can change up my favorite LBD with some red heels and handbag all from their collections.
The Last Drop
I've decided that I prefer this subscription service to my little cosmetic one. It may cost a bit more, but because I can choose which shoes I want I KNOW that I'll wear them (if not, they're returnable – not so with my "other" subscription). Plus, I love shoes…even inexpensive fun ones like these.
I received product to facilitate this review. All opinions are my own.
WINNER: Klydra P. – Lewiston, ME
GIVEAWAY
Extra Entries
Tweet me @zipporahs and tell me what style of shoes you love
Comment below with your tweet
 Subscribe to Champagne Living, "Join the Clique", follow me on facebook or twitter – all found on the sidebar (each counts for 1 extra entry)
Tell your peeps on your blog, facebook page or twitter about this or any post (each counts for 1 extra entry) and link to us.
Share this giveaway on any contest/sweepstakes/giveaway site for 5 extra entries..
This giveaway is open to US residents, 21 and over and ends on January 21, 2012
No purchase is necessary.
Odds of winning are dependent upon the number of entries received.
Void where prohibited by law