I've been keeping a secret…and I'm pretty darned proud of myself, because REALLY I am not good at keeping secrets. Why? Because when I get that first SPLASH I want to make sure all of my friends know about it. What good is having the details about the sale of the century, or an open invitation to a fabulous affair if you're going alone? So, on my recent escape with Disney in New York I was invited to the premiere screening of Beauty and the Beast and Tangled Ever After (as well as War Horse and Mary Poppins) – both in FABULOUS 3D…AND was told that I'd have to wait until NOW to tell you about them, I worried. Worried that I'd leak out all of the giggles and glamour of these two flicks.
My seams have burst just in time for the okay from Disney, so I'm spilling the details here…
Continuing the Disney film Tangled, Tangled Ever After takes us to the next step on a journey that "rings" of laughter. If you're the type of 3D fan who loves the "in your face" excitement that donning a pair of those horrible glasses bring, you won't be disappointed. This short sequel to Tangled takes us to the wedding of Rapunzel and "Eugene" where it becomes a WHAT ELSE CAN GO WRONG with a set of wedding rings (before the bride & groom even find out the bands are missing) adventure. The simple and silly plot, makes this so enjoyable that you'll be laughing out loud.
When you follow it with the classic tale of Beauty and the Beast with the enhancement of 3D, you'll become that kid again…even if you're MY age! With the Disney glamour of this traditional tale, the movie stays true to the original Disney film, adding 3D effects the way they SHOULD be used…to enhance your experience rather than to make you jump out of your seat. Adding depth, rather than fancy "tricks" the viewer is magically drawn in to the story of the sweet Belle who's decision between a cad and a beast are told…and we all know how that goes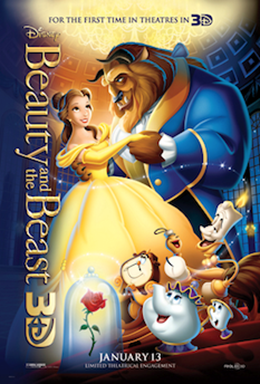 BTW, for those fashion fanatics like myself, the colors and beauty of the costumes stand out even more when framed in 3D!
The Last Drop: Tangled Ever After had me laughing hysterically! So much so, that I wished it was a full-length film. I've been buzzing about it non-stop here at the mansion (ok, so the whole secret thing doesn't count when it's your family).
Beauty and the Beast – was definitely enhanced by the 3D experience, and I still love, love, love the costuming in this flick. I have to admit that the story of Beauty and the Beast is not my favorite fairy tale  (just a personal preference). Still, Disney studios are MASTERS of creating these classics and making them magical. For a little fun, I'd love to see the story done from Gaston's perspective. Just sayin….
I was a guest of Disney in NYC in order to screen this, War Horse and Mary Poppins on Broadway. All opinions are my own.