By Kathy Chin Leong
Craving autumn foliage? There's no better place to get your fix in California than Yosemite National Park.  The leaves of the dogwoods and maples cascade into yellow, orange, and red, and the chill in the air reminds you it's that time of year for apple cider.  In addition to fall hues, nature lovers will discover five distinct advantages to coming in the October and November timeframe compared to other seasons.
Benefit #1     
No need to make a park reservation.  In August, for example, crowds can swell to beyond 600,000 visitors, it is almost half that amount by October.  You don't have to worry about whether you will get into the park because no reservations are necessary in the fall.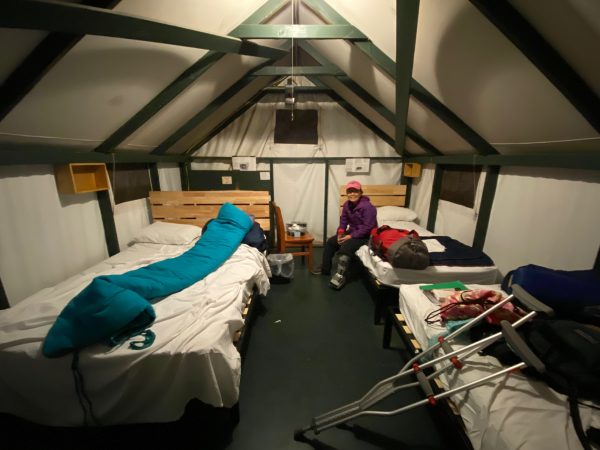 Benefit #2          
Lodging is freed up.  Sure, you still have to reserve early, but when I came recently in October, we found out there were still extra tent cabins available to visitors walking in.  You will have better luck in landing a place to slumber in the park compared to the summer.  I stayed in the Curry Village heated tent cabins which had been on my bucket list for years.  Since it was fall, the tent was easier to book, and the experience of being in the valley, so close to everything, was fantastic.   Plus, we were warm and cozy having a heater, an electrical outlet, bedding and blankets, and lighting.
Benefit #3      
Comfortable weather.  In October, temps run in the mid-70s Fahrenheit in the day and a manageable 40-plus at night. That means you are not pelted with the blistering heat of summer, and you, most likely, will have the energy to tackle more hikes and longer walks.  The secret to a perfectly comfortable fall visit is wearing layers.
Benefit #4       
Fewer lines.  I know this sounds obvious, but who wants to stand in a queue for half an hour for a cup of coffee?  In autumn, you get quick access to food stands and can even land a reservation for a meal at The Ahwahnee Hotel with no problem.  When I booked a table for breakfast, they gave us a window with stellar views of the trees and mountains.  Throughout the valley floor, parking was readily available.  With no crowds at the Yosemite Visitor Center, I was able to meander leisurely and read the signage and storyboards in the museum.   Further, you can rent bikes whenever you want to pedal around the valley.  And,  no lines for the public bathrooms are, of course,  a huge relief.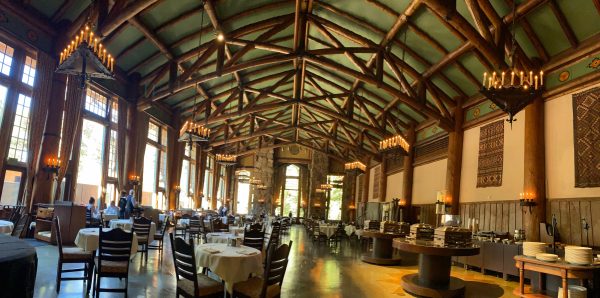 Benefit #5         
Solitude.  Yosemite gets an average of 4 million visitors a year. That's a lot of bodies, shoulders, elbows, and legs that can bunch up in a crowd and make you feel COVID uncomfortable.  However, in the fall, even in the most popular of places in Yosemite, you can indulge in solitude like never before.  Fewer people mean less stress.  You can center yourself, feel grounded, and experience nature without interference as you trod the meadows and trails. The park offers a myriad of indoor hangouts – my favorites include the entry of the Yosemite Lodge, the historic Ahwahnee Hotel lobby and great room, and the Curry Village lodge which features porch rocking chairs.
While benefits are aplenty, prepare yourself for the limits of autumn in Yosemite.  First, don't expect waterfall views.  By this time of year, the water has dried up.  So, enjoy the majesty of El Capitan, Three Brothers, and other magnificent rock formations.  Merced River and other waterways will provide you with plenty of fodder for photogenic masterpieces.  You can catch bird sightings and possibly spy a bear or two.
In addition, certain food and beverage haunts post shorter hours or say bye-bye for the season.  Pete's Coffee was already closed for the day when I arrived at 4:30 p.m.  Who knew that it closes at 11 a.m. in the fall? Some stands such as the Curry Village's Jeni's Ice Cream halt service after the summer.   But the new Seven Tents dining pavilion for breakfast, and The Deck pizza joint for all-day dining, were open for visitors.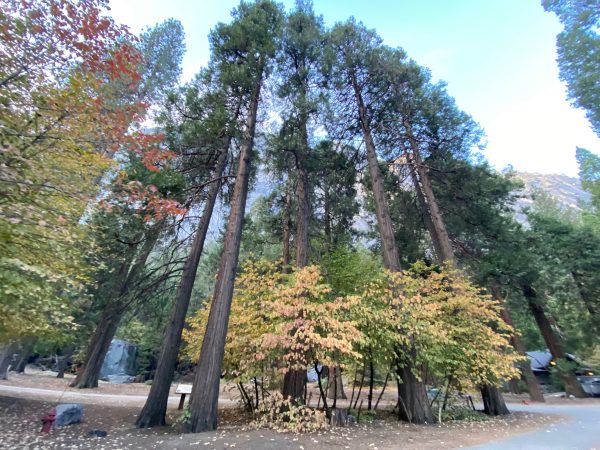 Also, be aware that some roads may be shut down for construction or maintenance.  During this time, Glacier Point Road was closed, and the only way to get to see those epic peaks was to hike an arduous four miles from the valley floor.
However, when you know what lies ahead of you, you can make adjustments.  Since we could not drive to Glacier Point, we booked the Yosemite Valley tram tour which made four significant scenic stops in two hours.  Our driver who also served as a nature and history guide was thoroughly informative. This turned out to be the highlight of the trip.
Want to get away ASAP?  Head to Yosemite, hailed as one of the top ten most visited national parks in America. In this secret season, you'll find easy access to park amenities, find ample lodging, and most importantly, you'll find yourself.
For more information visit the highlighted links in this post or go to

Yosemite.com