I received many of the pieces of clothing in this post to style in consideration of this post. I also get a commission when you purchase via some of the links.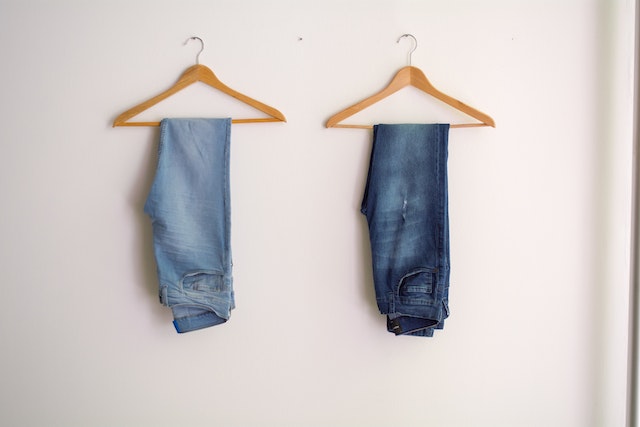 When it comes to the classics there is nothing like a great pair of jeans.
But, a great pair of jeans can mean something different to each of us, so I'm starting with what makes a great pair of jeans for me.
Cut for your body – As a 5'0″ tall woman, I need a tapered or skinny leg (yes, even when I weighed 45 lbs. more than I do now). While fashion changes every season, a good solid pair of jeans that look like they were made for you is an essential that you'll wear for many years. I STILL have a pair of skinny Fiorrucci jeans that I bought in Paris in the 1970s, and I recently found a pair from DSTLD that cup in the right places to make me not only look thinner but also taller.
Fit – I try jeans on barefoot. WHY? Because if the front hem of the pants touches the top of my foot and the back touches the ground, I know that once I have my shoes on they'll be the perfect length. I have a GREAT tailor if I can't find them off the rack with that fit. Remember to figure in for a little shrinkage.
Quality – There I said it. I can pick out a pair of cheaply made jeans a mile away. While there are some things (fun baubles or a pair of simple white sneakers) that you can get away with grabbing on the go, jeans are not those. Because your jeans can last years, make the investment in a great pair.
Color & Washes – This is where I may vary from season to season. This year I'm loving a darker, more classic Indigo dye to the denim, but 3 years ago I was all about a more washed look (and remember that acid-washed look from years ago).
The great pair of jeans I started with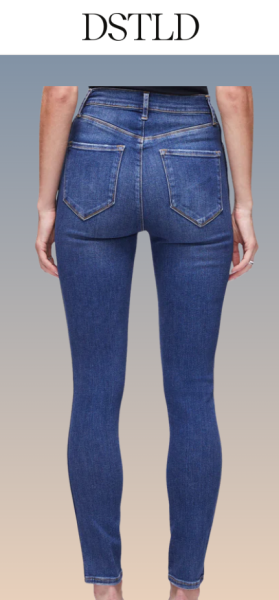 I knew that I wanted to be able to pair both larger and smaller tops with the jeans, so I didn't want the shape of the leg to get in the way. The goal is to create a classic silhouette that works on someone my size (5'0″ tall, 105 lbs.). Because I'm older, my butt has flattened and I wanted a pair of jeans with stretch to them to sculpt my shape. This pair is actually called SCLPT. The jeans have a great 11″ rise (nice and high) that works with all types of tops (great for that French tuck that I tend to do), and the "Selfsized" technology suits pretty much all body types. Another feature that they DON'T mention on the DSTLD site is that I was able to wear them multiple days without them losing their shape. Skinny jeans often look great on Day #1, but I almost always need to wash them to get the fit back. I wore this pair in ALL of the photos taken in this post on MULTIPLE days without washing them.
The denim is soft and offers DSTLD brand-new Caballo seaming. Of the 8 pairs of jeans in my closet that are cut similarly, these have become my go-to favorites as I can put them on in the morning and have them still look as good over dinner out as they did at 8 am when I was having my first cup of coffee.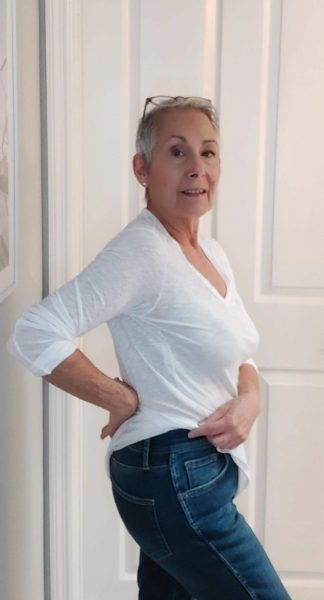 The looks
I just threw on a t-shirt because I can't deal with getting dressed look.
Classic American
Stripes (are you surprised?)
French Classic
T-Shirt & Jeans

There is absolutely NOTHING quite as classic as a white t-shirt paired with jeans. I love the versatility of Stateside's Supima Slub Jersey Long Sleeve Crew. The long sleeves will work throughout the fall, it can be layered in winter (and because it's a natural fiber, I would wear it as a base layer when we are up in the mountains skiing), and is light enough to push up the sleeves and wear through the warmer months as well. The finish of the slub gives it an imperfectly perfect look, as the technique of twisting the yarn into textured layers allows for intentional variations of hues during the dying process.
The tunic length means that you can wear it out, layered under shorter tops for a more dimensional look, or tucked in with a simple navy blazer (this is one that I've had for years by Lioness) and spectator flats (Tory Burch are the comfiest ballet flats that I own) for lunch out with the girls.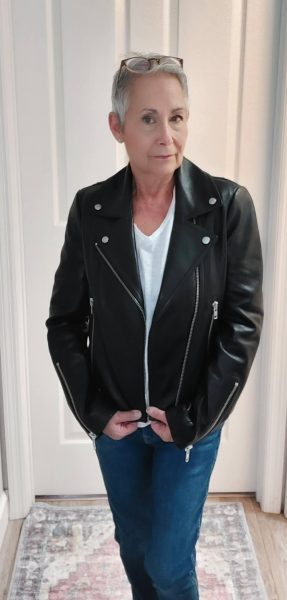 Bad girl your look up with a classic Leather Biker Jacket from DSTLD. Ageless, timeless, and edgy, a great motorcycle jacket can give you a look that says who you are…not afraid to mix things up. This is the ONE piece that you can add to every single one of these looks. From jeans to a sequined gown, nothing goes better than leather and this one is crafted from buttery-soft leather for effortless movement. Cut for a woman's body with a classic fit, it's got true-to-form silver hardware and a zipper that goes ALL the way up (great for that scarf shown in the Classic French look).
Classic American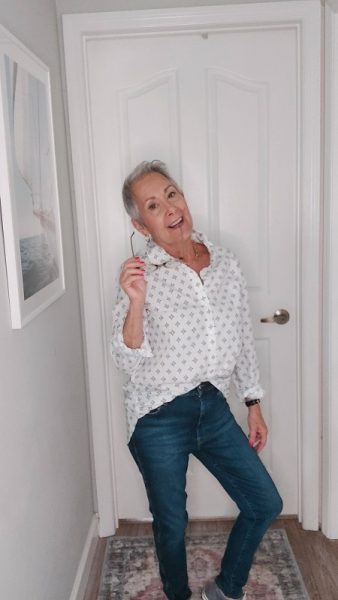 Button Up/Button Down. For a long time, I shied away from wearing button-front shirts. I hadn't lost the weight yet and the extra weight paired with my height held me back from adding more bulk in the front of my torso. Then I realized that I was being foolish. But, I really only like a good cotton (Oxford or Organic) shirt. For this look, I paired my jeans with this Essential Organic-Cotton Shirt by Garnet Hill. I took a deep breath and ordered it in this Navy Tile Geo Pattern. If you've been reading or following me, you know that I usually only wear solids and stripes. But, I wanted to push my boundaries a little (knowing that I was choosing a classic look), and I'm so happy that I did.
This Peruvian organic Pima cotton poplin shirt has an easy fit and great details, from the pattern that can be dressed up or down and a curved hem so that like the t-shirt above, can be worn tucked in or tunic style over the jeans. I also love wearing shirts like this one open OVER a t-shirt or over a t-shirt dress (it looks great whether you're wearing a crew or v-neck under it). Add your favorite pair of sneakers (mine are by Taos), and you look All-American.
Stripes, because…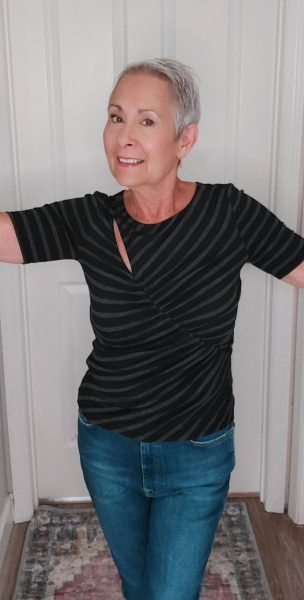 I admit that I have a problem. My closet has an entire section devoted to my stripes. I tend to purchase them in the classic Breton style. Some I brought back with me from France when I lived there, and others go all the way back to my high school days. I keep them, I collect them, they are a part of who I am. But, I needed to do something a little different, because, even though it's one of my signature looks, it can be a bit boring wearing the same thing day in and day out.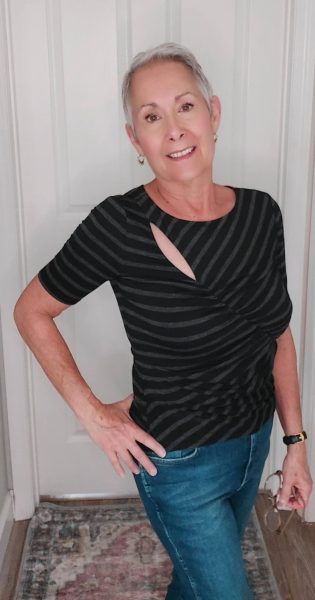 I decided to mix it up every which way and have fun with the stripes in this Ariana Stripe Short Sleeve Top by Bailey 44. With a slimming fit from ruching that is as asymmetrical as the stripes are and a keyhole detail that is styled for ANY age (because at 68, keyholes have to be tame for me to wear) this top is a perfect accompaniment for everything from jeans to black slacks, and skirts (it would look AMAZING with a simple black mini skirt). I love that this is a shorter shirt as it shows more of the jeans and elongates the look vs horizontal stripes.
Classic French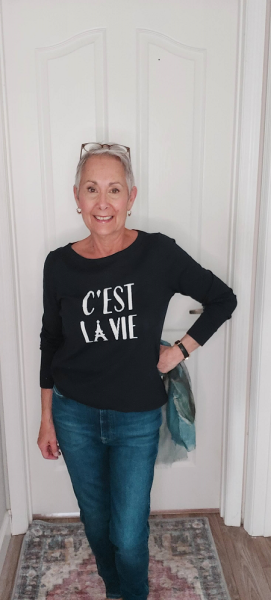 Yes, my love of stripes and skinny jeans with ballet flats come from living outside of Paris when I was younger. It was such a special time in my life, commuting into the city to teach American Modern Dance in the basement of a church in the 7th arrondissement so many years ago. I had very little money and lots of fun, and even though I haven't been back to the city for 10 years, the city is still a part of who I am.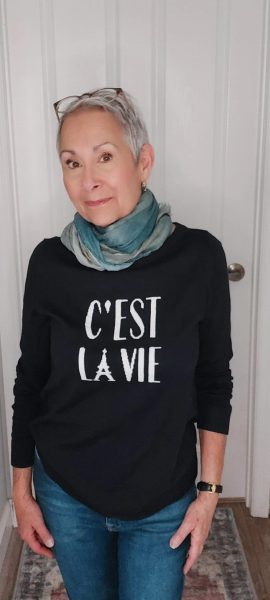 C'est la vie, c'est la guerre, c'est la pomme de terre. That's life! This adorable C'est La Vie Bateau Neck Sweater from Talbots says it all. The cut of a boat neck can give you a longer more elegant look as it brings the eye upwards. But, it wouldn't be REALLY French without the addition of a scarf wrapped oh-so-casually around your neck (this one was a gift from my brother from the MFA in Boston – yes, it has a Degas ballet dancer on it).
Where to find the pieces
I'll be bringing you more looks soon. Next? I've got some little black dresses to dress up, dress down or just KISS (keep it simple). If you'd like to see any pieces styled, please let me know and I'll put together some options.