I was provided a pillowcase to facilitate this post.
When my co-host of The Compass Girls told me that I needed to sleep on silk
I said ABSOLUTELY NOT. I am a cotton girl. I love a great percale sheet, the smell of bleach, and the feel of natural fibers against my body. Why would I need to sleep on a silk pillowcase? "So, you don't mess up your hair," she says. The last time I looked I have a very short pixie haircut and there really isn't enough to mess up that a wet brush in the morning won't fix. "It will keep you from getting wrinkles," she says. While that may be a valid point, I'm 68 and am worried about the bags under my eyes…wrinkles, I don't have a lot of.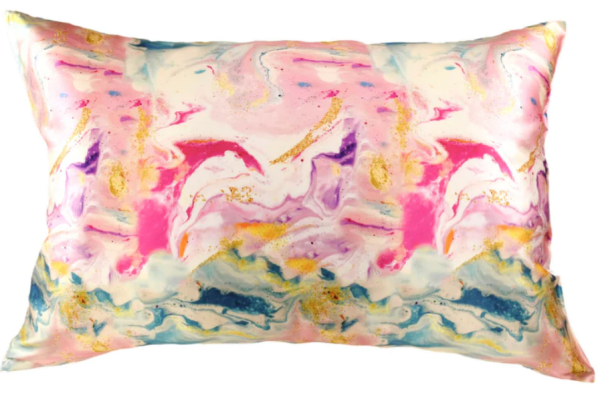 I am the princess from The Princess and the Pea.
Any little change and I'm up all night. As it is I sleep hot. I toss and turn and if I'm LUCKY, I fall asleep for 4-6 hours only to awaken and start tossing and turning again. I try sleeping on a schedule, taking supplements, prescription medication, etc. THAT'S HOW BAD A SLEEPER I AM. So, when I received a 25 Momme Pure Mulberry Silk Pillowcase from Celestial Silk I was wary.
Would I be HOT? Would I stick to the pillowcase? Would I not like the slick feel when I'm used to cotton? Would this be one more thing that keeps me up? I had promised to try it, but once I received it, I wasn't so sure.
I took it out of its package
But, a promise is a promise, so I washed it and put it on MY pillow. Knowing that Mulberry Silk is a natural fiber, I figured that at least it had THAT going for it.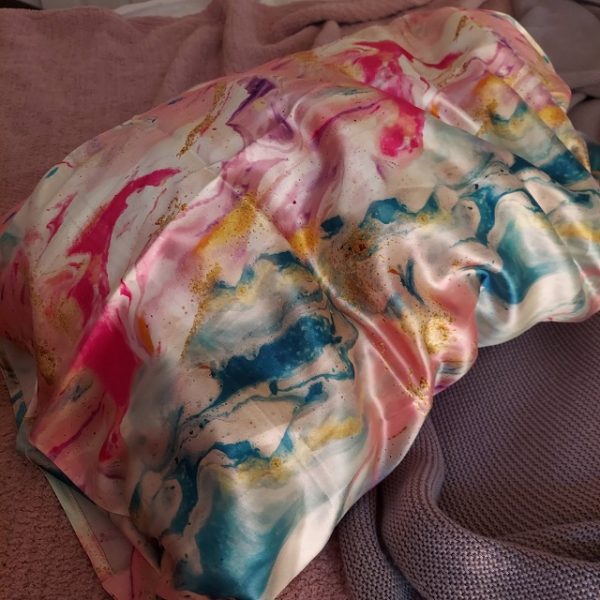 Like a walk through L'Orangerie
I had asked for the Abstract Dreamscape design. The photo of the pillow on the Celestial Silk site doesn't do this pattern justice. As I unfolded the Silk Pillowcase I felt as though I was unrolling a beautiful canvas from my favorite museum, the Musée de l'Orangerie. I was going to lay my head on a pillow that would make Monet proud to sleep on it. The wash of watercolor swirls dance across the soft, cool silk and cover the pillow with fabric to spare. This is totally my aesthetic, and that was the FIRST hurdle.
Momme – What is it?
Silk is measured by the momme weave (kind of like thread count on a cotton sheet). Since this was my first piece of silk bedding, I turned to Celestial Silk to learn more. According to Celestial Silk this 25 mm silk is thicker, more durable, and more luxurious than lighter weights of 16, 19 and 22. A denser weave of 25 mm silk provides almost 30 percent more silk than its economical counterparts.
The bottom line? Their 25 momme mulberry silk pillowcase is truly the epitome of luxury sleeping. Ooohhh, I like luxury.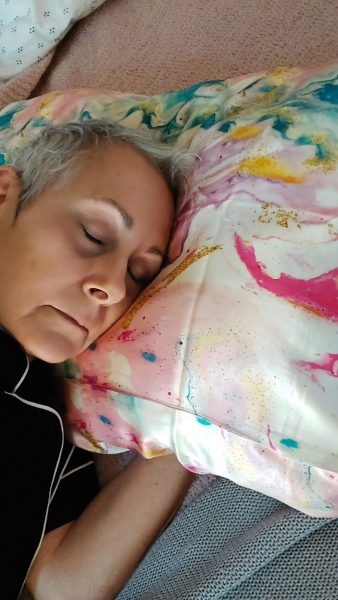 At the end of the day, it's about sleep.
Within minutes of laying my head on the pillow, I realized that my preconceived notions were all very wrong. Yes, as my friend had said Mulberry silk pillowcases help retain the moisture in your skin and hair, resulting in a smoother complexion and softer (less frizzy) hair. In other words, they are a way to beautify while you sleep. But, the cool fabric helps a HOT SLEEPER like me, to STAY COOL during the night. That is HUGE for someone who is going through menopause or just likes to sleep on something that's cool.
It felt absolutely LOVELY against my skin. Living in Florida I always feel hot at night (even with the air conditioning on). Knowing that I can sleep on a fabric that wicks the moisture AWAY from my skin actually helps me fall asleep.
Celestial Silk SPECIALIZES in Mulberry Silk Pillowcases
They offer 25 colors and patterns and sizes to fit your pillows and the decor of your room. From solids to prints (like the one that I received), they are available in standard, queen, and king sizes. You have the option of a zipper or an envelope side. Mine is the envelope style as I was worried that the zipper would bother me (I told you…I'm THAT princess).
Also, giving back is extremely important to Celestial Silk and they donate 10% of all proceeds to charity.
The care & feeding of your pillowcase
Machine wash (inside out) with similar materials in cold water on the delicate cycle.
Use delicate, pH-balanced detergent meant for fine materials. (Never use bleach.)
Ideally, minimize spin time to keep the silk's shiny luster.
Like all delicate materials, air dry inside, if possible, for optimal durability and appearance. (Prolonged sun exposure will harm your silk, so do not hang it outside to dry on bright sunny days).
It is not recommended (the silk will weaken and lose some of its luster) But…If you must use a dryer, tumble on cool, delicate or air-fluff setting for a few minutes. Remove silk when 80-85% dry.
If you would like to iron to return the silk to its original sheen, use the silk setting when silk is slightly damp. Always iron inside-out to avoid damage.
Silk sheets do not like sharp objects, so keep pet nails trimmed or keep pets off of silk bedding for optimal durability and appearance.
Do not feed your pillowcase – I was just kidding
Prices vary depending upon your pillow size & they also have an outlet with discontinued colors & styles for you bargain hunters! All of their pillowcases arrive gift-wrapped, making them a GREAT gift this holiday season.
"Silk pillowcases are the perfect solution to maintain good skin and hair health, regulate body temperature in your slumber, and keep your sleeping area clean and hygienic with their temperature-regulating, hypoallergenic, and pure silk properties." – Celestial Silk