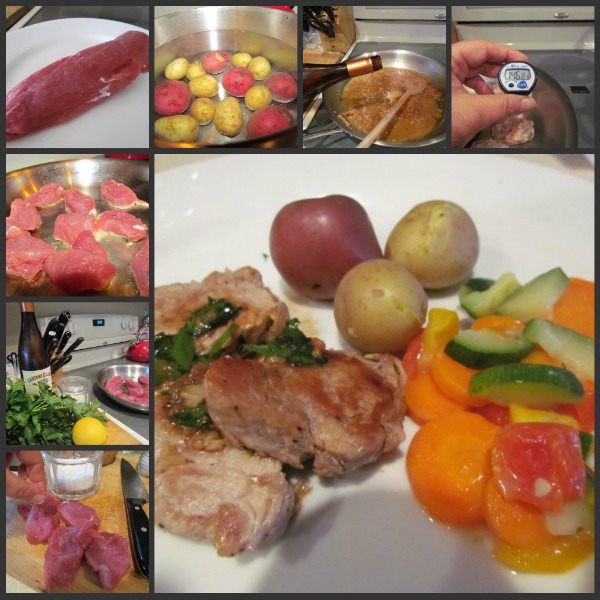 I  can list on one hand the things that are both GOOD and GOOD FOR YOU. Most of what comes to mind are things like laying out in the sun (not that great for you), a hot fudge sundae (definitely not good for you), buying a pair of Christian Louboutin shoes (Love them, can't afford them & my feet kill  me when I wear them). The list could go on and on, but there are a few things that do fit the bill.
Relaxing with a wonderful book – feeds the mind
Keeping a journal – cathartic and  no one has to see it
A great meal that's still healthy – like pork tenderloin
Publix and the  National Pork Council have challenged me to create good and good for you dishes from Pork for the next four week. As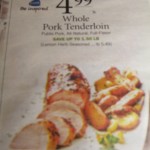 you know, I'm dieting, and surprisingly pork fits nicely into my plan. Tonight I'm having my son over for our first meal together since returning from Sundance.  When I returned the cupboard was BARE, so I drove to our neighborhood Publix and bought the ingredients for this wonderful, yet still healthy meal. I don't like fussing in the kitchen, it's just not my style. My time is better spent enjoying time with my family and guests, which is why I'm making a VERY quick meal. I was torn between the Pork Tenderloin with Apricot Glaze (a dish I make WAY too often) and the Sautéed Pork Tenderloin Medallions with Lemon-Garlic Sauce. I decided on trying something new….
Sautéed Pork Tenderloin Medallions with Lemon-Garlic Sauce – courtesy of the National Pork Board
Prep time is 10 minutes and the cook time is 10 minutes.
INGREDIENTS
 pork tenderloin, (1 pound), trimmed
1/4 teaspoon salt , divided
1/4 teaspoon plus 1/8 teaspoon black pepper, divided
2 teaspoons olive oil, divided
2 cloves garlic , minced
1/2 cup dry white wine, (for non-alcoholic, substitute low-sodium chicken broth)
1/2 cup chicken broth, low-sodium
Grated zest and 1 tablespoon lemon juice , from 1 lemon
1 tablespoon fresh parsley, chopped, OR or 1 1/2 teaspoons chopped fresh sage or rosemary*
 DIRECTIONS
Cut pork into 12 slices, about 1-inch thick. Sprinkle pork on all sides with 1/8 teaspoon of the salt and 1/4 teaspoon of the pepper. Heat 1 teaspoon of the oil in a large heavy skillet over medium-high heat. Add the pork and cook, turning once, until the pork is well browned and internal temperature reaches 145 degrees F, about 1 1/2 minutes on each side. Transfer pork to serving platter and cover to keep warm.
Add the remaining 1 teaspoon oil to skillet. Add garlic and cook, stirring constantly, until garlic is fragrant, about 30 seconds. Add the wine and broth. Increase heat to high and cook, stirring to scrape up the browned bits from the bottom of the skillet, until the liquid is reduced by two thirds, about 5 minutes.
Remove the skillet from the heat and stir in the remaining 1/8 teaspoon salt, remaining 1/8 teaspoon pepper, the lemon zest and juice, and the parsley. Serve the pork medallions drizzled with the sauce (makes a generous 1/3 cup; about 1 1/2 tablespoons per serving).
*To substitute fresh herbs with dried herbs, use 1 1/2 teaspoons dried parsley or 3/4 teaspoon dried sage, or 3/4 teaspoon dried rosemary
Makes 4 servings
NUTRITION
Calories: 150 calories – see…told you it was good for you
Protein: 24 grams
Fat: 5 grams
Sodium: 220 milligrams
Cholesterol: 75 milligrams
Saturated Fat: 1 grams
Carbohydrates: 1 grams
Fiber: 0 grams
I've served this along with boiled gold and red new potatoes, and a melange of carrots, tomatoes, zucchini and peppers with olive oil. There's nothing like adding vibrant colors to a plate to make it look beautiful (again, good and good for you).

The best part is that Pork Tenderloin is on sale this week at Publix making it good, good for you, and good for your wallet…the trifecta of Champagne Living.
For this and other fabulous good and good for you recipes and ideas go to porkbeinspired.com you'll find the recipe I made, as well as the Artichoke and Feta stuffed Pork Tenderloin that I'm making later in the week, and don't forget to stop into Publix this week for some of that fabulous pork tenderloin that's on sale.
This post is a result of a campaign by the National Pork  Council, Publix Supermarkets and The Motherhood. A girl's got to eat, so as always the spin is authentic and mine.