I love the sunshine, but I want to go back. I miss the city, the people, the shopping, the arts, and most of all the food. Living a morning train ride that would take me into Boston, or even better…Manhattan is one of those things that I took for granted. Providence with the perfect distance between the two and a vibrant artsy, FOOD city in it's own right.
The area of South Florida where I live is warm, it's beautiful, but the restaurants all have chains names that you'd recognize from every city in America. Won't someone give me some GOOD FOOD?
Gary Zinger must have heard my cry, because The Former Pastrami King of Brooklyn (and Pastrami Queen of Manhattan) has opened a New York Deli in the heart of Boca Raton, FL that will have hailing down a cab (or hopping into your Benz) to his door. Zinger's Deli brings the best of what New York has to offer…great home made delicatessen products to the south, and I'm happily wiping the juices from my chin.
This is not your grandfather's deli – it features flat screen TVs, a sleek modern feel, and beer and wine makes it an excellent place to catch your favorite sporting events. The restaurant also has a quick-takeout counter and big glass cases display the monster-sized chocolate cakes and specialty meats.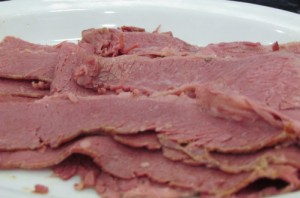 Check out the size of that Matzoh Ball!! It was light as a feather (and Gary won't give up his secret as to HOW he got it so light…I asked).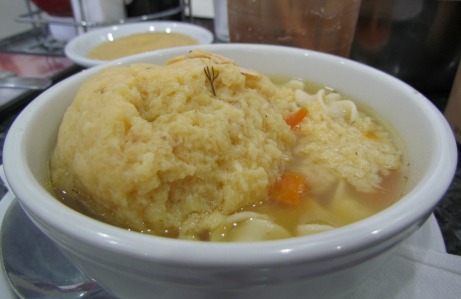 Gary's dishes range from the usual deli fare of corned beef and pastrami (made with love by Gary himself) to latke tots, a delicious turn on potatoe pancakes in small pop in your mouth size...complete with sides of applesauce and sour cream. Oh, and don't get me started on the desserts. Ruggalach, mandel bread and yes New York style CHEESECAKE!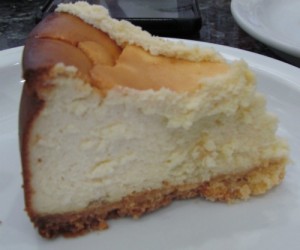 Zinger's is open for lunch and dinner Monday through Sunday and serves breakfast Saturday and Sunday.
Location: 7132 Beracasa Way on the northwest corner of Powerline Road and Palmetto Park Road.
Hours: 11 a.m. to 9 p.m. Monday though Friday, and 10 a.m. to 9 p.m. Saturdays and Sundays.
Tell them Champagne Living sent you! The next time you're missing a bit of NYC…whether living in South Florida or on vacation, stop by Zinger's and ENJOY!
I was invited to a media luncheon at Zinger's Delicatessen to facilitate this review. I spend $45 on my way out…so, yes, these opinions are truly my own.