I have favorite airlines. One of my faves is American Airlines, it's what I fly to Europe, it's the easiest to gain points with and frankly I love that I've been able to easily upgrade a Y-up ticket with them to first class on many occasions. I also love that they offer fun giveaways like this one. I'm planning to enter it, and I figured that I'd pass it along to my readers as well, because the winner would receive a truly Champagne Living style trip.
Here are the details:
American Airlines and MasterCard® have teamed up to create the "Check It Out. Check It Off." promotion, which encourages customers to book on AA.com using their MasterCard card for a chance to check some one-of-a-kind travel experiences off their "bucket lists." The promotion, which runs through March 19, allows three grand prize winners to earn one of the following four-day VIP trips:
Napa Valley Excursion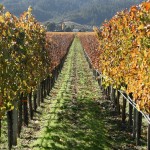 Travel on American Airlines and accommodations
$2,500 MasterCard prepaid gift card
Private tour of Napa Valley, Calif.
Spa experience
Exclusive tastings at premier vineyards
Dinner with a world-class wine maker
Home wine cellar unit
Paris Fashion Immersion
Travel on American Airlines and accommodations
$1,500 MasterCard prepaid gift card
Dinner atop the Eiffel Tower at the acclaimed Jules Verne
Guided tour of Paris
Professional makeover and photo shoot around Paris
Dinner in one of Paris' top restaurants
NYC Baseball Experience
Travel on American Airlines and accommodations
$2,500 MasterCard prepaid gift card
Attend the home opener of New York baseball team
Pregame lunch or dinner with a notable baseball player
Guided tour of New York City
Spa experience
Dinner at Marcus Samuelsson's acclaimed restaurant, Red Rooster Harlem
To enter simply head over to:  www.AA.com/Experience and then book a ticket on AA.com using a MasterCard card. No purchase is required to win, and an entrant can go to www.AA.com/Experience for more details (it's a simple e-mail entry without purchase).
They're also running a second contest on Facebook at www.AA.com/Experience or on American's Facebook page at www.Facebook.com/AA. You can submit you BUCKET LIST, send a message to your friends via Twitter, Facebook or email asking for votes. The three lists that receive the most votes will win a $500, $250 and $100 AA.com gift card, respectively.
"This promotion is another way that American is bringing incredible experiences to our customers. We've teamed up with MasterCard to create three once-in-a-lifetime experiences, to which people might not otherwise have access," said Richard Elieson, American's Managing Director – Interactive Marketing. "We are also encouraging our customers to share their travel ideas and aspirations on our social networking sites. Travel enriches the lives of us all, and we want our customers to continue sharing their experiences with each other and the rest of the travel community."
For more information about this promotion, including full terms and conditions, please visit www.AA.com/Experience.