When you're almost home, almost home Just open up your eyes and go on, go on You're almost there You're almost home ~ Almost Home/Mariah Carey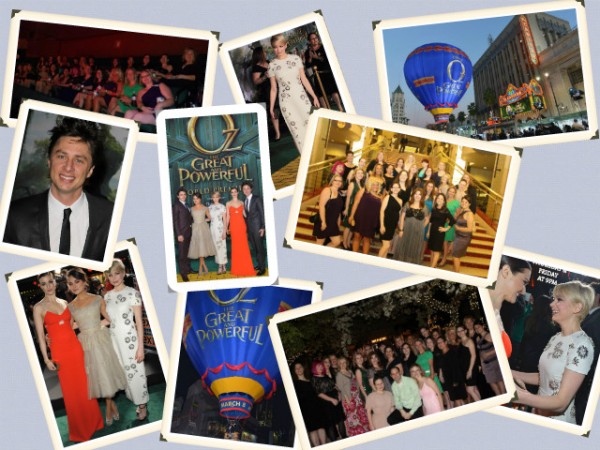 There's fabulous and then there's FAB-U-L"OZ" and emerald was the color that paved our way down the yellow brick road into the iconic El Capitan Theatre on Wednesday for the world premiere of Oz the Great and Powerful. The preparation was CRAZY as 25 bloggers slipped into their Red Carpet best, and got glammed to the max with fabulous beauty products, shimmied into evening attire, and slipped into their heels to mingle with the stars of Sam Raimi's newest Disney adventure to Oz.
James Franco made his entrance in the style that any respectable wizard would, via balloon that landed SMACK on Hollywood Blvd. in a plaid Gucci suit.
We were treated to:
Rachel Weisz in a wicked red Victoria Beckham gown
Zach Braff with the beautiful Taylor Bagley who drew photographers by the droves
Michelle Williams in an floral  Prada cheongsam style dress
The adorable Joey King had her nails painted at the OPI station at the after party with the silver sparkly "Which is Witch"
Mila Kunis treated us in a vintage looking Dolce and Gabanna with her hair pulled into a soft chignon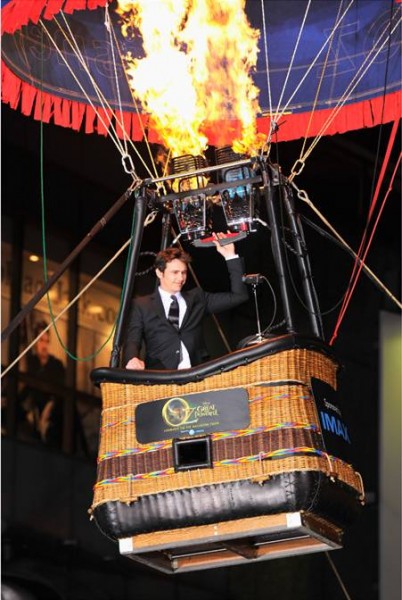 With glimpses of Ashton Kutcher, Donald Faison, Sarah Chalke and  Bruce Campbell, as well as the hilarious Wayne Brady with his daughter in tow, etc., the night was an incredible star studded event.
OZ THE GREAT AND POWERFUL will play at the El Capitan Theatre in Hollywood, CA from March 8th – April 30th in Disney Digital 3D and Real D 3D For the
First 3 weeks only (March 8 – 31) See "Disney Mysteries of Magic" live on stage! Be dazzled by the artistry of illusion in a magical showcase. See our expert wizard perform mystical magical illusions before your very eyes!
Plus, see an exclusive display of costumes from the movie from March 8 – April 30.
For tickets call 1 (800) DISNEY6 or visit www.elcapitantickets.com
This post was facilitated as a result of a press junket. All opinions are strictly my own.